How creative director Tomas Maier put Bottega Veneta back on the map
​Tomas Maier clawed Bottega Veneta back from bankruptcy. Now the label's woven bags are netting almost £1bn and its campaigns are high-art affairs. He talks to Alexander Fury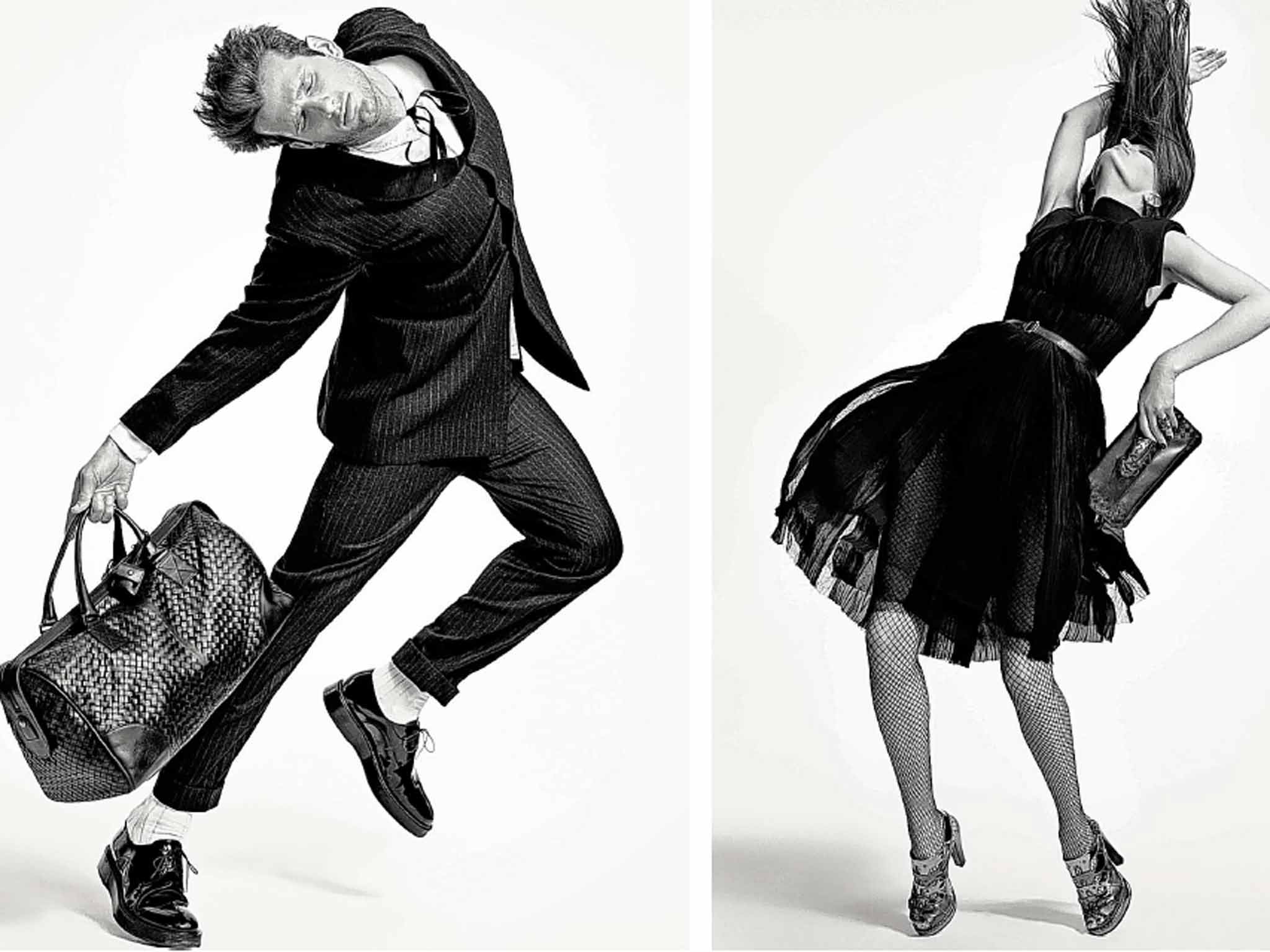 Tomas Maier's office in New York is surprisingly spartan. It's surprising because Maier heads up Bottega Veneta, one of the most luxurious of luxury-goods brands. You'd expect his office to be mahogany-clad, the walls perhaps wrapped in the label's signature intrecciato leather. Woven from strips of skin like fettuccine, and thus taking twice as much leather as a plain piece, that has been used for photo frames (£400) and cushions (£465) as well as the label's signature Cabat totes, a squishy bag that takes two craftspeople two days to make. There's roughly 160m of ribbony leather strips in each one.
But the office of Maier is optic white, punctuated with spots of black – his desk, the windows onto the Manhattan skyline, and Maier himself, dressed in a papery technical cotton Bottega Veneta trench coat, even inside. The other spots of black are photographic prints on the walls – the ones above, of Bottega Veneta's collaboration with Robert Longo that recall the artist's 1980s "Men In The Cities" series. They were used for an advertising campaign – but they don't look like it. Which was precisely the point. Maier has worked with artists and photographers on each of the label's campaigns since he joined in 2001 – including Nan Goldin, Nobuyoshi Araki, Ryan McGinley and Tina Barney, as well as Longo. They've now been collected into a book, glossy and expensive like a Bottega bag, but a fair bit heavier – it weighs in at 9lbs; a Bottega Cabat weighs about 12oz.
Then again, the artistic pedigree of the project is heavyweight, and Maier is rightly proud: the Longo prints are the only decoration in his otherwise antiseptically clean office. At first glance, you'd be forgiven for mistaking them for the artist's own series. Which is precisely the paradoxical point of Bottega Veneta's campaigns. Rather than engaging a photographer to translate Maier's vision into a print advert – the industry norm – he invites them to add an imprint of their own. Longo's aesthetic is unmistakable in his Bottega Veneta; so is Tina Barney's in hers, and Nan Goldin in hers.
"This is one step: handing it over to someone that has a strong aesthetic, a strong vision of their own," states Maier. "You don't have to cook the sauce like I cooked it five minutes ago... you add something a little bit different, and it becomes yours."
Maier is somewhat outspoken. He is precise, pithy, quite cutting. He's 58 but looks a decade younger, his English still heavily accented with German – although he has lived in America since 1999, he was born in Pforzheim, just outside the Black Forest. Originally, as with many fashion designers, he wanted to be an architect, "Then turned to fashion at some point later – fifteen, around then. My dad was an architect… so I would've had to work with my dad and taken over his office and stayed in that dreadful little town. And that was not an option."
Today, Maier divides his time between New York, Palm Beach (where he has his home and studio), and the Bottega Veneta headquarters in Milan and Vicenza, Italy. Maier likes America. "Open, wide, easy," he says. "[There's a] good thing about a certain… ignorance," Maier smiles. He's being provocative. "When you combine that with an old-school European sophistication – which can also pull you down, it's very kind of heavy… I like this. I like this," he taps his desk, meaning America, "because I know that," he jabs the air, pointing – ideologically at least – to Europe.
Maier does indeed know European luxury: besides growing up there, he trained at the École de la Chambre Syndicale de la Couture Parisienne.
"It's a very old school," comments Maier dryly. "I didn't like it when I was there, but today I think it was good. It was good training. It was very 'feet on the ground'. Embroidering buttonholes for weeks and weeks, until it was perfect... very old lady. You'd go to old lady couture shows. It was very stiff. But it was a good training-ground."
It trained Maier for a career in luxury – he would later go on to work at the fur house Revillon, and then for Hermès, before surrendering his commitments to move to Florida. He set up an eponymous label, anchored to the lightweight resort clothing and easy sportswear so prevalent and popular in that climate. It's still going, with five stores centre on similar locales in the US – Bal Harbour, East Hampton and Palm Beach, where the rich spend time and money.
When Maier joined Bottega Veneta in 2001, the rich spent neither time nor money in the company's stores, although Andy Warhol had once bought his Christmas gifts at the New York boutique. When Gucci Group (now part of Kering) bought the label in 2001, it was virtually bankrupt. Maier was brought in to reposition it as an Italian Hermès.
The result? Success. The brand passed the gold standard of a turnover of US$1bn in 2012. Sales grew 14.3 per cent in 2014; over the first half of 2015 turnover increased 19.7 per cent. Today, retail sales stand at close to £900m. That's a hefty responsibility for a designer to shoulder: but Maier sees it as freeing. When I ask why he began collaborating with artists and photographers for his advertising campaigns, he simply states: "Because I had the opportunity. I like photography, and there are a lot of different photographers that I like. I've looked at advertising, for 20 years, and everyone uses the same five people in this industry…"
He doesn't elaborate on whom, but instead poses the question he asked himself: "Am I going to hire that person and have one more advertising campaign that looks alike? No. I'm going to work with people who are not the go-to- people... people that other people don't want to work with, because they say they're… difficult." He smiles, wryly.
You get the feeling Tomas Maier likes being difficult too – imagine convincing the Bottega brass to fund these campaigns, allowing your carefully-curated corporate message to be reinterpreted by the irrational, unpredictable, "difficult" world of art?
But for Maier, that approach relates directly to his Bottega Veneta customers, too.
"I think who I'm talking to has their own life, and their own brains, and their own liking. They'll do it completely different. When I see it [on them] – that's how I like it. I don't like when someone does it the way it was on the runway; when someone replicates it. That's like having no personality."
You could never accuse Tomas Maier – nor Bottega Veneta – of that.
Bottega Veneta: Art Of Collaboration is published by Rizzoli, £90, rizzoli.eu
Join our commenting forum
Join thought-provoking conversations, follow other Independent readers and see their replies