How fashion designers like Armani and Louis Vuitton are jumping on furniture as a savvy investment
Never mind what you're wearing, now it's what you're reclining on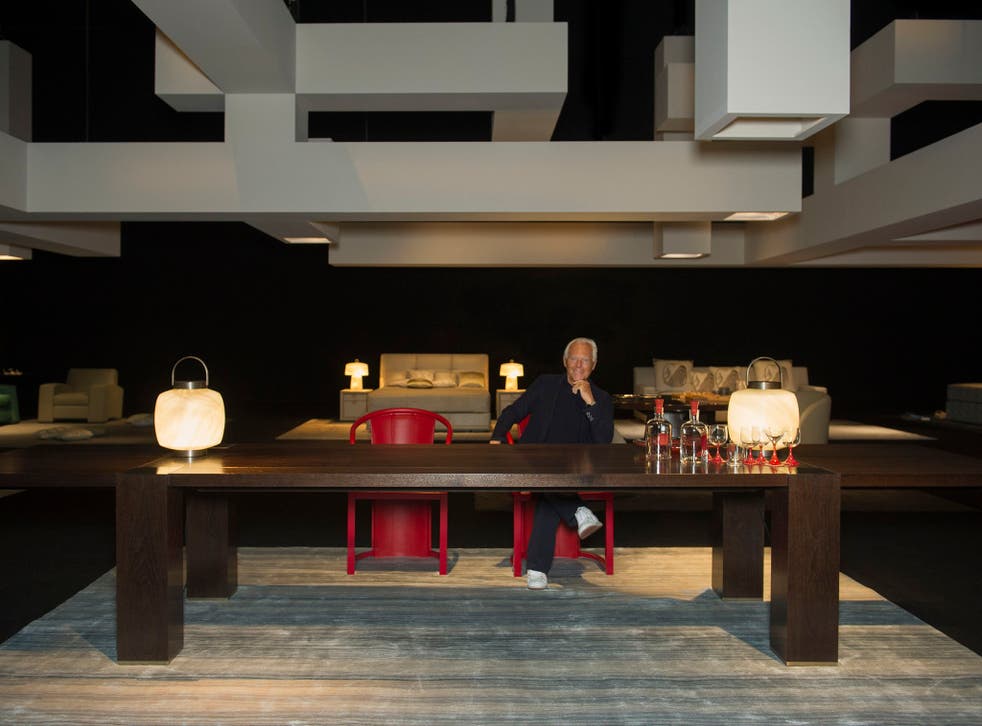 Milling around this year's Salone del Mobile, which closed just over a week ago in Milan, you recognised quite a few names. At least, I did. Fendi, Armani, Louis Vuitton, Loewe, Versace. Rather than the monikers of furniture designers, esoteric and obscure (at least, to me), the participants were just as likely to come from the fashion sphere.
It's a growing trend. Tony Chambers – who, as the editor-in-chief of the fashion and lifestyle magazine Wallpaper*, is as likely to look at a grey Prada suit as an Eileen Gray table – dubs the increase in fashion labels offering homeware "exponential" over his 12 years at the magazine. He highlights the collections of Bottega Veneta and Hermès – as well as the porcelain produced under the Richard Ginori label, which was acquired by Gucci in 2013 – as expressive of fashion houses' "investment in quality" when it comes to their new homeware ranges. "This is the silver lining of the financial crisis – now every brand thinks very, very seriously and long term about how they use their name and their logo," Chambers says. "Pre-2008, there was quite a bit of abuse of that."
What he means is: it's not just about a logo slapped on a bog-standard product, for either designer or consumer. It's about an investment in a unique worldview – because, in launching homeware, brands can spin an aesthetic universe around their clothing. The perfect example is Rick Owens, whose furniture designs are as uncompromising as his fashion. They include a two-ton alabaster bed (yours for around £146k) and chairs with their backs replaced by moose antlers. Oddly, these pieces seem the ideal environment for Owens's shrouded wraiths to writhe in exquisite agony (or whatever they do in their spare time), just as the leather-strapped benches that Versace created with Simon and Nikolai Haas in 2013 are the perfect seat for, say, a slashed and safety-pinned Elizabeth Hurley to recline on.
Perhaps that's the kicker for the success of fashion-cum-furniture fusions: not whether someone buys the pieces (there will always be deep-pocketed takers for things this ludicrously luxurious), but whether the pieces marry convincingly with the designer's sartorial aesthetic, and therefore further the brand's message as a whole. Because you're not going to make much money with one- or two-off furniture pieces – or even 40-off designs, such as the Justin desk created by Giorgio Armani to celebrate the label's 40th birthday this year.
That said, Armani's home division is doing swift business. Armani/Casa, the home branch of the Italian designer's empire, saw 2014's total business increase 22 per cent year-on-year. Retail and wholesale accounted for 50 per cent and licensed products five per cent, while, enigmatically, the remaining 45 per cent was made up by "interior design". This refers to bespoke design solutions created for Armani clients by in-house architects and interior designers – the kind of clients, presumably, who order made-to-measure suits or the haute couture creations of Armani Privé and want the designer's exacting standards applied to their entire environment. Versace and Fendi offer similar services, and have tied their names and tastes to exclusive hotels and private residences.
Armani's latest Casa collection mirrors his January haute couture show in its fusion of East and West. "I try to find similarities between the East – which enchants me – and the West, to which I belong," says Giorgio Armani of his cushions in jade-green and lacquer-red and his spindly, art-deco-meets-Ming-dynasty tables and chairs. Incidentally, 50 per cent of the total Armani/Casa business comes from Asia (five years ago, it was just 31 per cent).
A number of other labels have cast their gaze east: "The Chinese market has grown considerably for Fendi in recent years," says Pietro Beccari, chief executive of the Roman label, which has offered homeware since 1989, "and our Chinese clients are very important to us." Thus, at the 2015 Salone del Mobile, Fendi showed a scarlet "Zen" table and Murano glass featuring dragon designs – presumably envisioned as the saleable stuff – alongside its collaboration with Brazilian design duo the Campana Brothers, who crafted a hundred or so of the label's fuzzy "Bag Bug" charms into another of those one-off headline-grabbing pieces.
Surrendering your entire home to a clothes label may seem like the ultimate act of devotion – or the nadir of fashion victimhood. But these "fashioned environments", extreme examples of so-called "designer lifestyle", are undoubtedly popular. Armani-designed residences at Burj Khalifa, the tallest building in the world, reportedly sell for 28 per cent more than equivalent penthouses in the Dubai tower.
Why? Because designer names resonate with a far wider audience than those of architects and product designers do. "Fashion is louder, it's sexier, it's glamorous. Design is, with a few exceptions… a little lower-key," Chambers states. It's also a stamp not just of quality, but of taste. You know what you're getting with a Versace chair – especially versus an Armani chair – and which you'd prefer.
The prejudice in the past was that the fashion designers were somehow too dim to move into this field. "I think initially – 10 or 15 years ago – for a design snob [a fashion house] wouldn't be the first port of call. Why would you go to Versace for furniture?" Tony Chambers says. "But as it has evolved, there seems to be a healthier fit."
Unlike designer clothes, which generally depreciate in value as soon as you rip off the tag and slip them on your back, homes such as those in Dubai are actually making money, and not just due to a property boom. Maybe the furniture will too.
Register for free to continue reading
Registration is a free and easy way to support our truly independent journalism
By registering, you will also enjoy limited access to Premium articles, exclusive newsletters, commenting, and virtual events with our leading journalists
Already have an account? sign in
Register for free to continue reading
Registration is a free and easy way to support our truly independent journalism
By registering, you will also enjoy limited access to Premium articles, exclusive newsletters, commenting, and virtual events with our leading journalists
Already have an account? sign in
Join our new commenting forum
Join thought-provoking conversations, follow other Independent readers and see their replies