How much?! The rise of the £6k dress

Show all 6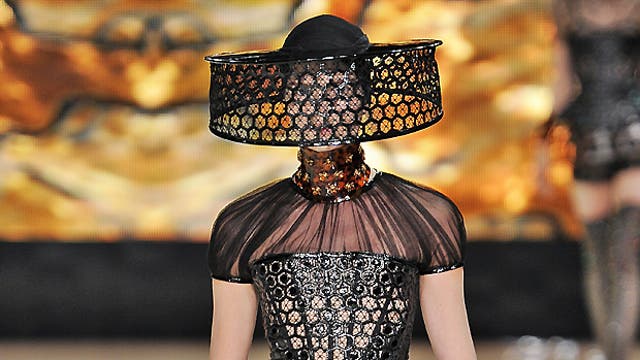 How much?! The rise of the £6k dress
Most of us are scrimping hard, but one of spring's biggest trends is a hefty price tag
Harriet Walker
Monday 21 January 2013 12:30 Comments
If there's one phrase you don't want to stumble across while clicking around your favourite shopping site, it's "sold out". That's just plain annoying.
But when those words appear next to a £12,000 chain-mail minidress (Versace) or even a £4,315 envelope clutch bag (The Row – made from lizard)? Yes, you were only looking, but who's buying them?
For spring 2013, the luxury-fashion site Net-a-Porter predicts "the rise of the £6k dress". That's a dress that costs £6,000. They are not wedding dresses, or even red-carpet gowns: some are for cocktail parties; others might even qualify as daywear (depending on how razzy one's social diary is before sundown). And they sell – if not in industrial quantities, then at least enough to warrant buyers placing larger orders than they used to.
The beauty of online shopping means more of us can ogle these high-ticket items without feeling the icy glare of the shop attendant on our feudal backs, but rarely does it cross your mind that it might mean more of us are buying them too.
"There has always been a market for intricately made [and appropriately priced] dresses," explains Judd Crane, womenswear buyer at Selfridges, which has increased the number of £4k-plus pieces that it buys as its average prices have crept up overall. "The aim is to elevate the shopping experience. There is an appetite for those products within an influential market."
Buyer Natalie Kingham at Matches also reports increasing interest, and the site has sold out of the selection of Giambattista Valli's haute couture collection that it bought into. "The dress coat is another key piece, as women can wear it for events, for work or even dressed down with jeans," she says.
"The market for luxury seems insatiable at the moment," says Avril Mair, fashion-features editor at Harper's Bazaar. "There's truth in the idea that women are buying less but better – still, it's a lot to spend on a frock!"
"I think designers are testing the limits of ready-to-wear," she continues. "In price, obviously, but correspondingly in construction. From couture fabrics to incredible levels of embellishment, you're paying for something very special and unique."
It's true that demi-couture – that is, ready-to-wear clothing with rarefied, hand-worked detailing that approximates some of the workmanship that comes out of Paris's finest ateliers – has become something of a trend in itself in recent seasons. For autumn 2012, London designer Mary Katrantzou collaborated with the embroidery house of Lesage – which usually works alongside Chanel for its haute couture and métiers d'art collections – on dresses that were encrusted with beads and sequins, applied in such quantities that they became almost three-dimensional.
Last summer, Christopher Kane showed shift dresses and tops that were hand-appliquéd with silk flowers and petals; the T-shirts in this vein alone retailed for around £4,000. And this season, Erdem Moralioglu, known for his statement dresses, worked with a Swiss lace manufacturer who has supplied fabric to Dior and Balenciaga since the 1940s.
Of course, designer clothing has always been expensive. But the profusion of newly made millionaires in developing economies has meant that, despite what Western markets see as straitened times, luxury labels still have a customer base for even the most exclusive of garments and, for that matter, price tags. And naturally the internet has made selling these pieces much easier, too – essentially cutting out the distance between high-rolling clients in China, Russia and the UAE, and offering them the clothes they would normally have to view in a European salon in just a few clicks.
"It's a dream that clients are responding to these pieces because it means we can work with designers on incredible pieces that really push the boundaries," Natalie Kingham says.
This audience accounts perhaps for some of the more high-octane numbers, such as Matthew Williamson's beaded Aztec minidress (£5,695, Matches) or the Alexander McQueen lattice corset dress (£7,990, Selfridges), but there are more and more customers spending these sorts of figures on restrained and minimal pieces, too. All you need to do is look at the speed with which understated Céline collections fly out of the shops.
It points to a change in shopping habits and the fashionable mindset that has been well documented since the crash and subsequent recessions. It has been assumed that investment dressing is for us mere mortals, who now spend £45 on one jumper, rather than £60 on three. But the £6k-dress phenomenon is all part of the same notion that pieces don't live and die by seasons, and that they can be reworn again and again.
"I'm not quite in the £6k market," laughs Paula Reed, creative director at Harvey Nichols, "but I've saved up for a 3k Alaïa, which I intend to wear for ever. I have 20-year-old Alaïa pieces that I still wear."
The upper end of the dress market in Harvey Nichols is very much inspired by the idea that these pieces are classics rather than fripperies. The tried-and-tested Stella McCartney illusion dress, as worn on the red carpet by Kate Winslet and Heidi Klum, comes in at £2,810; Riccardo Tisci at Givenchy's long monochrome, one-sleeved dress is £3,200; and a snakeskin-print georgette shirt-dress by Valentino tips the scales at £7,705.
Clearly they're out of our budgets, but are reliably timeless in terms of aesthetic and wearability – which just goes to show that not all astronomically priced pieces have to look out of this world too.
"It isn't necessarily about being 'showy'," Avril Mair adds, "though that's inevitably what some customers want. If you remember that a Chanel suit can cost £5k, it's a similar investment. You're going to have it for ever."
Well, somebody will. But it isn't likely to be one of us.
Register for free to continue reading
Registration is a free and easy way to support our truly independent journalism
By registering, you will also enjoy limited access to Premium articles, exclusive newsletters, commenting, and virtual events with our leading journalists
Already have an account? sign in
Join our new commenting forum
Join thought-provoking conversations, follow other Independent readers and see their replies