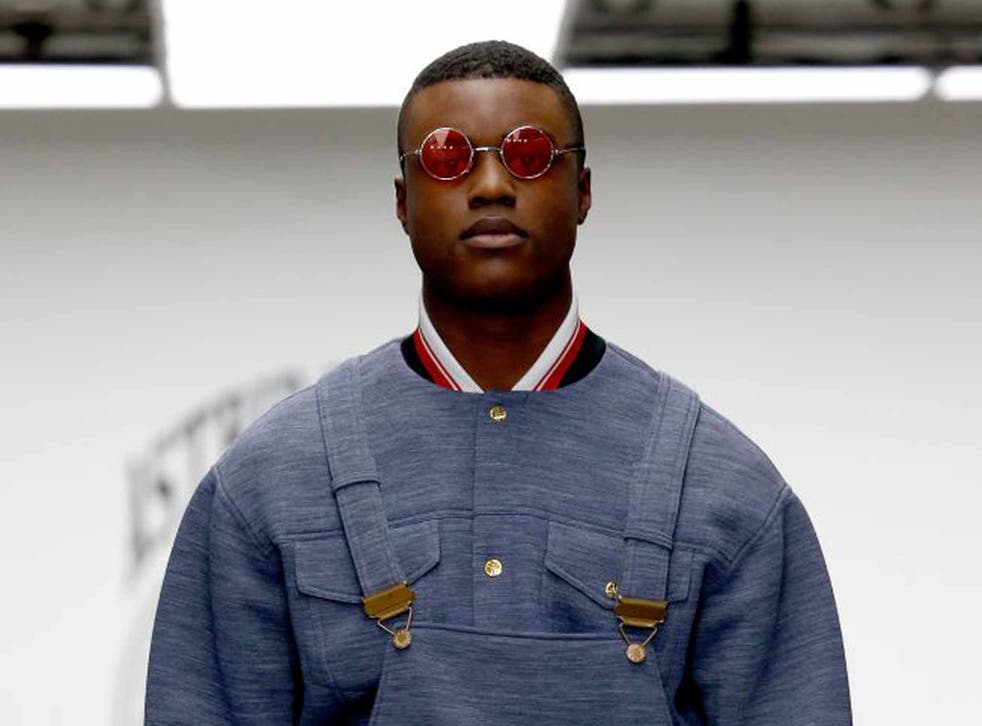 How streetwear crossed over from urban cool to catwalk chic: The triumph of aesthetic honesty
​With hoodies on the catwalk and logos on skatewear, where do you draw the line between street and catwalk? With the new crossover brands, says Alexander Fury, there's no need to.
Alexander Fury
Monday 21 March 2016 20:12 Comments
Back in July 1960, Yves Saint Laurent presented his autumn/winter haute couture collection for the house of Christian Dior. It was a collection he called "Beat", an almost all-black parade of clothes inspired by existentialists and teenagers hanging out on the Left Bank of Paris. It caused a scandal, particularly when Saint Laurent presented his version of a black leather jacket, seen as the garb of hooligans more likely to mug an haute couture client than be one. The term itself, "blouson noir", was a synonym for said ne'er-do-wells. Sure, Saint Laurent's blouson noir was in crocodile lined with mink, but it still acted as a catalyst for his departure from the house after barely three years.
Saint Laurent saw the future. His Dior couture was the first example of the street bubbling up and affecting the way designers think. Today, it's common, but that doesn't mean it can't be radical. Boundaries still exist between perceptions of "streetwear" brands – such as A Bathing Ape, Supreme or Palace Skateboards – and designer labels. High fashion draws on the oversized shapes and details of streetwear and remakes them in hyper-luxe fabrics – Versace's winter 2015 cognac-coloured mink hoodie is an especially blatant example. And streetwear brands parody designer logos – Palace replicated the Versace Medusa-head symbol, with its name in place of the Italian brand, for a 2012 design they called Versafe Italia. It still sells.
There's a sniffiness implied on both sides: of streetwear mocking the snobbism of designer labels; and of fashion assuming streetwear styles need "elevating" through fabric and finish. Both views feel decidedly old-fashioned today, as a new generation of designers eschew either label, walking a line between and pleasing both sides. When the new outpost of Dover Street Market – the non-department store founded by the maverick designer Rei Kawakubo of Comme des Garçons fame - opened in London's Haymarket on Saturday, queues snaked at two of the concessions.
Those belonged to the aforementioned Palace skateboard brand, and Vetements, the 20-person collective helmed by designer Demna Gvasalia, whose trademark piece is a reconfigured hooded top in cotton sweatshirting, often featuring entertaining reworked prints or logos.
Their spring/summer 2016 offerings include a version of the Champion sportwear logo, a neat inversion of Palace's Versafe. The queues for both were a mix of streetwear aficionados and fashionable types.
That's the new twist on fashion's love affair with the street: not the blurring but the outright obliteration of perceived lines between high and low, sportswear and designer – the notion being that, because a piece is streetwear, it doesn't mean it can't be designed. Londoner Nasir Mazhar has railed against that in the past: his aspiration, he's said, is to see his clothes not on the pages of Vogue but in JD Sports, where he buys most of his clothes. Mazhar's work is often ingenious: he reinvigorates basic garments such as sweatshirts with a complex web of texture of intricate finishing; or reconsiders the form of baseballs caps. His resulting redesign, dubbed the "Bully," is angular, a little like a baseball cap imagined by Kryten of Red Dwarf.
You can imagine lots of people wearing it, and they do. Mazhar's clothes have legions of fans who buy them until they sell out, in a manner more akin to sneaker freaks bagging the latest releases than fashionable types. Mazhar's buyers are a mix of the two. So are those of Vetements, whose hooded tops are cleverly engineered with an extra neckhole, adjusting the way the garment sits on the body to enable it to be worn back-to-front without seeming misshapen. "It's pieces such as five-pocket denim pants, bomber jackets and hoodies," said Demna Gvasalia of Vetements, ticking off the brand's basics and bestsellers on his fingers. "Basically, the things that people like to wear, and our friends wear."
That's interesting. These ostensibly "streetwear" clothes are well designed, often reconsidering or reconfiguring form and challenging convention, but unlike traditional catwalk fashion they aren't alienating. If a designer – say, Astrid Andersen, whose menswear clothes combine machismo-infused sporting shapes with traditionally feminine fabrics – uses a precious material (Andersen favours Chantilly lace, duchesse satin and fur), the shape will be simple. But if it's a sweatshirt, it'll be highly designed, a challenging shape, and impeccably made. Shayne Oliver of Hood By Air chops and splices his sweatshirts, elongating them into tunics (a shape that has proved highly influential), reworking them to make them feel "fashioned", but never betraying their streetwear roots.
Perhaps that's the reason these designers are resonating so loudly now: their aesthetic honesty. Hood By Air doesn't look street – it is street. It can function on a catwalk and interest the fashion press (and, more importantly, consumers), but there's an authenticity. None of these labels is a streetwear cop-out nor a fashion pretender. Their leather jackets aren't lined in mink. They're real. And selling to couture clients and hooligans alike.
Register for free to continue reading
Registration is a free and easy way to support our truly independent journalism
By registering, you will also enjoy limited access to Premium articles, exclusive newsletters, commenting, and virtual events with our leading journalists
Already have an account? sign in
Join our new commenting forum
Join thought-provoking conversations, follow other Independent readers and see their replies