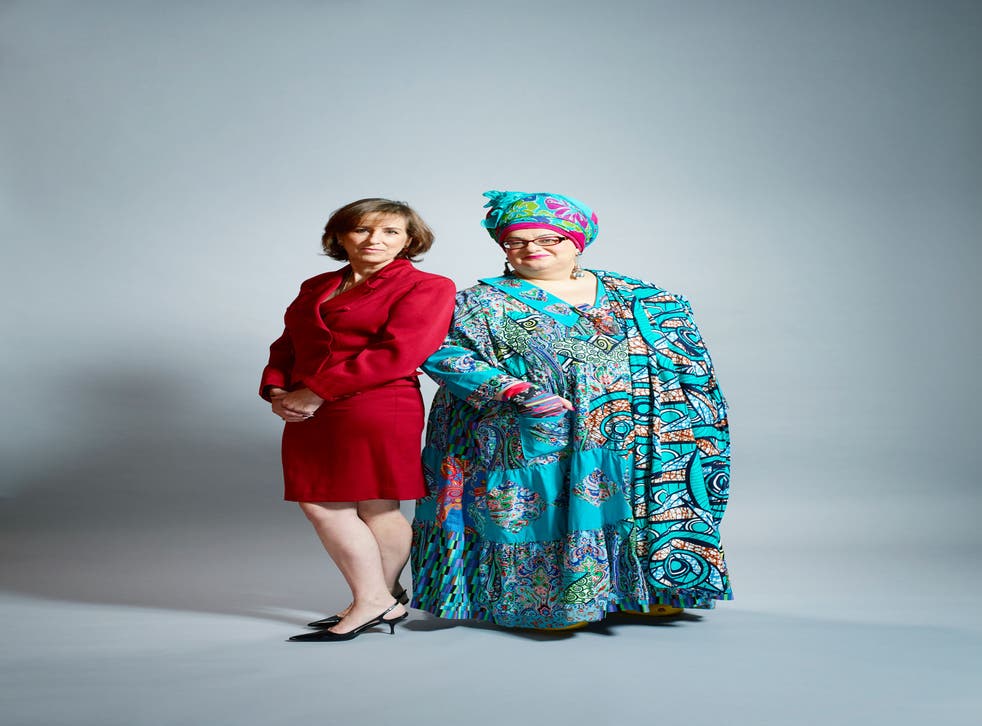 How to dress with authority: Kirsty Wark and Camila Batmanghelidjh discuss the changing role of fashion in women's workwear
Whether it's a tailored suit or a flamboyant gown, a woman's work outfit speaks volumes. Newsnight's Kirsty Wark and kids' charity boss Camila Batmanghelidjh talk shoes, male judgement and why your accountant should be able to sew…
Dressing for work on her first day as chair of the BBC Trust earlier this month, Rona Fairhead clearly wanted to make an impression on the cameras that she knew would be poised outside Broadcasting House. But rather than reaching for the strong shoulders that so defined power-dressing in the 1980s, she instead chose something altogether softer; in fact, her oatmeal silk shift and elaborately knotted coat were as well suited to attending a wedding as rolling up the sleeves and getting down to business.
The journalist and novelist Kirsty Wark and Camila Batmanghelidjh, founder of charity Kids Company, may have very different dress sense from Fairhead – and each other – but, like Wark's BBC boss, they choose clothes that express their distinctive personalities. And both have been invited to take part in Women Fashion Power, a new exhibition that celebrates the way women's fashion has changed in relation to their growing power and equality over the past 150 years.
The pair's clothing loans will appear at the Design Museum alongside those of 23 other women, including the architect Zaha Hadid, who designed the exhibition, the civil-rights campaigner Shami Chakrabarti and the fashion designer Vivienne Westwood.
On a south London street choked with traffic, the headquarters of the charity Kids Company looks like just another out-of-date office block. But, once through the glass doors, things begin to change: walls are painted in blocks of bright colours or with a forest of beautifully rendered trees. In a small room on the ground floor, Kirsty Wark paints her nails while a make-up artist curls her fine hair around large Velcro rollers. Known for not giving her interview subjects on Newsnight an easy ride, in person she is extremely warm and shares shopping tips, compliments and fashion knowledge with generosity. Stylishly dressed in a pair of slim black jeans – medium-rise YSL, none of this "Saint Laurent" for her – and a mustard tweed jacket, Wark could be any off-duty professional.
When Batmanghelidjh makes her way down from her office to sit in the make-up artist's chair, we hear her before we see her, so often does she laugh. Even those who do not know the psychotherapist's work will easily recognise her brightly patterned flowing gowns, tightly wound turban and almost-permanent smile.
Women Fashion Power

Show all 8
As Batmanghelidjh enjoys a rare moment of pampering, Wark is keen to find out whether the Government has committed to meeting a shortfall in funding that would save the charity from closure. The pair first met when Batmanghelidjh appeared on Newsnight many years ago, and while not close socially, there is a palpable camaraderie born of mutual respect for each other's achievements. "I love her," declares Batmanghelidjh. "When I see she's on Newsnight, I think, 'Thank God! There is decency, style and intellect all in one.'"
On set, the photographer makes a seemingly impossible request – that Batmanghelidjh look serious for just a minute. She tries, but it's not long before her stern expression slips as she chats with Wark: the news headlines, the joys, or otherwise, in Batmanghelidjh's case, of home cooking and, of course, how these two powerful women get dressed for work…
Kirsty Wark
'Being Scottish definitely informs how I dress, not least because it's so cold that we get to wear great coats. I like big herringbone or Linton tweed coats; there's something about the Scottish climate that means it's good to wear tweed or cashmere, though I'm not a huge fan of tartan. I wore a lovely coat on Newsnight recently that I got five years ago from Carolina Herrera; my mother taught me that if you have beautiful clothes, you keep them.
"I'm thrifty in some ways. I get shoes mended and clothes repaired, and I have a great altering tailor by my London flat. I buy loads in the sales, and will buy two of the same item, such as Prada boots, if they're half price. The other day, someone asked if my top was Prada; I had to tell them it was Topshop.
"I have a tailor in Glasgow called Steven Purvis who I've been going to for years. I get a lot of jackets made and the lining will be beautiful as well – there's just nothing like it. Occasionally I'll get him to make me a dress similar to one I've seen elsewhere at too extortionate a price – I'm not a label queen.
"We don't get a wardrobe allowance for Newsnight; we do it all ourselves and no one's ever chosen anything for me. I've learnt what works and what doesn't over the years. I would happily excise a Max Mara linen jacket from all archives – it was a glorious burnt orange but it was just huge! The key is to feel comfortable, to be able to wear something you like and forget about it. It's much more important to fret about what you're working on than what you're wearing. When I first started I wore a lot of Katharine Hamnett, like this red suit – it's a lovely piece of schmutter.
"Then I started to wear big-shouldered Armani. When I interviewed Margaret Thatcher in 1990 it was white Armani and had fairly big shoulders. We used to wear power suits as a sort of armour against the world and I believe that has changed massively – you don't have to ape a man's silhouette or pretend to be someone you're not. Now, if I were to interview David Cameron I would just wear something that k I really liked, perhaps plain, shot through with a bolt of colour. I do love colour.
"I've worked with wonderful women on Newsnight and we can be having a really serious discussion about some incredibly deep political matter and all of a sudden you go, 'Check the shoes!', then you go back to talking about work because it's just part and parcel of who you are.
"I've always loved shoes. When I got married I wore a very inexpensive dress and incredibly expensive, hand-made shoes. The dress is in the dressing-up box, but I still have the shoes.
"My daughter, Caitlin, has the same size feet as me. She once stole a pair of incredibly beautiful, bizarre pair of pink sequinned high heels I got from Chanel and went clubbing in them. They were wrecked. I've got rid of some of my more ridiculous big-shoulder jackets, but I keep a lot for Caitlin to wear. She may not want them now, but one day… I still wear some of my mum's clothes. She had the most beautiful, hand-painted linen skirts. She was always very stylish, and when people say that I am, too, it really matters to me. I'm very passionate about it."
Camila Batmanghelidjh
'I get stopped on the streets all the time by women who say, 'You're an amazing role model for my daughter.' I think because females are so pigeonholed into a particular way of being, when someone has the confidence and freedom to be whoever they are – whatever their style – it gives a permission to others, too. Especially if you're in the public eye and haven't conformed.
"I've been dressing like this for years; even as a child I had it in me. At boarding school [Sherborne Girls], I used to wet my jumper then stretch it over a chest of drawers so in the morning it was massive, flowing. I used to paint my shoes and twist my clothes into layers. About once a week I was in detention for some fashion choice or other, but I started getting more confident about making my own choices and not caring. What I wear today evolved from there.My strength comes from the fact that I don't take myself too seriously. Though I began wearing the turban when I started being in the public eye so much; I wanted to keep a boundary – something that was private.
"It takes me about two minutes to get dressed in the morning – I decide what colour I am that day, pull it out and put it on. I have a pituitary disorder which means my size fluctuates massively; I could wake up 10 kilos heavier or with one swollen arm, so my dresses have to be quite roomy to accommodate that.
"I don't actually buy clothes at all any more. In the early days I used to buy fabric. Now children [from Kids Company] pick it up from skips or charity shops – old curtains, whatever – and I cut it up and collage it on the floor. Then, when I'm happy with it, the accountant here sews it for me. She's become so good at it. When I get fed up, I cut it up again and re-collage it.
"The turban is made up of two scarves and I'll put on gloves, some earrings – it doesn't matter if nothing matches. I have to wear clip-on earrings because disturbed children will pull on them. It's hard to find clip-ons that are glamorous, but there's a wonderful retro shop in Notting Hill called Amanda's, and she'll give me a call whenever she finds any. The kids are forever trying to get me into a pair of trainers, but I say they're like ugly boats. Instead, I wear Crocs with badges and bits all over them. The kids love them and will talk to them and touch them.
"Little kids think I'm a genie out of a bottle or some sort of magic witch, and then, when they're teenagers, they just think I'm cool. k I never in my life thought that kids would think I was cool, but it's because I don't care – it's the freedom that they like. I'm very conscious that some people don't like how I look, and some really do, but neither way bothers me.
"I'll never forget a meeting in the early days: I walked into the boardroom of this bank and all the men were sitting in their suits. The chairman was so shocked when he saw me, he said, 'Are you Camila?!' He thought I couldn't have had the intellect to write the application because of the way I looked, but when they realised I knew my stuff, it all calmed down.
"I do like fashion. I'll read magazines and I've been in Vogue. I was interviewed by Gwyneth Paltrow, and I made [the magazine's editor-in-chief] Alexandra Shulman include information about the difficulties of child protection in this country. I thought, 'Yep, we've done it: we've got the obese into Vogue.'
"On the streets, labels mean safety because they imply you've got a good criminal backing. The poorer you look, the more vulnerable you look and you're more likely to be attacked. But over time, as a result of our therapeutic recovery programme, the children develop genuine personal confidence, so are less reliant on expensive brands to maintain their dignity and safety.
"Kids Company has some great relationships with fashion brands, though. Recently some of our kids were graduating and they don't have smart clothes – 18 per cent of our children arrive without underpants, for god's sake – so Topshop loaned them all outfits. We've worked with Liberty, Selfridges, John Lewis, Fendi, Mulberry and Burberry, and it means a lot to the kids."
Women Fashion Power is at the Design Museum, London SE1 (designmuseum.org), from 29 October to 26 April
Clothes line: Four modern power dressers
The activist: Emmeline Pankhurst
Pankhurst advocated action towards achieving women's enfranchisement through the Women's Social and Political Union. Photographs show their leaders in the correct dress of the day, enabling suffragettes to present themselves as rational and "ladylike" in the face of negative stereotypes, which branded them mannish, hysterical and vulgar.
The pioneer: Coco Chanel
Chanel is credited with liberating women from the constraints of the corsetted silhouette, popularising sporty and practical clothes in lightweight crêpe de Chine, wool crêpe or jersey. She was inspired by designs for working men and men's clothing in general. In 1926, she introduced the little black dress, which American Vogue likened to the Ford Model T.
The high-street visionary: Mary Quant
After the success of her King's Road boutique Bazaar, in 1962 Quant created the Ginger Group, a line of mass-produced, ready-to-wear, affordable clothes that was distributed to boutiques and department stores nationally.
The politician: Hillary Rodham Clinton
In 2013, the former Secretary of State and Senator was named by Gallup as Americans' most admired woman for the 18th time. Her public image has often been scrutinised, but she says: "Now it's sorted. Women can express who they are… You have to be aware of conventions, but you don't have to be a slave to them." Donna Loveday, curator of Women Fashion Power
Register for free to continue reading
Registration is a free and easy way to support our truly independent journalism
By registering, you will also enjoy limited access to Premium articles, exclusive newsletters, commenting, and virtual events with our leading journalists
Already have an account? sign in
Register for free to continue reading
Registration is a free and easy way to support our truly independent journalism
By registering, you will also enjoy limited access to Premium articles, exclusive newsletters, commenting, and virtual events with our leading journalists
Already have an account? sign in
Join our new commenting forum
Join thought-provoking conversations, follow other Independent readers and see their replies