How to get the look: Full skirts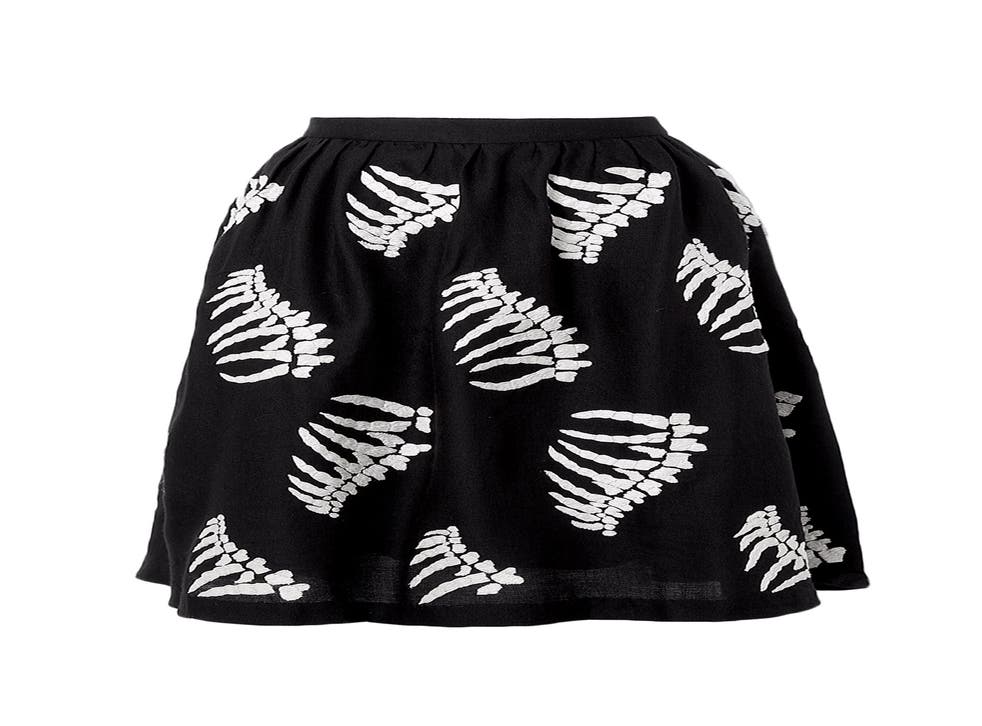 My clothes are always full. There's barely room for a cigarette paper between me and my waistband.
Well you're going to like this skirt shape, then. A 1950s A-line with lots of volume, it's a winner for curves, although it does still require a discernible waist.
1950s? Hmm, I think I've had enough of period dress.
No problem – this season, this shape has had a contemporary redux; these styles would never have made it into Mad Men's wardrobe department. London label YMC has come up with a very neat twist (above, £380, my-wardrobe.com) – from a distance, the pattern could be a fairly monochrome palm print, but up close the macabre, bony truth is revealed, giving a bit of creepy Lynchian subtext to the sweet retro shape.
I like it. Give me more!
For a more obvious subversion of this demure style, how about The Open's swing skirt in high-gloss black patent (£65, glassworks-studios.com). This is look-at-me fabric, so expect a fair amount of attention – don't worry, most of them will just be checking their reflection in your skirt. In both cases, pair with simple separates – a tight, long-sleeved sweater and a leather jacket are perfect.
Register for free to continue reading
Registration is a free and easy way to support our truly independent journalism
By registering, you will also enjoy limited access to Premium articles, exclusive newsletters, commenting, and virtual events with our leading journalists
Already have an account? sign in
Register for free to continue reading
Registration is a free and easy way to support our truly independent journalism
By registering, you will also enjoy limited access to Premium articles, exclusive newsletters, commenting, and virtual events with our leading journalists
Already have an account? sign in
Join our new commenting forum
Join thought-provoking conversations, follow other Independent readers and see their replies