The Independent's journalism is supported by our readers. When you purchase through links on our site, we may earn commission.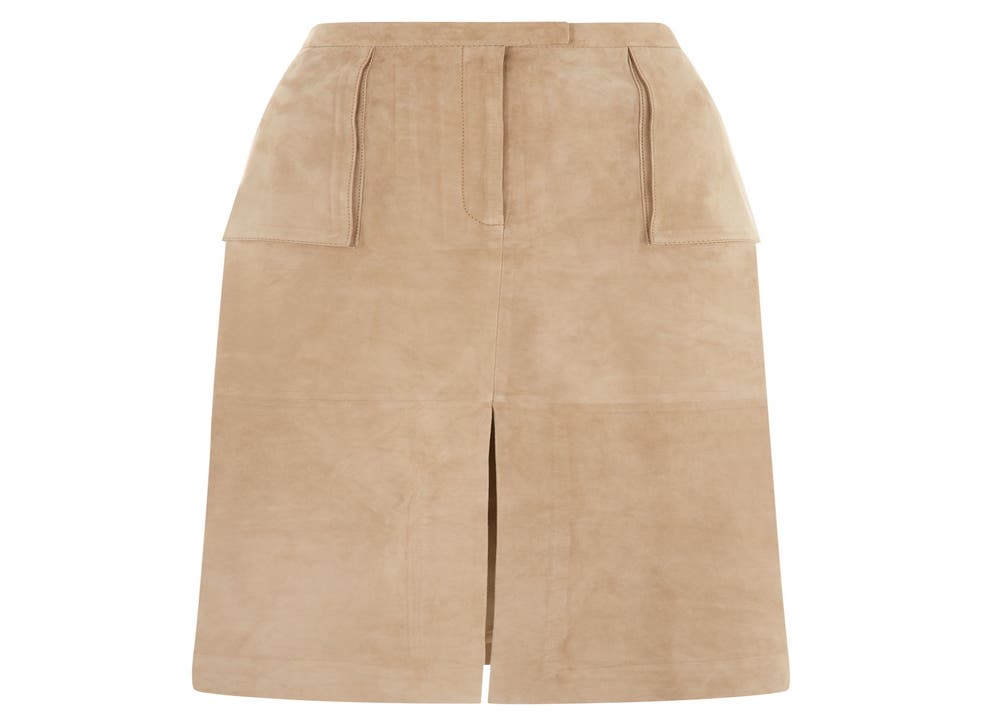 How to get the Look: Suede
High-maintenance fabrics aren't really my thing.
Nor ours. Ordinarily, any garment that has a Martha Stewart YouTube video dedicated to its care is an instant no.
So what's redeemed suede?
Maybe it's the 1970s sensibility of the spring collections seeping into our bloodstreams, maybe it's poring over pics of the street-style crowd sporting sensuous suede with improbably tanned bare legs. No matter, we want in.
Seventies suede. I feel a fringe coming on.
There's a lot of that about, to be sure. But we're rather keener on the decade's unfussier shapes. The simple suede A-line skirt has trans-decade appeal – hence the frenzy over M&S's Autograph version, which has had shoppers on tenterhooks for its appearance in-store. For those who prefer not to wear their shopping metadata on their sleeve, or indeed skirt, we like this sand-coloured, panelled style from Jaeger (£350, jaeger.co.uk, above).
Now that shade is not going to wear well on my commute.
Actually, for real life, we'd probably also opt for the alternative black or grey that it comes in. If you're after a more resolutely vintage hue, Asos's midi skirt comes in a tan shade redolent of days gone by (£75, asos.com).
Register for free to continue reading
Registration is a free and easy way to support our truly independent journalism
By registering, you will also enjoy limited access to Premium articles, exclusive newsletters, commenting, and virtual events with our leading journalists
Already have an account? sign in
Register for free to continue reading
Registration is a free and easy way to support our truly independent journalism
By registering, you will also enjoy limited access to Premium articles, exclusive newsletters, commenting, and virtual events with our leading journalists
Already have an account? sign in
Join our new commenting forum
Join thought-provoking conversations, follow other Independent readers and see their replies