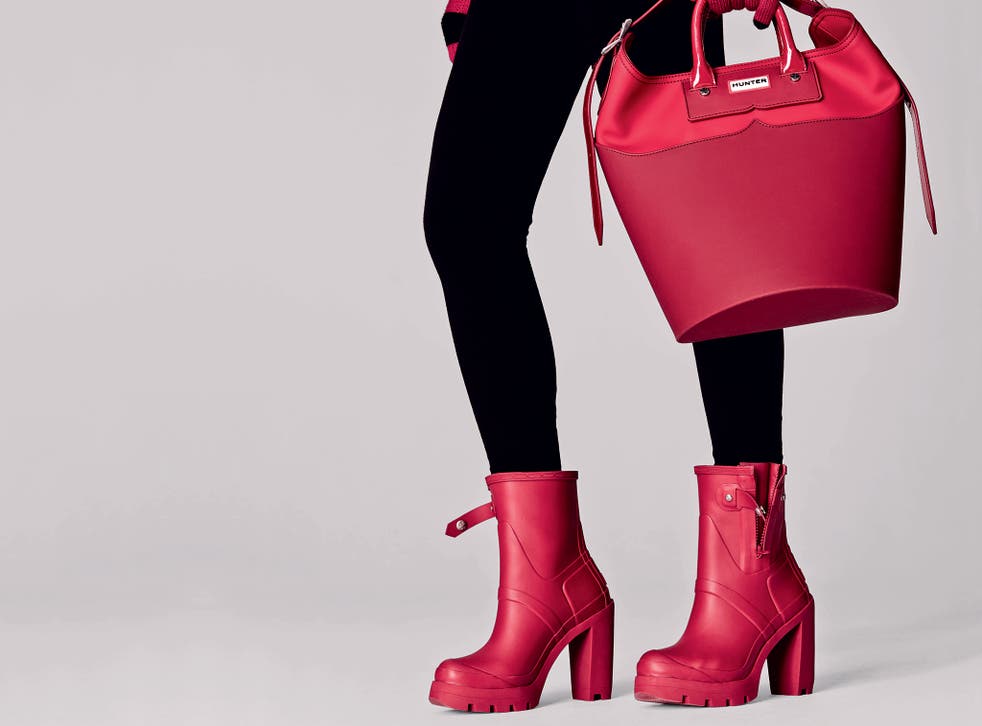 Hunter wellington boots are reaching new heights thanks to a serious heel
As spotted on the feet of Alexa Chung, Rita Ora and Ellie Goulding, the rubber Chelsea boot style makes its way to the high street this autumn
Harriet Walker
Thursday 11 September 2014 21:15 Comments
No other country cares about wellington boots as deeply as we do. From the Queen to Princess Di, Joanna Lumley to Penelope Keith, we have no end of galosh gals to emulate. Wellies are Land Girl, they're tough, they're "can do".
For those of us blessed with a utility room, a muddy pair strewn just yards from the Aga signifies life success. Though in essence purely practical, the welly has become something aspirational. It speaks of dog-walking, huntin', shootin' and fishin'. Of Joanna Trollope and crumpets. Like hedgehogs, when you see them in cities, it's the saddest thing.
Although all that might well be about to change. Kate Moss's favourite brand Hunter – verily the Chanel of wellingtons (even though Chanel does, in fact, offer a mock-quilted rubber boot for approximately four figures) – will this season embark on a mission to trendify the welly. If that sounds ridiculous, this label has past form. Seeing off the £15 Dunlop market-leader with impressive elan (even though they cost three times as much), Hunter's white rectangular tag has become something of a festival staple.
Hunter began life 150 years ago in Scotland, a start-up in the hands of American entrepreneur Henry Lee Norris that grew with demand for well-made and engineered wet weather gear during the First World War. Granted a royal warrant not long after, its signature green style was first released in 1955 and a range of welly socks followed. But the explosion came after Moss was snapped in a pair at Glastonbury in 2005 with then boyfriend Pete Doherty, exposing the brand to a new type of customer. Hunter's success lies in moving with the times, from mid-century aspiration to latter-day celebrity endorsement.
Such is the demand that the brand has diversified into baby pink, red, even gold versions, ankle-height styles and collaborations with Jimmy Choo. And last February, Hunter hosted its very first catwalk show at London Fashion Week.
That collection, overseen by creative director and Stella McCartney's husband Alasdhair Willis, yields some outdoorsy commercial hits in anoraks and parkas – finally! Cool and even vaguely sexy rain-gear! – but it also gave birth to the fashion hybrid du jour, held up by the industry with both fascination and mistrust, like a farmer does a duckling born with two heads – the high-heeled wellie.
"But wait!"you cry, counting up all the instances in your mental Rolodex of having sunk into lawns at weddings, "grass is to heels what Delilah was to Samson! You have to spread your weight! Especially if it's – to coin a dad-word – 'clarty'!"
But Hunter's Original High Heel (£135 and currently sold out online) is no spindly stiletto: it's a chunky block of just over 3.5 inches, and it's actually rather fabulous.
As spotted on the feet of Alexa Chung (who else), Rita Ora (ditto) and Ellie Goulding (what's another word for ditto?) over the summer at Now That's What I Call Every Festival Ever, the rubber Chelsea boot style makes its way to the high street this autumn, and a leather version is also available to pre-order now.
The mind-boggling paradox here is that the high-heeled welly looks (and works) better on a pavement than in a field. Even as popstrels marched through fields in them, the consensus was "well, that's no good for a deep puddle, is it?" But don these for urban striding and you become a rubbery goddess, a Tron-esque futurismo in wipe-clean space socks.
It's the colour that helps. They come in classic black and green, of course, but they're also available in bright red and cobalt, striking the perfect balance between cartoonish and cool. What would be weird when used practically becomes a bit of a laugh when worn self-consciously. That's what some of the best fashion is, after all. And if they happen to keep your feet dry, then so much the better.
Register for free to continue reading
Registration is a free and easy way to support our truly independent journalism
By registering, you will also enjoy limited access to Premium articles, exclusive newsletters, commenting, and virtual events with our leading journalists
Already have an account? sign in
Join our new commenting forum
Join thought-provoking conversations, follow other Independent readers and see their replies