In the frame: Linda Farrow - brains behind sunglasses brand delving into our shady past

Show all 4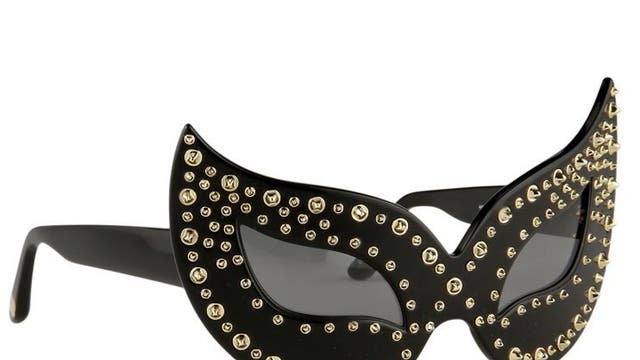 In the frame: Linda Farrow - brains behind sunglasses brand delving into our shady past
Alexander Fury meets the designers as they celebrate a decade of shading the stylish
Alexander Fury
Sunday 25 August 2013 20:31 Comments
Treasure troves aren't exactly everyday finds – swathes of gold and precious gems hidden in the most innocuous and unlikely of places, ripe for rediscovery. A fashion treasure trove is even rarer – especially because, unlike gold, fashion loses both its value and its glitter through the passage of time.
But, oddly enough, that's exactly how the Linda Farrow brand began its new lease of life a decade ago. Back in 2003 the husband and wife team behind the label, Tracy Sedino and Simon Jablon, were boyfriend and girlfriend aged 24 and 22 respectively. While renovating a warehouse belonging to Simon's parents, they discovered thousands of pairs of sunglasses in mint condition. Simon's mother, incidentally, is Linda Farrow, who founded her eponymous company in 1970 before shuttering the firm to focus on her family in the mid-Eighties. Obviously, she assumed the sunglasses would never see the light of day again. No pun intended.
"It was a time when vintage had really exploded, both as a source of inspiration for modern designers and also for the resale market,"says Tracy Sedino. And the bold-face names emblazoned on a selection of the frames – Dior, Yves Saint Laurent, Balenciaga and Sonia Rykiel to name but a few, all of whom Linda Farrow worked with to create unique sunglasses – guaranteed they would catch the public eye.
"We decided we had to do something with this amazing fashion treasure trove. We decided the time was right to relaunch Linda Farrow, under the name Linda Farrow Vintage."
The reaction was instantaneous and universally positive – the company has turned a profit from the get-go. Obviously, several thousands of pairs later, Linda Farrow couldn't rely on vintage frames alone. The company is now renamed Linda Farrow, a reflection of the fact that while the label still looks to vintage for its inspirations, its designs are firmly focused on the future.
"The Seventies and Eighties were amazing years in terms of sunglasses. Those golden-framed, mirror-lenses aviators that are so synonymous with Seventies chic and the minimal black acetate-framed look of hard eEghties chic – those are references that we are drawn to again and again," says Sedino.
"There are really amazing optics to choose from in every decade – the cats-eyes of the Fifties, the oversized Jackie O shades of the Sixties, those are iconic. They'll never be forgotten and people will always want to wear them."
They are also designs that inspire other designers: as with Farrow herself in the Seventies, fashion designers soon began turning to the revitalised Linda Farrow label to create eyewear afresh. "From launching the vintage range, a lot of designers were approaching us, excited by the archive frames," continues Sedino. "It got to a point where we couldn't keep reselling the vintage, the archive Dior and Saint Laurent. So we thought: why not collaborate with the modern equivalent of these brands and create future vintage?"
The first labels Sedino and Jablon's Linda Farrow worked with included Belgian-based Dries Van Noten and the exuberant New York designer Jeremy Scott – Van Noten drawing on ombre-lensed, acetate frames from the Seventies, and Scott taking inspiration from harder, brasher Eighties styles to fit with his colourful Pop-inspired collections. They still collaborate with the designers today, alongside brands including Oscar de la Renta and the Olsen twins' label The Row in New York, innovative menswear designer Walter van Beirendonck in Paris and lingerie specialist Agent Provocateur in London.
"We have our own in-house team who work with designers individually," says Sedino of the experience creating styles for some of the most exacting designer names in the world.
"Some designers respond best to a brief; looking through archive designs and giving them a modern twist. Other designers work intensely with the in-house team to create frames that are entirely unique to their vision. However, they all have a root in the Linda Farrow archive. There's always a touch of the history there that gives it our distinct handwriting. That's what customers – and the designers themselves – expect from anything bearing the Linda Farrow label."
London designer Erdem Moralioglu began working with Linda Farrow last summer, creating sunglasses styles to compliment his spring/summer 2013 Erdem collection. "I found Linda Farrow so refreshing to work with – they don't impose limitations on what you're doing, or on what you want to do," he says. "And I have quite an affinity for glasses – as someone who wears them myself." For his spring collection, slick with sick pastel shades and snakeskin and dedicated to Fifties sci-fi writer Zenna Henderson, Erdem and Linda Farrow created retro-futuristic cat's eye sunglasses in opal colours and metal. Those were inspired by classic Fifties styles, with a twist. "There's a wonderful freedom in working with Linda Farrow," says Moralioglu. "You're allowed to play. But the designers there are amazing in being able to realise your ideas technically. It's one thing to go in with an image, but quite another to technically a beautiful pair of glasses to sit on the human face."
The sense of collaboration is key both to Sedino and Jablon's still-expanding business and this year's tenth anniversary celebrations. For the first time, it isn't restricted to your face.
"We chose 10 specialist designers and fashion studios from around the world to collaborate with on a collection of limited edition pieces, to create a 'Linda Farrow Universe' of luxury," says Sedino.
The Linda Farrow universe, it seems, is an unusual one. There's everything from a leather-trussed Agent Provocateur playsuit to strappy Nicholas Kirkwood shoes, to a Saga woven fox fur coat. It kind of fits: the brand was originally founded in the Seventies after all, when Helmut Newton was riding high. He'd have a field-day photographing this clobber.
For the slightly less brave (or those looking for something lighter on the pocket – the shoes weigh in around £900, that fetishy playsuit £250) Farrow has created a £60 candle with Cire Trudon. "And of course, a capsule collection of limited-edition sunglasses," says Sedino.
"We thought about the kind of presents we'd like to receive for our tenth anniversary, and decided to offer them to our clientele."
Their biggest gift to themselves and to that ever-growing clientele is their new stand-alone boutique on Mount Street, coupled with a shop-in-shop in Selfridges opening on 9 September – both firsts for the label, like that expansion into lifestyle. The two new outposts will stock the 10th Anniversary collection as will worldwide retailers including NET-A-PORTER, New York's
Jeffrey and Colette in Paris, who have turned over their window to Linda Farrow's birthday celebrations. After reviving and then designing, the Linda Farrow label for a decade, you can't help but think Sedino and Jablon must have the recipe for the perfect pair. That commercial Holy Grail? But it's not to be. "That's the great thing about sunglasses: they're personal," says Sedino. "It's about finding something to suit your face, not to suit fashion of the time. They're always in style." And, it seems, something people will always treasure.
Register for free to continue reading
Registration is a free and easy way to support our truly independent journalism
By registering, you will also enjoy limited access to Premium articles, exclusive newsletters, commenting, and virtual events with our leading journalists
Already have an account? sign in
Join our new commenting forum
Join thought-provoking conversations, follow other Independent readers and see their replies