How Instagram became the natural showcase for the fashion world
Instagram is in fashion, literally. Brands use it in a variety of ways, but some still have significant room for growth. And they're not necessarily the ones you imagine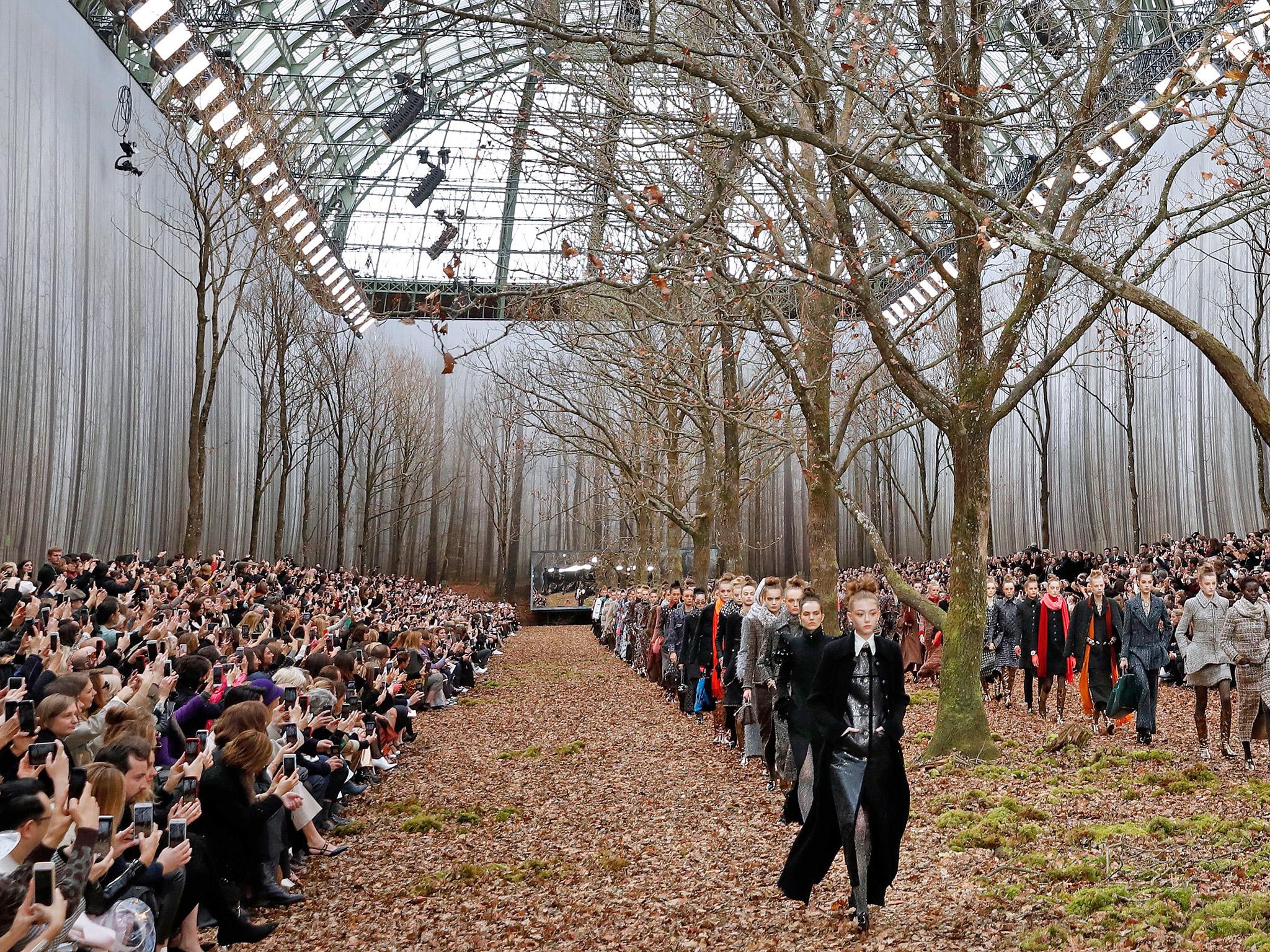 In a difficult economic context, the fashion industry, even the long-reluctant luxury goods sector, has turned towards digital technology. Image and social networks have become key elements of fashion and luxury companies' strategies. Today, social networks in general and Instagram in particular have become an essential medium, not to mention a vital sales channel for fashion brands. But not all brands seem to have yet acquired the same level of mastery of this new tool. Or is it perhaps a deliberate choice?
By nature, Instagram is well suited to fashion brands to whom the visual and "community" dimensions are essential: purchases generally linked to a feeling of belonging to a group, or through the imitation of stars, etc. Moreover, Instagram is unrivalled as a means to reach millennials: in 2017, 90 per cent of Instagram users were under 35. Keen followers of social networks, this generation has a different relationship to brands, placing emphasis on use rather than possession and proving more sensitive to the power of the image. Another characteristic of millennials is that they want things instantaneously. Jérôme Viala, deputy managing director of Lectra, provider of technological solutions for the fashion, automotive and furniture industries, has studied millennials' impact on those markets.
As Viala states, "When this generation wants to buy a product or service, they have to be able to make the purchase immediately." This has recently been made possible in Instagram, with the addition of the "shop" button. Other features have been developed over time in order to enable brands to rebroadcast their events or reveal what is going on behind the scenes, and particularly Stories inspired by Snapchat, Instagram Live and, since the beginning of the year, the most eagerly awaited event of all among community managers, the planning of publications.
For brands like Chanel, it is chiefly important in marketing terms to target this audience through Instagram: "Intimacy is the key word in our analysis as Chanel has become a leader in the field of communicating with millennials and targeting what they want to see," wrote Andi Bei, Eleonore Bichot, Henrik Johansen, Livia Lima, Mateusz Majka and Max Dante in their paper about Chanel's Instagram strategy.
They continue: ​"The world of Chanel is opening to followers, whether it is through live casual conversations between two brand ambassadors, pictures of a launch party or backstage images of shows. This does not exclude product pictures or official campaign extracts: everything is brought together to convey the brand's philosophy in the most direct way, and is also very efficient in modernising the brand's image as well as reaching a young target audience."
Little wonder, then, that Chanel (one of the last brands to sell online, paradoxically) has its own dedicated Instagram team in Paris. The marketing management of events – fashion shows but also the Cannes Festival – was spotlighted as early as 2016, which allowed Chanel to be the luxury brand that gained the most followers in 2017 (+9.6 million). It is the most followed luxury brand (25 million followers), ahead of Louis Vuitton, Gucci and Dior.
Our students also noted that some brands adopt a distinct Instagram strategy that is unique to their own style: "Chanel and Hermès are less product-driven. Instead, they focus on delivering an experience for their followers to immerse in for that particular season (Chanel) or showcasing its exclusive brand image and heritage (Hermès)." This is not always the case: Prada's Instagram strategy is similar to that of other brands such as Gucci and Dior. "It is a mix of showcasing brand stories and products from the collection, as well as gaining publicity by engaging with celebrities."
Apart from Chanel, the major luxury brands are, however, outstripped on Instagram by other fashion industry players, including sportswear brands such as Nike and Adidas (especially when their different accounts are aggregated), lingerie (Victoria's Secret) and ready-to-wear brands (H&M and Zara). The position of these companies in the 2017 Interbrand ranking of the 100 most powerful brands in the world is more or less reflected on Instagram. Even though the internet is generally associated with a dispersal of brands…
Having said this, there are exceptions: Chanel, for example, punches above its weight, to use the image employed by Luca Solca, luxury products manager at Exane BNP Paribas. Particularly because it posts more frequently than its main competitors, with Hermès punching below its weight, according to Sola's analysis of the luxury goods industry.
However, other less well known brands are also achieving great success on Instagram – for example Maje, which has an average engagement rate of 0.61% and whose "unique technique of posting complementary content in threes, creating a feast for the eyes" was cited in Dash Hudson's annual fashion Instagram benchmarks as a source of growth rate.
As our students observed: "Campaign images work well on this platform and seem to get consumers excited about upcoming product releases. The Maje exclusives are of key interest to their followers, as the name alone incentivises them to shop."
It is the same for certain DNVBs (Digital Native Vertical Brands), brands born online that "interact directly with, and sell to, their clients without going through a distribution network over which they have no control". These include Dollar Shave Club, Jimmy Fairly, Casper, Made.com, etc, brands that "stand out for their skilful manipulation of social media".
A group of students studied Sézane, one of the brands whose very existence depends on their presence on the social networks. According to them, "it gives echo to a current prominent phenomenon: brands are emerging as a response to the needs of the new waves of consumers primarily looking for differentiation through a two-way dialogue with the brand, as opposed to the previous generations, which was more producer-driven".
Sézane's founder, Morgane Sézalory, talks about this dialogue: "I genuinely believe that a job becomes fascinating when it gives a lot back in exchange. And that's also true for my clients, with whom I have had daily links for 12 years. This dialogue is captivating and encouraging and Instagram has amplified it. This proximity enables me to stay in tune with them".
Kate Spade: American fashion designer
Show all 12
We would not, however, go as far as saying that Instagram has killed the retail store, basing ourselves on the "success story" of Parisian Alexandre Daillance's NasaSeasons (better known as Millinsky). Especially since this strategy has allowed Sézane to open a concession at Bon Marché, pop-up stores in the provinces and two "appartements" in Paris and New York.
So, social network success is not a question of size, nor the prerogative of pure players. Now number one on the American apparel market ahead of Macy's, Amazon is also trying to move into the world of fashion. In 2007, Amazon founder Jeff Bezos said "We need to learn to sell clothes and food". Before creating Amazon Fashion in 2012, opening Europe's largest photographic studio in London's Shoreditch in 2015 and patenting an automated on-demand clothing factory in 2017, the e-commerce giant bought out ShopBop in 2006, then Zappos in 2009. A leading online department store specialising in top-of-the-range fashion, the latter was run as a complement to Amazon's existing Apparel & Accessories site, although their posting strategy has changed over time, as highlighted by the group of students who studied it: "It is now a good reflection of the brand image ShopBop is trying to convey: a chic and aesthetic-focused brand. All in all, the ShopBop Instagram account is gaining momentum, following a strategy aligned with the brand image they are trying to convey."
The Instagram strategy employed by Amazon Fashion, which now has 10 companies as own brands, some of which are little known and one recently launched in Europe (Find), is all the more surprising. According to our students, "After careful observation, there did not seem to be a clear strategy of the Amazon Fashion Instagram accounts. Differences between the many Amazon Fashion accounts create, in our opinion, a lot of confusion for the consumer."
The reason they identified for this is simple: although Amazon Fashion realises the importance of social media in its marketing strategy, it has launched its own platform, Amazon Spark, which is seemingly inspired by Instagram. Now, despite being innovative and having great potential, with "only" a 80-million user base (one-ninth of Instagram's), Amazon Spark cannot be a substitute for Instagram. As our students say: "A more feasible strategy could be to introduce the Amazon Spark experience in collaboration with already recognised online platforms, such as Instagram, in order for it to break into a mass market."
The problems and questions faced by Amazon – which is extremely present, not to say invasive online, particularly on Facebook – show that Instagram does not change everything, that it is always difficult to succeed on social media as a distributor because you cannot push your own brands too much. The retail industry as a whole is actually not very good at that game, with exceptions such as Walmart.
However, according to research by Socialbakers, "The foundation of success on Instagram lies in good content planning. If you already have a stable content-creation strategy for other channels, you can apply many of the same tactics to Instagram."
The students who chose to make a comparison between Chanel and Nike also found points in common between their strategies: "None of them directly links the Instagram account with the official e-shop. In both cases, the content is instead focused on presenting the world of the brand and the idea of beauty conveyed by it. Also, both accounts often include posts with celebrities and brand ambassadors
The strategies implemented by the brands are diverse, as our students have observed: "Chanel uses only one account to communicate with the public, while Dior, Nike and Adidas manage multiple accounts that target specific communities. Sézane uses content to create involvement, Prada short films and East Dane uses Christmas holidays to increase sales. When it comes to strategy, the important thing for everyone is to be first in the mind of the consumer".
With multiple Instagram accounts that appeal to a specific demographic and very engaging stories, Dior does not, for example, have the same approach as Chanel, but that did not prevent it from being one of the three brands (with Hermès and Louis Vuitton) that created the biggest buzz in 2017 on Instagram. Dior's success proves that diverse social media accounts can benefit.
There is no golden rule. However, despite these differences there is a common goal for all: the differentiation of the offer.
Valérie Moatti is a professor, lectra fashion and technology chair and Céline Abecassis-Moedas is an affiliate professor at ESCP Europe and professor, both at Universidade Católica Portuguesa. This article first appeared on theconversation.com
Join our commenting forum
Join thought-provoking conversations, follow other Independent readers and see their replies