iStyle: Fantasy footwear league

Show all 6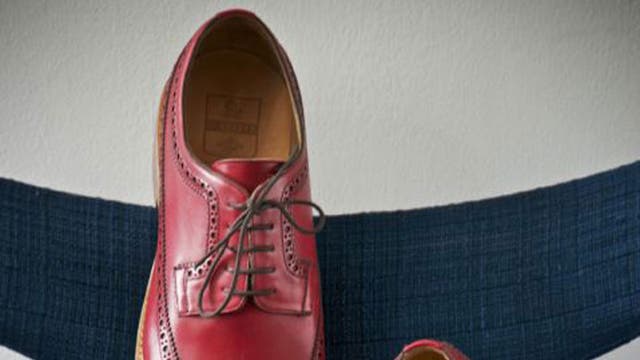 iStyle: Fantasy footwear league
A well-made pair of shoes, or two, is an investment that will pay dividends, says Lee Holmes
Over the past decade or so men's shoes have undergone something of a renaissance; trend-driven styles and shapes are now increasingly the norm. Even department stores now devote valuable floor space to what men wear on their feet. Which means, gentlemen, that it's no longer acceptable to have a laissez-faire attitude to shoes; like it or not, they say a great deal about the kind of man you really are. In fact bad shoes, where the toe is too square or too pointy, are enough to make a grown man cry.
But rectifying your shoddy shoemanship does not mean that you have to embark on some kind of Imelda Marcos shopping spree. Instead, decide on a few choice styles that suit you, shoes that will see you through from work to weekend, and then invest.
A very good place to start would be with the shoe brand O'Keeffe. First launched in 2011 by Maud O'Keeffe the shoes are made with real passion with inspiration coming from the 1920s and 1950s. Thrown into this mix is Maud's Irish heritage – her great grandfather was a boot maker in Ireland. Finally, the shoes are then made in Italy and as any shoe aficionado knows, that is a nation that is as proud of its shoe-making skills as its is of its pasta.
The actual number of shoes made is limited to small batches, which keeps the collection modest while giving the brand an air of exclusivity. That doesn't mean O'Keeffe's offering lacks clout and style though; brogues, loafers and derby styles all make an appearance, some in bright colours and others in more traditional hues. The cricket-ball red brogue has proved to be the best seller since the company started. However, it's the snazzy double monk strap that really steals the show. This style is the shoe of the season; everyone wants to join the order of the monk strap.
Join our new commenting forum
Join thought-provoking conversations, follow other Independent readers and see their replies