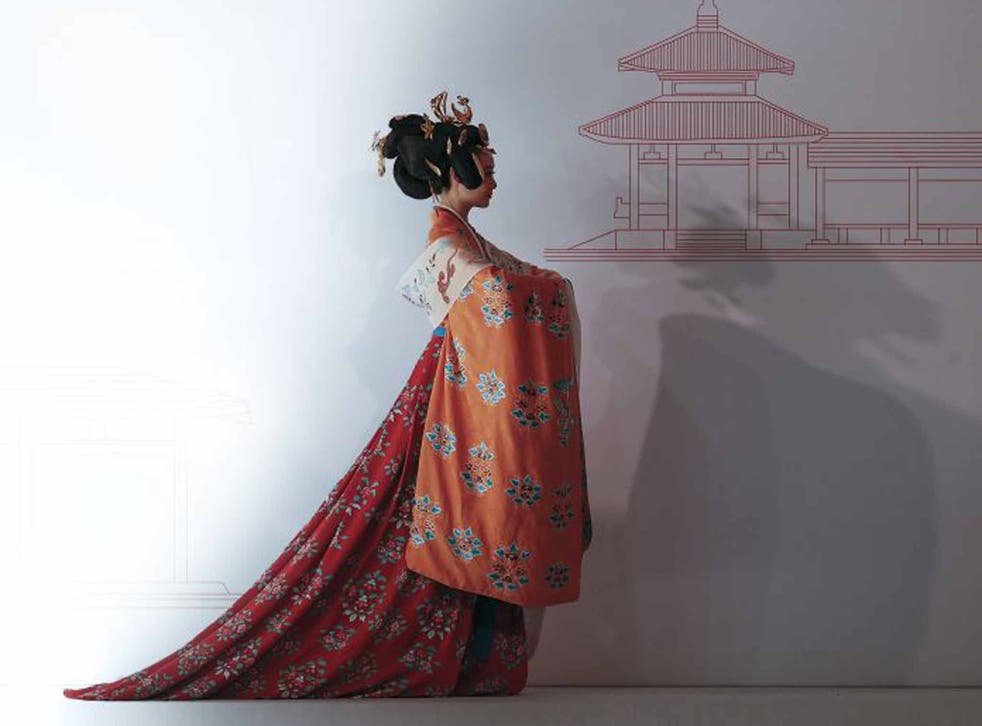 It's always fashion week somewhere in the world: ​From Moscow to Beijing
More than 50 territories now hold events. Rebecca Gonsalves travels off the beaten track
Monday 08 February 2016 19:15 Comments
Moscow is an overwhelmingly grey city. Squat concrete buildings stretch as far as the eye can see; the steely sky seems to almost sink with the weight of the smoke steaming from industrial chimney stacks. But as you near the centre, glimpses of the psychedelic rooftops of St Basil's Cathedral and the ornately decorated architecture of the Kremlin tease the eye. And, if you venture inside the Kremlin itself, you'll unlock the secret to the Russian taste for ornamentation – their thing for bling – as its striking churches and museums house beautiful works of art, set with semi-precious stones and gilded to the nth degree, as well as the most dazzling diamonds you can imagine.
A stone's throw away, in a corner of Red Square, a classical-columned building once used as a vast stable becomes abuzz twice a year, as fashion bloggers, buyers and editors assemble to see the latest collections at Mercedes-Benz Fashion Week Russia. Inside, pass through the metal detector and past the selfie-taking throng posing in front of a mirrored wall, and there are numerous champagne bars and makeover stalls to keep the attendees entertained. The show schedule starts at 2pm and carries on into the evening, but the young women dolled up in furs, leather and, of course, jewels show no sign of flagging. Inside the catwalk space, clothes from young Russian designers prove only a brief distraction from the important business of posing for more selfies.
For good or ill, the fashion business is now seen as an entertainment one, with catwalk shows providing the headline acts. Today, it seems as if every country has a fashion week of its own, with a diverse range of customers, aesthetics and climates all catered for. The growth in the international calendar owes a lot to the opening of borders and the loosening of trade restrictions. The rise of social media has played a part, too. It has also been fuelled by Mercedes-Benz – the German car manufacturer sponsors fashion weeks in more than 50 territories including Bejing, Moscow and Amsterdam as part of its Global Fashion Commitment, founded in 1995. But just who are such shows for, and what exactly should designers be showing?
"These smaller fashion weeks should be given a break," says Lily Silverton, features director of Hunger magazine, who was in Russia for fashion week. "They are babies compared to Paris or Milan, and should not be expected to perform in the same way." She's got a point. Founded in 1943, New York Fashion Week is the oldest of the big four (New York, London, Milan and Paris), while even London, the youngest, was established more than 30 years ago. Compare that with China Fashion Week, which was first held in 1997, or Russia, which didn't start until 2004, and these are undoubtedly the new kids on the block – and should be judged as such. Additionally, the big four rose out of established design and manufacturing industries; China has a rich heritage of artisan creators and traditional dress and, more recently, as a manufacturer of cheap wares, but it is not particularly well regarded from a design perspective.
Fashion weeks around the world

Show all 6
But, in fashion, moving away from the establishment doesn't have to be detrimental: young designers are celebrated for their excitement and exuberance over anything more refined, production-wise. The fashions on show in the cities I visited – Moscow, Beijing and Amsterdam – seemed to be of similar quality to much of that seen in graduate shows in the UK, where designers have small budgets and limited access to textiles and materials. That's a particular difficulty for Russian designers, who don't have a rich domestic history of mills and weavers to fall back on in the way that their British or Italian counterparts might. Fashion weeks, though, are as much about the exploration of ideas as they are the creation of clobber.
Mercedes-Benz China Fashion Week is held in the art district of Beijing, in the 751 D Park design area, a row of former factories that have slowly been taken over as galleries and studios since the 1980s, when Ai Weiwei and his contemporaries first moved in. China's thirst for luxury goods and European labels is well documented, but how important is it to establish a modern fashion industry of its own? China's middle class has ballooned in recent years and could reach 600 million by 2020, when it is expected to be the world's largest luxury-goods market, with import demand expected to rise by $3.4tn from 2010, according to figures from UK Trade & Investment. In light of China's recent economic woes, perhaps more investment in building domestic businesses is the answer.
Whatever the city, there was an overwhelmingly Western aesthetic to the clothes on show, reflected in the way in which its citizens dressed, and indicative of an increasingly homogenous industry. It was easy to see the influence of certain designers – notably Nicolas Ghesquière, Thierry Mugler and Alexander McQueen; but every city has designers guilty of attempting to emulate those singular talents. In those I visited, inventive and theatrical staging was used to great effect. In Moscow, Dimaneu closed his show with a patriotic performance of modern dance; in Amsterdam, Two Legged Creatures sent models down the catwalk via pans of sloppy red paint, leaving a trail of crimson footsteps as they progressed. Such theatrics would probably get short shrift from the jaded audiences of London, for example, but in this context there seemed to be a genuine desire for them.
To understand a country's modern dress, one also has to be aware of its recent social history. Russia's dependency on oil and economic sanctions against it mean that millions are in poverty. It seems the uber-wealthy are relatively unaffected, but will they be drawn away from the designer wares in renowned Red Square department store Gum to buy from a relative unknown? "The mood in the city is low," says Silverton. "Russia is dealing with some pretty awful socio-political conditions. As a whole, the collections don't reflect that – it's all quite sparkly and escapist, as fashion tends to be." Bloomberg reports that Russia's $33bn fashion market was expected to shrink at least 20 per cent in 2015, as recession continues into its second year and a depreciated rouble leaves little spending money.
Staging a catwalk show is expensive, and it takes time and effort to make a collection worthy of that setting. Some say the fashion show as we know it is dead, but the enthusiasm for it in the emerging markets could prove otherwise. Indeed, Iris Ruisch, creative director of Fashion Week Nederland, believes it's in rude health: her objective is to "create an event that is both appealing to fashion-industry insiders, as well as captivate a wider audience". In Amsterdam, half of the show's attendees are students afforded a first-hand look at the industry they hope to join. "Education is where it all starts – fashion students are the future of fashion and design," says Ruisch, who sees their attendance as vital to the success of the event and creates the schedule with that in mind. Ruisch also believes there's more to commercial success than an economic transaction. "You create something for someone and, in return, you get something back – whether that is an industry-changing moment or commercial success," she says.
Giving back is an idea that can be at odds with the cold, hard commerce of modern fashion, but it's affected throughout the year by Mercedes-Benz' exchange programme, in which designers from one territory show in another, all expenses paid. Later this month, Xiao Li, who won the China Designer award in Beijing in November, will be brought to London to show her autumn/winter 2016 collection. As well as presenting a designer to a new audience and opening minds to talent in new territories, such cultural exchange can improve the quality of clothing and the relevance of design.
Register for free to continue reading
Registration is a free and easy way to support our truly independent journalism
By registering, you will also enjoy limited access to Premium articles, exclusive newsletters, commenting, and virtual events with our leading journalists
Already have an account? sign in
Join our new commenting forum
Join thought-provoking conversations, follow other Independent readers and see their replies