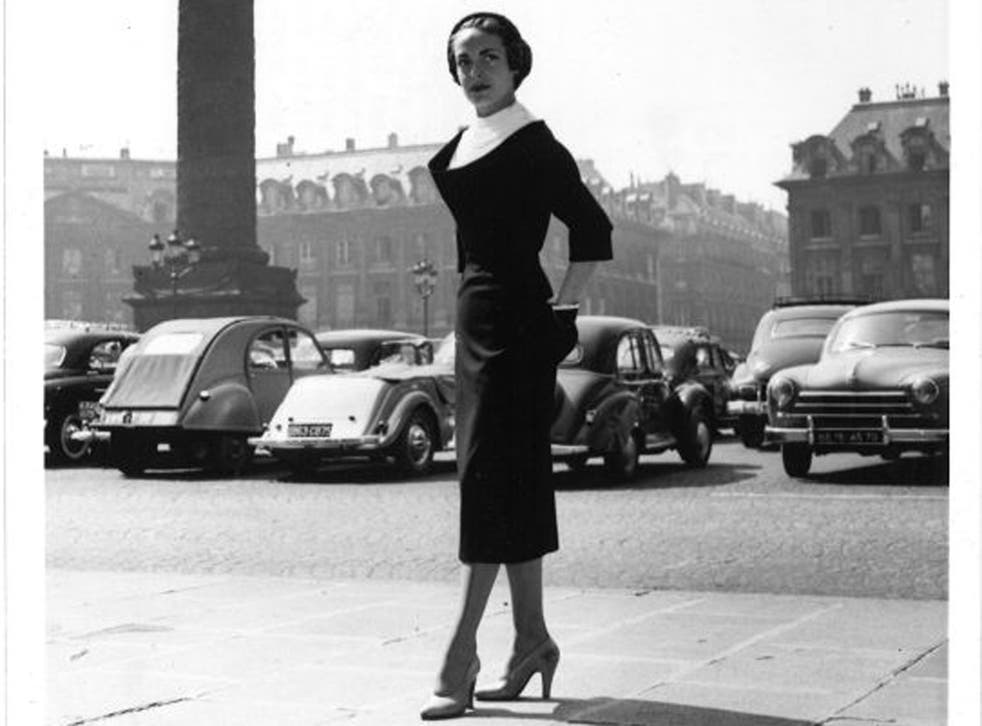 Italian renaissance: The house of Schiaparelli is relaunching after 60 years with a haute couture collection
It's a big challenge, but Schiaparelli has long been a byword for the unconventional, its new designer tells fashion editor Alexander Fury
Alexander Fury
Wednesday 22 January 2014 22:00 Comments
Haute couture is the highest, but possibly oddest, echelon of the fashion industry. The name translates literally as "high sewing" but its meaning is far deeper. Haute couture clothing is entirely made by hand, and to measure, for a coterie of the world's wealthiest women. Despite the five-figure price-tags (sometimes pushing into six for an especially elaborate confection), couture makes little or no profit. That's because no corners are cut. Couture is about absolute perfection. And perfection costs.
It doesn't just cost the clients, it's a pricey business for the couture houses, too, to maintain an atelier (or workroom) of specialist craftspeople, a Parisian headquarters, and stage a show in which each outfit rings up at around £20,000 to make. That's why there are so few of them still doing it.
So, when the Italian fashion magnate Diego Della Valle, the chief executive and president of Tod's, the leather goods company, announced that he would not only revive the house of Schiaparelli, dormant since 1954, but relaunch it with haute couture, the fashion world was incredulous. After all, the last designer to launch their name with a couture range was Christian Lacroix in 1987. But that was just what Diego did. He called on none less than Lacroix to help: during last July's couture season, Lacroix staged a static presentation of couture outfits on mannequins at Paris's Musée des Arts Décoratifs in homage to Elsa Schiaparelli, the house's eponymous founder, who died aged 83 in 1973. This time round, it was the newly appointed creative director, Marco Zanini, who took on her mantle and the considerable weight of a haute couture heritage.
Zanini, 42, is no slouch. The show he presented on Monday morning was an ode to Schiaparelli's legacy, executed with couture precision. The show was a riotous trip through the house archives, reworking key looks with a sly glance at the past, but with a contemporary woman in mind. "The values that Elsa represented are still relevant and needed today," Zanini says. "This completely unconventional and irreverent approach to everything that she managed to execute, in a way that became the epitome of a certain type of elegance. And intelligence is elegant. In Schiaparelli's work, it shows so much. That's the true core of the house of Schiaparelli, why the name still resonates so vividly."
We meet in Schiaparelli's haute couture salons in the Place Vendome – the original salons where Schiaparelli showcased her collections, although Zanini says: "We renovated a little." The salons are subtler, and Schiaparelli's trademark pink – a virulent fuchsia she dubbed "shocking" – isn't terribly evident. It's more old gold and tasteful beiges, although there are touches of eccentricity, such as ornate gold frames licking the edges of mirrors like flames.
Zanini fits the Schiaparelli bill. He's had couture training – working alongside Donatella Versace for almost a decade on her Atelier line. His father is Italian, as is his accent, and his mother is Swedish. Born in Milan, Zanini was raised between Milan and Sweden, and moved to Paris six years ago. Just like Elsa, he's something of a non-conformist. With mutton-chop sideburns and tattoos snaking across hands and neck, he certainly doesn't fit any stereotypical ideas of an haute couturier. That carries over into Zanini's work – he was the head designer of Rochas until 25 September last year, the day he presented his final show for the house. He started at Schiaparelli the next day.
However, Zanini's work at Rochas set a template for what he has done at Schiaparelli: an eccentric elegance, absolute chic but with an interesting offness, even ugliness. Zanini's final collection combined sugar-sweet iridescent dresses with shoes embroidered with feathers until they resembled exquisite podiatry feather dusters. When Zanini describes his ideal Schiaparelli clients, his words speak volumes: "Very confident, very educated, very cultivated and non-conformist." He could be speaking about himself – hence the fact he's the perfect man to revitalise the house Elsa built. His clothes are also loved by women. His penultimate collection increased Rochas's sales by 50 per cent.
Despite Zanini's assertions, Schiaparelli isn't a name that resonates much beyond the world of fashion. It's not even the cool bit of that world, more the fashion trainspotters who remember Schiap's pre-war heyday. "Especially as a teenager," Zanini says. "You were so fond of Schiaparelli because she was slightly extreme, rebellious and iconoclastic as well. That appeals to teenagers!" This appealing obscurity stems from the closure of the house more than half a century ago, which was down to her designs becoming out of tune with the times, especially because the full-skirted, narrow-shouldered romanticism of Dior's New Look was the antithesis of Schiaparelli's signature style.
Italian-born but Paris-based, Elsa Schiaparelli invented the dominant 1930s' silhouette of stiff, jutting shoulders and slender, long skirts. She collaborated with artists, including Salvador Dali, to create Surrealist-infused fashions, such as the famous lobster-printed dress inspired by Dali's Aphrodisiac Telephone and worn by the Duchess of Windsor. She was the first designer to present thematic collections – when a designer states their collection is about the Circus, or the Zodiac, or Chinoiserie, they're harking back to Schiaparelli. Incidentally, she based collections on all of the above. She had a healthy, hearty rivalry with Gabrielle "Coco" Chanel, who dubbed her "that Italian artist who makes dresses".
Chanel's name, of course, is still globally famous thanks to the fact that the label bearing her name stayed open while Schiaparelli was mothballed, but also because of the enduring success of Chanel No 5. But that also means there's a precedent for the revived Schiaparelli brand. Right now, the world seems mad for Schiap. Two years ago, the Metropolitan Museum in New York presented an exhibition titled Impossible Conversations, comparing Schiaparelli's work to that of her modern counterpart, Miuccia Prada. Today, alongside the catwalk revival of the Schiaparelli house, a selection of furniture, artworks, objets and clothes are being auctioned at Christie's in Paris, placed for sale by Schiaparelli's granddaughter, the Hollywood actress Marisa Berenson. It's a disparate selection of stuff, but with works by Man Ray and Alberto Giacometti jostling with slightly kitsch revival Louis Seize furniture and bags of discarded buttons, it's a perfect capsule collection to summarise Schiaparelli's off-kilter aesthetic.
The name of Schiaparelli may be slightly obscure, but her influence on some of fashion's bold-face names makes her style easily recognisable. Cycle back through the collections of Yves Saint Laurent, John Galliano, Dolce & Gabbana or Jean Paul Gaultier, and there are plenty of Schiaparelli moments. Gaultier even took a break from preparations for his own haute couture show to cheer Zanini on. "The trickiest part of this house, of course, is that it had such a unique and precise look to it, that has been so overtly referenced in the past decades, by almost anybody," Zanini says. "That is the part that, from a creative point of view, is more tricky. How to keep it true to itself without making it... camp."
Maybe it was avoidance of camp that meant that Schiap's famous crustaceans were all but absent from Zanini's debut – a pair of crabs, embroidered on the duchesse-satin wrists of an evening suit, was the collection's only sly sea-life reference.
Of course, the embroidery was all done by hand. As was the rest of the Schiaparelli collection – including prints, hand-drawn by Zanini and created using traditional silk-screening techniques in Lyons. "It's couture. Everything has to be done by hand," Zanini says. "That is most important. That is the crucial element. Without it, that is not couture anymore. The process of making the collection… had to be done by hand.
And creatively speaking, the possibilities that you can explore and the techniques that you can explore are, frankly, impossible in ready-to-wear." One of the loveliest pieces in the collection, a crinkly gossamer chiffon skirt with a bubby effect, used a hand-stitching technique called bouillonné. It contained 80 metres of fabric, but was light as foam (bouillonné means "to foam"). It perfectly captures couture's trademarks of ethereal lightness, sleight of hand and technique.
The clothes are beautiful, sure. But the best part of Zanini's Schiaparelli is his palpable enthusiasm and love for the work he is doing. His absolute adoration of couture, and obsessive admiration for Schiaparelli, are endearing. "I didn't think, I just did it," he says of his first collection. "I tried to enjoy every minute."
During the course of our conversation, he references Schiaparelli books, the inspiration she gave to his fellow designers and specific collections. He's bubbling over with information on Schiaparelli. That love for the subject helped to tie the collection together. His Schiaparelli debut was like a love letter to Elsa. "From the sketch to the show is like a blind date, because you try things, you imagine things… but to execute them at a certain level of excellence is esperimentazione. Everything is done by hand, it's impossible to estimate the hours… the final price. It's very complex and very mysterious, somehow. But it's very exciting."
Zanini is also touchingly awestruck. "I don't know exactly how I got here," he says, glancing around the gilded Schiap salon. "This for me is like a dream come true… Honestly, this is a unique opportunity, a unique proposition. It's unlikely to happen every year. This is what makes me feel so incredibly privileged and lucky." He smiles – actually, he beams. I've never seen a designer smile like that. "It's amazing."
Register for free to continue reading
Registration is a free and easy way to support our truly independent journalism
By registering, you will also enjoy limited access to Premium articles, exclusive newsletters, commenting, and virtual events with our leading journalists
Already have an account? sign in
Join our new commenting forum
Join thought-provoking conversations, follow other Independent readers and see their replies