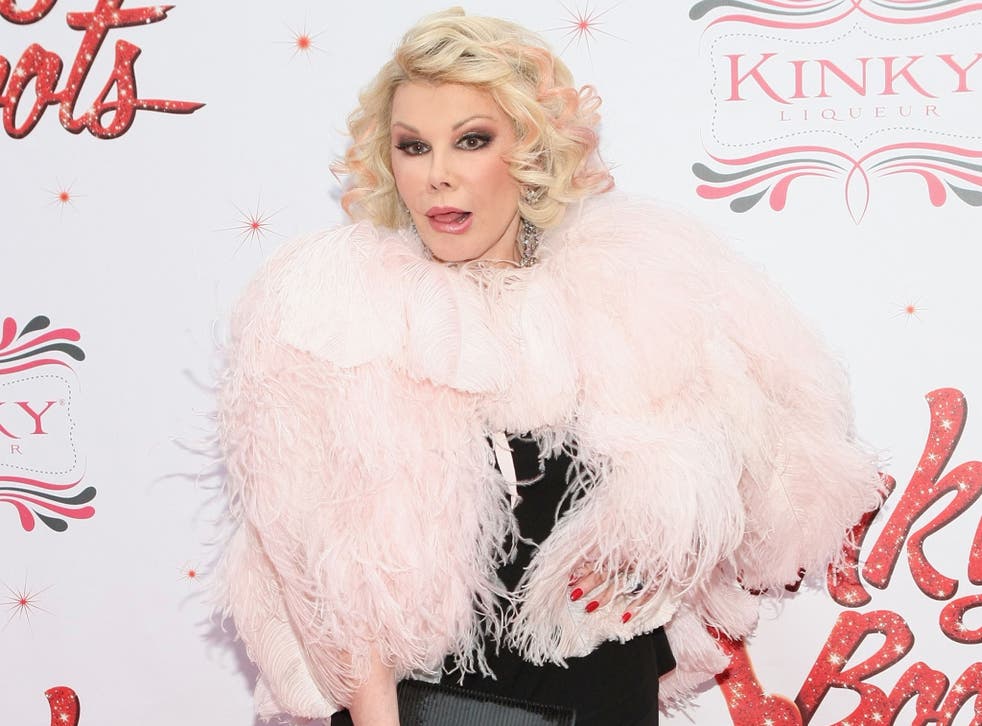 Joan Rivers dies: Best Fashion Police jokes
Tribute to the iconic American comedienne who died yesterday at age 81
American comedienne Joan Rivers, who died yesterday at age 81, was famed for her acid-tongued fashion critique, and so we pay tribute to her funniest Fashion Police moments.
After years patrolling the biggest red carpets and giving her verdict on the gowns, she went on to star in her own TV show. From 2010, the late comedienne co-hosted the successful E! show Fashion Police alongside lilac-haired reality TV star Kelly Osbourne, and presenters Giuliana Rancic and George Kotsiopoulos. The team became famous for their unfiltered commentary on celebrity style, but it was often River's witty one liners that stole the show.
She was beloved by many for her hilarious red carpet commentary but feared by any celebrity who dared to hit the red carpet in an unusual or daring ensemble. Whether you loved her or hated her, there's one thing that will make you laugh. Here are some of the best of her Fashion Police moments.
When Rivers got dressed like Jersey Shore's reality TV star Snooki:
On Angelina Jolie's "leg bomb" at the 2013 Oscars: "Everyone took her to task with that photograph with the leg out, but to me it looked as if she had a terrible yeast infection and she was trying to air it out. It was hilarious!"
On Justin Bieber's attire: "Someone needs to sit him down and say, 'You are not a big black thug.'"
On Rihanna's #FreePalestine controversial tweet: "Rihanna, who is beautiful but is not the brightest bulb in the lamp, they see pictures of children and they go crazy. I think Israel should start showing pictures of dead puppies, and you'll see these girls turn right around."
On Lady Gaga's purple fur gown: Rivers told her fellow Fashion Police host Kelly Osbourne: "Look away, Kelly, I don't want you to have to see this. So many of your people must have died to make that dress!"
Joan Rivers' funniest fashion insults on Fashion Police

Show all 9
On Kate Winslet's golden flower fascinator: "The nice thing about this hat is that it covers up the head wound that made her think it was a good idea to wear it in the first place."
On Nicole Kidman youthful face: "And she does remind me of Audrey Hepburn in one way. Neither one of their faces has moved since the Nineties."
On Rihanna's gothic-chic look at the 2014 iHeartRadio Music Awards: "I have not seen lips this green since Miss Piggy got out of the back seat of Kermit's car."
On Natalie Portman at the premier of Black Swan: "I don't like she's carrying a book… It says 'this movie sucks, it's so boring I'm going to read through it'".
On Madonna's nip slip: "Listen to me young girls out there; it's never too late to do a breast examination"
Despite her seemingly ruthless approach to red carpet criticism, Rivers kept a respectful limit to her comedy, during an interview she said: "Only if I think it's funny and not hurtful. If you're under 16 I'm not going to talk about your clothes… And you don't do anything just to be mean, it has got to have a reason for it."
Join our new commenting forum
Join thought-provoking conversations, follow other Independent readers and see their replies