Joe Corre: Mister Fancy Pants fights back

Show all 2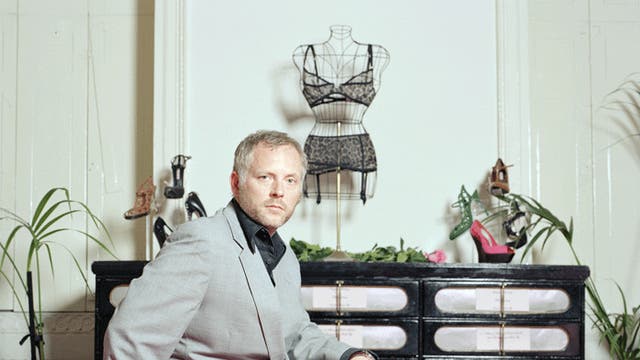 Joe Corre: Mister Fancy Pants fights back
When Joe Corre's wife ran off with a rock star, he was left in sole charge of the couple's multimillion-pound lingerie empire, Agent Provocateur. Now the 40-year-old son of Malcolm McLaren and Vivienne Westwood has a radical new plan for his business – and frilly knickers don't come into it
You can take the boy out of the King's Road, but you can't take the King's Road out of the boy. If Joseph Corre, co-founder of the lingerie company Agent Provocateur and the son of punk progenitors Vivienne Westwood and Malcolm McLaren, grew up imbued with the rebellious, DIY spirit of 1976, then he has only grown more discontent and agitated with age. After turning down his MBE last year – it was too good an opportunity to snub Blair's government – now he is making the long and somewhat unexpected leap from re-inventing fancy pants to addressing human-rights abuse.
"Human rights is the issue that businesses shy away from – because usually, at some stage along the chain, some businesses are making a lot of money from human-rights abuse. Then there is this idea that you can't mix business and politics. And that's total crap. The two are intrinsically linked," he exclaims. "When there was meant to be this march against the Iraq war, there was all this talk from lots of fashion companies who were going to give their shows an anti-war theme, and do their shop windows with it, they all bottled out. I think I was the only bloody one."
There is a slight belligerence to Corre's tone that suits him: in his bespoke Teddy Boy-ish tailoring – Bill Haley by way of Milan – he looks ready to pick a fight. Although some men might disappear in the cavernous boardroom of Agent Provocateur's west London HQ – a high-ceilinged Georgian building with a smattering of modern furniture, punk memorabilia and racks of frilly, Carry On... confections – Corre's angry itch manages to fill it. He doesn't really want to be doing this interview. But Corre, 40, is set to make a solo stand again and his opinions needs to be given vent.
His latest project, Humanade, which launches at the end of this month with a charity auction offering a catwalk modelling experience for Vivienne Westwood, is a grant-giving and fundraising trust set up by Corre with chartered accountants Wenham Major and the lawyer John Crabtree; it has already started funding legal representation for Guantanamo Bay inmates. More broadly it is a stab at, as Corre puts it, "making businesses realise, as many still fail to do, that social responsibility can be good business".
What it is most certainly not, Corre makes abundantly clear, is about giving himself or Agent Provocateur added profile: business needs to know that "just by focusing a little bit of money in the right direction you can make things happen, and that's amazing. I don't want this charity thing to be about me. I don't need press. I don't need to do this fucking interview," he says testily. "It just might make companies think about themselves a bit, or make people think more carefully about where they spend their money."
Humanade is just one of the projects Corre feels free to pursue since, late last year, his life underwent something of an overhaul. First, he separated from his wife and Agent Provocateur co-founder Serena Rees, the mother of his 10-year old daughter Cora. The duo had long been a glamour couple fixture on the London social circuit, counting Sam Taylor-Wood, Elton John, Sadie Frost and Kate Moss – who starred in last year's Agent Provocateur advertising campaign reportedly for a fraction of her normal fee – all as good friends. But then Serena had an affair with her best friend Tricia's rock star husband – Paul Simonon, formerly of the Clash.
In the past, Corre has presented himself as something of a mentor to Rees, with his fashion background meaning he inevitably took the lead in shaping the business. But her affair meant that, understandably, continuing to work together would be impossible: they separated out the work to keep out of each other's way, but it became clear one of them would have to go. And it was pretty clear who that would be. Not the creative source. "Working with her was ' both a pressure and a pleasure – all those emotions over 10 years," Corre notes. "But it's difficult to think of now – I haven't been working with Serena for over a year. And I have to say that I don't miss it. At all."
Coincidental to recent events perhaps, Corre says he has lost a lot of weight over the past few months, so he can now start wearing his mother's menswear again. Not being able to find anything he liked in the interim, however, got him thinking – and while Corre remains creative director of Agent Provocateur, his new situation also means he can turn his attention to the planning of "a few surprises which will tread a different path to that well-worn one of rolling out a brand that every fucking brand does, which to me is slightly boring". Among them, look forward to a menswear line, now in the pipeline. He's not giving away any details. But it would be impressive if it had the same impact as his foray into the frilly stuff.
"Agent Provocateur put lingerie on the fashion map. There wasn't really anything there before. Janet Reger, La Perla – that's not fashion. Ann Summers, Victoria's Secret, Frederick's of Hollywood – tat, really," says Corre, taking no prisoners. "At one point people bought all their underwear at M&S. I don't think that's true anymore. I think we got people thinking about their sexuality a bit more. It hasn't been that hard to design sexy rather than tacky. But then I think sometimes tacky can be sexy – it's about the fit and quality."
That, arguably, is what has kept Agent Provocateur ahead, not the titillating advertising, the double entendre tag lines or the nipple tassles. The company may have spawned countless high-street copyists and has even fuelled a cultural flirtation with burlesque ("I'm so bored of burlesque," says Corre. "It's become anybody down any pub who feels like getting their clothes off...") But Agent Provocateur remains a dedicated specialist that makes most bras to fit and support, lift or separate in some 36 sizes. "And fashion companies don't do that – it's small, medium, large and done," Corre says.
"But realising just how complicated underwear is was a big shock," he concedes. "I'd come from a background working with my mum in which, if you want 50 suits made, it's not hard to find a tailor to make them. But if you just want 50 bras... And in 20 different sizes... And in a colour that isn't black or white... Making fashion underwear is really bloody hard. But where there's a will, there's a way."
Perhaps this explains why, despite sales spiking around Valentine's day, 70 per cent of the company's lingerie is still sold to women. "And that's crucial – for us it's never been about selling products for the benefit of men," Corre explains. "The whole brand has been about women – not particularly their 'empowerment', which sounds a bit Women's Lib, which I'm not into because discussing it in that way makes women into victims. If anything, Agent Provocateur is a brand run by women. Out of about 300 employees there are three men..."
And, with Agent Provocateur's London head office a frequent parade of bare-bummed models in barely-there bras, three very distracted men at that. But, for all of Agent Provocateur's success, and especially because of its wider influence, isn't Corre's company part of the problem he's seeking to address through his new charity project?
Corre, who vacillates between a distracted world-weariness and deep anger at the state of affairs, certainly seems torn between acknowledging that Agent Provocateur has, in part, been gasoline for consumerism – it made saucy, sassy underwear not only covetable but essential again – and his own growing distaste for what he sees as rampant, unthinking spending. "Spending," he says, "that not only doesn't think about the implications of the cheap prices but doesn't even care about what the thing is. It's the idea of this need to keep buying stuff in order to feel normal."
"Don't get me wrong, I'm not anti-commerce – I'm a merchant, I love shops," he adds. "But in the fashion industry there is the big issue of manufacturing. If you think you can buy clothing that costs two bob and the company is still making money then it doesn't take much to figure out that some poor bastard is getting two pence for it. Have I always been interested in where our stuff is sourced? No, probably not. When you're starting out the fact is that you get stuff made where you can. But what we do now is work with our manufacturers to ensure they do something locally about worker conditions."
If only Corre had the power to change the industry that is changing around him. As the scion of a fashion great, as a punk in a teddy-boy suit, with a razor-blade on his necklace and knuckle-duster rings on his fingers, Corre must wish he could bridge the gap between what the industry was – back when it was all about invention and quality, not imitation and disposability – as easily as his style does that between some safety-pinned sartorial sneer and big business. There is, it appears, much around him that he would like to fix, people he'd like to fix too.
"I don't know what fashion is anymore – so many fashion brands are just about entertainment now. They sell entertainment and the product is the souvenir of the entertainment," Corre sighs. "What I do know is that people consume too much crap. They need to buy less and buy better – it's the one power they have. When I was younger if you couldn't afford something you'd fucking make it, or customise something to look like it. People don't even save up for the one special thing they want. Now they just go to Topshop all the time, wear something for a week and never wear it again. It's rubbish."
Register for free to continue reading
Registration is a free and easy way to support our truly independent journalism
By registering, you will also enjoy limited access to Premium articles, exclusive newsletters, commenting, and virtual events with our leading journalists
Already have an account? sign in
Register for free to continue reading
Registration is a free and easy way to support our truly independent journalism
By registering, you will also enjoy limited access to Premium articles, exclusive newsletters, commenting, and virtual events with our leading journalists
Already have an account? sign in
Join our new commenting forum
Join thought-provoking conversations, follow other Independent readers and see their replies