John Walsh: His dark materials
Fed up with ill-fitting, off-the-peg disasters, John Walsh and his teenage son Max decided to see if it's possible to buy a perfect bespoke suit – on a budget
Monday 04 February 2008 01:00 GMT
Comments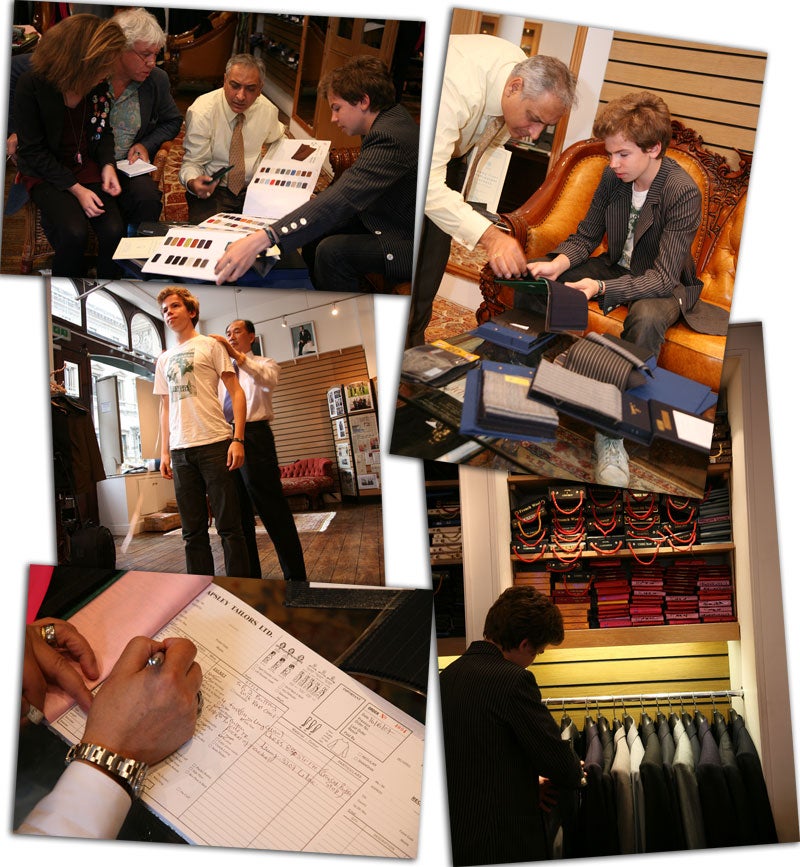 An old journalistic convention dictates that City hacks must always wear a suit because of the possibility – no matter how remote – that they might be summoned at any moment for a briefing from the Chancellor. For others in the inky trade, the suit isn't deemed a necessity; it's too formal to be worn while spending a day tapping a computer keyboard, and it rouses in colleagues the suspicion that you're going off at lunchtime for a job interview at The Times.
So I've owned only six or seven suits in a 30-year career, all off-the-peg. My earliest was a dashing heather-pink three-piece I found in the Army & Navy store in 1977. It fitted well, though my resemblance to a tall, ambling fuchsia was hard to ignore. I followed that with a black pinstripe in some shiny, synthetic, drip-dry material; and then a petrol-blue, iridescent number, a kind apparently favoured at the time by Croydon gangsters.
After some flirtations with Man at C&A, it dawned on me that style and quality don't come cheap; so I bought £700-worth of dark, sexy charcoal worsted from William Hunt, tailor to Jonathan Ross and Graham Norton. The suit had a polka-dot lining and dorsal-fin sleeves so sharp that you could slice a cottage loaf with them. Everyone loved it.
Emboldened by success, I went to The Duffer of St George, William Hunt's neighbour in Savile Row, and splashed out £800 on a powder-blue folly in "baby needlecord," (a kind of sulky, pouting corduroy) to wear at a meet-the-press evening at Buckingham Palace. The suit barely survived a second wearing before the jacket faded to a dispirited, blue-grey that no longer matched the trousers. I never wore it again; it was the worst cost-per-wear purchase in history.
I bounced back with a dark navy worsted with blue pinstripe from Richard James, and that was fine; the midnight-blue silk lining drew applause from fashionistas, unless they were taking the mick.
But it was only the other week that I, at last, had a suit made to measure. The reason was my son, Max. He's 16, a lanky teen footballer/drummer/Ross Noble wannabe who'd be happy to slob around in his pink Star Wars T-shirt, jeans and purple hoodie. But his school, in a sudden burst of formality, insisted that boys wear suits in their sixth-form years; so he and I set out to find one.
We began at Moss Bros, arbiters of elegance and hirers of tuxedos for unimaginative bridegrooms. They're now called just "Moss" and sell lots of cheap suits. One fitted Max's skinny frame, but we hit a problem. When Max said the neutral grey was boring, the salesman explained that he was missing the point. "You're joining the grown-up world now, sonny," he said. "You have to say goodbye to baggy shorts and garish colours. Of course suits are boring, but you have to wear them to fit in. If you want to look exciting, wear a fancy tie."
Max's face fell. I reassured him that suits didn't have to be dull; that you could choose between 100 hues of posh wool, or cotton or cashmere or silk or tweed, in checks, stripes, pleats or plain patterns; that you'd probably flick through the suit racks in two dozen shops before finding the right texture, fabric and fit.
We passed a weary time among the faceless pinstripes in Marks & Spencer and the boxy Hugo Boss charcoal business suits that hung over his shoulders like David Byrne's outsize jacket in Stop Making Sense. Steering him past the ruinous Paul Smith shop in Covent Garden, I tried Cecil Gee, where designer labels offer diffusion ranges. The jackets were all too big (who were their audience? Darts players?).
I tried shopping online – and there I found the answer to our plight: Apsley Tailors' made-to-measure.
Why hadn't I thought of made-to-measure? Because I'd never been able to afford a bespoke suit myself. Because they cost up to £3,000, don't they? Because it involves a dozen visits and fittings, and takes ages. It's as tortuous a process as sitting for a portrait by Lucian Freud. Isn't it?
Apsley sounded, at first, too good to be true: you choose a fabric, and they cut the cloth in London before sending it off to Hong Kong to be stitched. When it comes back, they call you in for a single fitting, and a week later, you pick up the finished article. And their bespoke suits start at £400 or £500 and go up to £1,500.
We dropped into their premises in London clubland. The shop is like a Raj film-set: white pillars, chaises longues, Indian rugs, button-back chairs, a wide mahogany desk.
Over tea, we learnt the drill. Apsley used to be Punjab House, a leading Hong Kong tailors. They used to employ 70 tailors in one of the most competitive clothing markets in the world. After the Crown Colony was ceded to the Chinese in 1997, many tailors left. Punjab House relocated to London, "and we thought we'd give an English name to the English branch," said Sunil Chopra, the charismatic general manager. "So we called it Apsley. Now we service all the gentlemen's clubs."
How did we know the Hong Kong operation wasn't an exploitative sweatshop? Mr Chopra looked pained. "The people working in our factory aren't slaves. They must have a minimum of 15 years' experience. They earn good money."
Then Max had to choose a colour, a fabric, a weight of cloth, a design and a style. "When I look at you," said Mr Chopra, "I feel you'd look good in red."
Red? Max winced. This was a school suit, not novelty fancy dress.
"Grey wool," he said firmly.
"Pinstripe," averred Mr Chopra.
"Chalk stripe," countered Max.
It went on like that. Swatch after swatch of British and Italian worsted was pulled out and laid open for inspection on the glass-topped table. The master tailor and the teenage fashion-plate discussed whether a particular check was "too busy" or a stripe "too intense". Max soon picked up the rules: this was an antiphonal dialogue, with an end in sight. Mr Chopra insisted on a thinner stripe. Max was adamant that only a thick stripe – with a tiny violet mini-stripe inside – would do. Without batting an eyelid, Mr Chopra talked Max into the design he'd chosen all along. It was brilliant.
Another interrogation elicited more specific requirements. Two or three-piece? Single or double-breasted? Two buttons or three? Long fitting or regular? Slanting pockets? Back pockets? Ticket pocket? Special iPod pocket? Belt loop? Side vents or single back vent? Peak lapel or notch lapel? Squared gorge? (What's a gorge? It's the notch on the lapel.)
Then they measured him, from top to bottom, allowing an extra inch for the shoulders and a four-inch hem for the legs. Max was intrigued to find a tailor measuring his leg at thigh, knee and ankle. "Are these trousers," he asked nervously, "going to be really tight-fitting?"
I couldn't bear to be left out, so I ordered a suit for myself – quite different from Max's, a Lincoln green two-piece with shimmery gold lining. It was very relaxing to loll about for an hour inspecting swatches, deciding on tiny details, arguing with the charming Mr Chopra. I should have done it years ago. It is, or should be, a male rite of passage, bespoke-suit-shopping with your son.
The material was cut and shipped east, and 10 days later we were back in Pall Mall for a fitting. Another week, and we stood resplendent in the finished articles, looking very cool and sculpted and pleased with ourselves and (in my case) almost freakishly slender. The price tag is £400 each – a considerable bargain, and a good deal cheaper than if we'd bought, off the peg, something that wouldn't have fitted us half as well.
For the lumpy middle-aged male, the bespoke suit is a godsend; and it is (to use terrible business jargon) a perfect "solution" to the conundrum of finding something to fit your mutinous teenager. It proves that joining in the world of grown-up clothes needn't be fraught with ennui and frustration. Not when you have this enterprising remnant of the British Empire to guide you.
Apsley Tailors, 13-13a Pall Mall, London SW1 (020-7925 2238; www.apsleytailors.com)
A cut above: Walsh on where to buy bespoke
Ozwald Boateng
The Ghana-born Ozwald deals in "bespoke couture," a slightly spurious combination of high design and down-to-earth tailoring, but his suits are miraculous: long jackets and clever stitching give the lumpiest clients a sculpted look, while his acid silk linings bring out your inner popinjay. Customers include Will Smith, Keanu Reeves, Mick Jagger, Jamie Foxx and Samuel L Jackson. (12 Savile Row, with a made-to-measure shop nearby in Vigo Lane)
Richard James
James specialises in the perfectly cut classic British suit – one, two or three-button single-breasted, no frills – that also gives you a waist with its long jackets and deep side-vents. The wool and cashmere chalk-stripes are things of considerable beauty. (29 Savile Row)
William Hunt
Jonathan Ross, Graham Norton and Laurence Llewelyn-Bowen all owe their "look" to William Hunt, who started out dressing the likes of Spandau Ballet and ABC. Bold colours, bold stripes, sharp angles and impossibly cool silhouettes are his forte. (41 Savile Row)
Gieves & Hawkes
The most British of tailors, G&H boast the noble address of 1 Savile Row. Gieves & Hawkes have dressed generations of royals and military chaps including Nelson, Wellington and Captain Bligh. They've gone in for a lot of smart-casual stuff of late, but their classic grey worsteds will always be lying in wait for the new City boy taking his first steps in the Square Mile.
Timothy Everest
Everest is supposedly the architect of the New Bespoke Movement, bringing "twists" and a fine sense of colour to the classic suit. From his house in Bloomsbury, he dresses cabinet ministers, Tom Cruise and David Beckham, and he designed the uniforms of the British Olympic team in the 2000 Games.
Anderson & Sheppard
A fixture at 30 Savile Row since 1906, (moving to Burlington Street in 2005) Anderson & Sheppard was a vital port of call for Hollywood celebrity in the 1930s and 1940s: Gary Cooper, Fred Astaire, Cecil Beaton, Laurence Olivier, Noel Coward and, er, Marlene Dietrich. They came in search of "the London look" patented by chief cutter Frederick Scholte. In 2004, Tom Ford of Gucci came calling to commission suits for a photo-shoot in W magazine.
Join our commenting forum
Join thought-provoking conversations, follow other Independent readers and see their replies