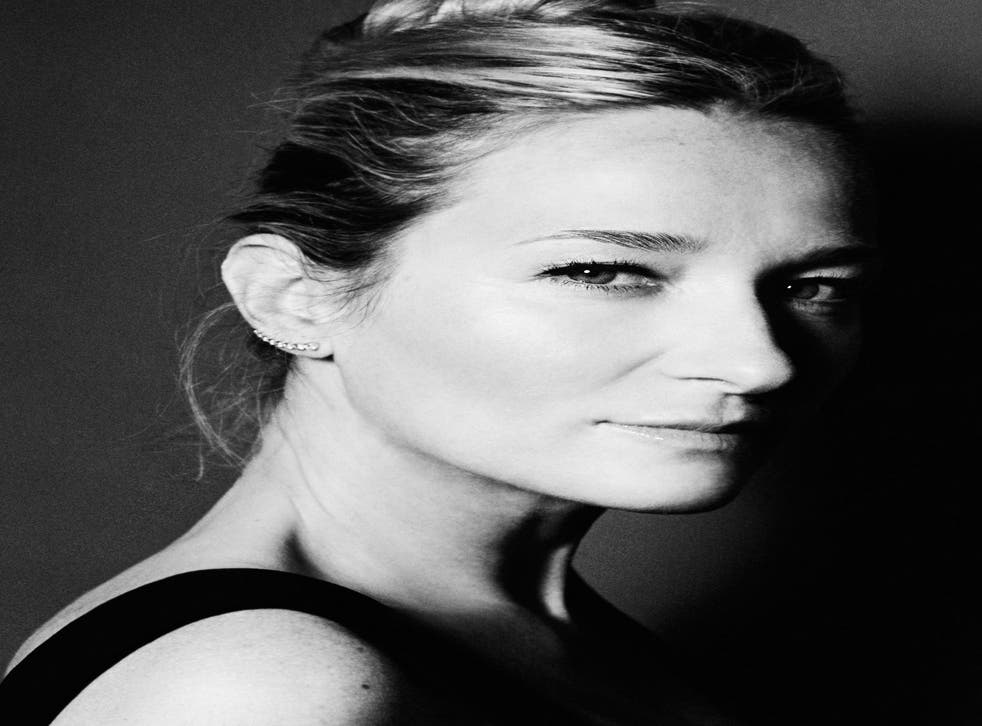 Julie de Libran interview: The designer on inheriting 'Queen of Knits' Sonia Rykiel's mantle
De Libran's clothes, like Rykiel's, are focused on practicality, as well as the art of French chic
Alexander Fury
Saturday 20 February 2016 00:36 Comments
On the first floor of the Café de Flore, the Left Bank Paris restaurant once beloved of Existentialists and now of the fashion establishment, there is a fairly discreet table by a pillar. Looking out on to the Boulevard Saint-Germain, it is known as Madame Rykiel's in honour of the French fashion designer Sonia Rykiel, who used to prop it up. She's also leant her name to a sandwich, at Flore. It comes without pain – no pain, no gain, they say, and Rykiel, as if to prove it, is still beanpole-skinny at 85. She is no longer designing – she retired in 2009, passing the reins to a series of successors.
If you sit at Madame's table on the top floor of Flore, and crane your head to the right, up towards the Rue de Bac, you'll see the current Rykiel boutique at 175 Boulevard Saint-Germain, round the corner from the original one opened in May 1968, amidst rioting students. Above 175 is the studio where Rykiel's latest, and many would argue closest, successor, Julie de Libran, creates her collection. De Libran calls the store "our home". For her first show in 2014, she called in the café to serve champagne. It's De Libran that I'm meeting at Flore, at Madame Rykiel's table. "Très chic, non?" demurs her head of press. Mais oui.
De Libran herself is also chic – aged 43 (she'll turn 44 in three days, two weeks before her autumn/winter 2016 show), she has long, perfectly imperfect tousled blonde hair and blue eyes. Her accent is slightly American – she moved from Aix-en-Provence to California when she was eight, spending her teens there before moving to Italy to study fashion. But her perfect French attests not only to her birthplace in the south, but to trips back and forth throughout her formative years and a period spent at the Chambre Syndicale's fashion school in the 1990s. She's lived in Paris since 2008, although this is her first move to the Rive Gauche. Prior to joining Rykiel in 2014, she worked for six years as right-hand woman to Marc Jacobs at Louis Vuitton, in a studio in the shadow of the Louvre museum. Today she's decidedly left-bank, wearing a shaggy Mongolian lambswool cape, a dead ringer for one Madame Rykiel sported in a publicity shot in 1984, scowling from under her kinked block of Klimt auburn hair. It looked modern then; it still does.
De Libran may be blonde, but otherwise she's very much Rykiel's contemporary counterpart. That's why she's seen as the closest inheritor of the Rykiel mantle: her clothes, like Rykiel's, are focused on practicality, as well as the art of French chic. That's the clothes she wears as well as those she creates. Sonia Rykiel began designing in 1962 because she simply couldn't find the clothes she wanted. She was pregnant, and wanted soft, easy clothes to wear. So she designed a sweater; it ended up on the cover of Elle and shifted in its thousands. Skinny cut, with high armholes and the flat, boyish silhouette that suited both Rykiel and the emerging Sixties styles, it sold in droves and made the Rykiel name. It also garnered the moniker "Queen of Knits".
For a few shared characteristics – practicality and comfort ahead of aesthetic, dressing legion women who share her ethos, a love of the ease of knits and jersey and simple boyish shapes – Rykiel is frequently compared to Gabrielle Chanel. De Libran is also wearing a Chanel jacket. Below it are blue jeans, which reminds me of the fact that denim was actually first dubbed serge de Nîmes because of the French city it originated in. It was exported to the New World co-opted as workwear, and exported back as a high-fashion must have, gaining something from the journey.
The same feels true of De Libran, whose aesthetic is coloured by an American sense of ease, practicality and cool, the product of growing up in San Diego, immersed in her mother's (thankfully good) wardrobe as a way of linking back to Europe. "My mother was a role-model," says De Libran, softly. "She was very into fashion – she was wearing Rykiel. She was wearing Saint Laurent, she was wearing Kenzo. That already created a certain attraction for me, a certain desire… my mother's closet was a memory, for me, of France. Because she had those things from France. It was like travelling to France, when I went into her closet."
It was a while before De Libran wound up back in France, bar childhood holidays. With the encouragement of her parents, keen to pin down their flibbertigibbet teen who spent hours on her clothes, she went to study in Milan at the Istituto Marangoni. She then worked for the Italian designer Gianfranco Ferre, later moving to Paris to study at the Chambre Syndicale school. "I wanted to come to France, direct," she says, simply "But my father wanted me to go to Italy first – he wanted me to learn Italian, he thought the Italians were so good with fabrics and colours." It worked: after her studies in France, there was another 12 years in Milan, first with Versace, then Prada. "Both Leo," De Libran comments of those labels' respective leaders, Donatella and Miuccia. Coco Chanel was one too. "Different style, different taste, but that strength that they both have." There's a similar strength to Rykiel and, quietly, to De Libran too. "It was important," she says. "Having those examples of women who are strong – they do their thing, they do what they believe in. Creative, but having a life."
De Libran's accent comes through heavy and Gallic when she says words like France ("Fronz") and Rykiel ("Rheekeel"). Her clothes aren't so heavily accented, though. They carry a whiff of France, of Rykiel's past – the founder had a love of skinny knitwear dubbed "poor boy", frequently with the seams turned inside-out – and of couture-quality finishing. De Libran's latest show, her best, fused casual with couture, knitting holographic sequins into T-shirt shapes or the slinky, easy jumpsuits De Libran favours as evening options.
Aesthetics though aren't De Libran's most fascinating link with Rykiel – although her shows generally riff on the Seventies groove Rykiel helped originate. It's the notion of Rykiel as her own best client, as a designer who creates clothes to please herself. De Libran does that. She's done that before, too – her decade at Prada in Milan, for instance, where the fashion pace was and still is set. De Libran focused on dressing celebrities, real women who demanded a lot from their clothes. When she joined Louis Vuitton, she single-handedly headed the house's pre-collections. Those form the commercial meat and potatoes of any fashion brand, accounting for between 60 and 80 per cent of sales. Jacobs may have created the catwalk magic, but like Rykiel before her, De Libran designed clothes that ended up on womens' backs.
She continues to do so today. Her collections are easily tugged apart into composite pieces – sweaters, leathers, wide-legged trousers with a Seventies swing. A wardrobe. "What I'm doing today – I want to adapt it to the life of today, the women of today. For it to be feminine, but also surprising," says De Libran. The stuff Rykiel was always known for is still there – the knitwear, the stripes, even down to crimped and blown-out hair and the fact De Libran stages her shows in the slightly cramped Paris boutique, like Rykiel 40 years ago. But it's been given a twist, a reboot.
"I don't feel at all stuck in a box," says De Libran of her work at Rykiel. "I don't feel like I need to reference anything. Rykiel was all about what was going on in the street, what was going on in culture, what was going on in art, what was surrounding her that was inspiring. It was also the joie de vivre, it was Saint Germain, it was la Parisienne. It was about bringing Paris to every corner of the world – that je ne sais quoi."
Rykiel is still about exporting that sense of Frenchness. The label has over 50 stand-alone points-of-sale, including department store "corners" tramlined with the signature Rykiel Breton stripes in regions as disparate as Taipei, Kazakhstan and Daegu. Turnover is modest, around € 70m at the time of its acquisition by Hong Kong-based Fung Brands in 2012. And yet in 2009 Rykiel joined the H&M bandwagon, creating a collection that sold out near-instantly and trounced rivals with bigger brands. Rykiel, as a name, has instant recognition – as De Libran says, a je ne said quoi. Although it sounds better when she says it.
Sonia Rykiel is still around: she lives on the Left Bank, up the street from the Flore. That could feel daunting – particularly as the Rykiel family are still embedded in the business. "Nathalie is the vice-president… one of her daughters works in the press office in New York," says De Libran. "It's always been a family brand. But now it's a bigger family. De Libran went to see Rykiel herself, titular head of the family. "When I went to see Sonia, she gave me some advice," says De Libran. Rykiel approved of De Libran's decision to mix menswear and womenswear in her shows, and showered her with anecdotes as a how-to for steering the business forward. De Libran didn't mind the backseat driving. "I like to know the story, I like when there's history."
The history could be the challenging thing about Rykiel – it's seen as part of the fabric of French culture, particularly by the French, who related from the start to a young Frenchwoman dressing young Frenchwomen in her clothes, and redefining the notion of elegance. That's why they took quite so lastingly to Gabrielle Chanel too. "Is it difficult to take on a brand that's so part of culture?" asks De Libran. "Of course it is. But I'm at Rykiel because I respect what she has done, and I want to continue her heritage. But do it my way." Did the Californian-raised De Libran clock that terribly appropriate Sinatra insinuation? I hope so.
Register for free to continue reading
Registration is a free and easy way to support our truly independent journalism
By registering, you will also enjoy limited access to Premium articles, exclusive newsletters, commenting, and virtual events with our leading journalists
Already have an account? sign in
Join our new commenting forum
Join thought-provoking conversations, follow other Independent readers and see their replies