Karl Lagerfeld's 50 years at Fendi: New book celebrates fashion's record-breaking marriage
The legendary German designer doesn't do career milestones. Yet even he can't deny an astonishing, landmark: 2015 marks his fiftieth year as creative director of Fendi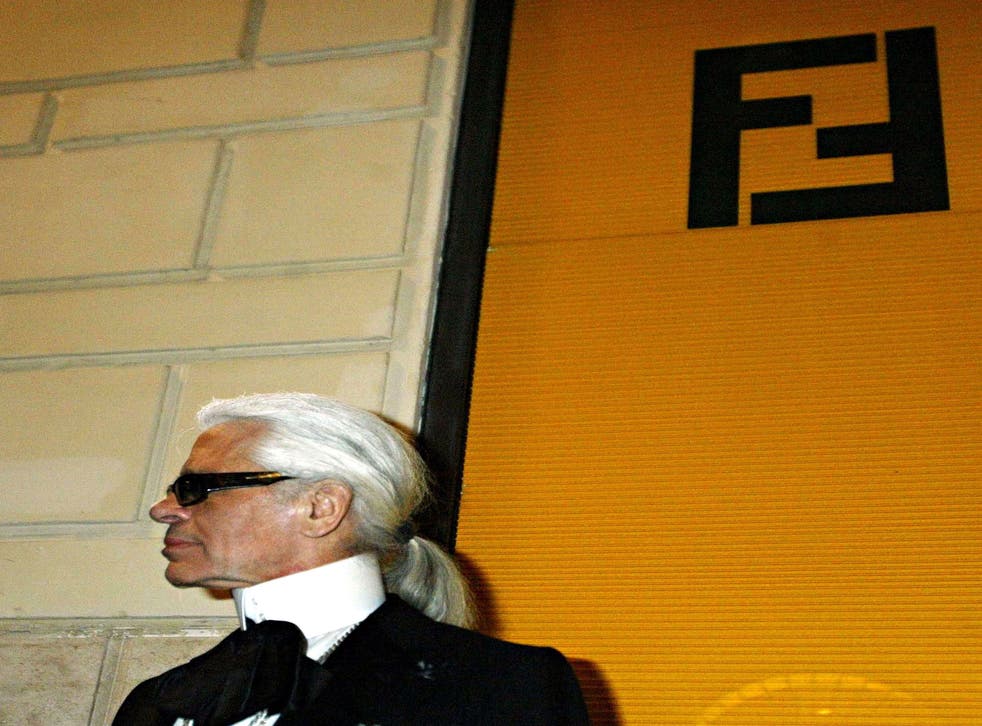 Karl Lagerfeld doesn't design in an ivory tower. Rather, it's a tower of travertine marble - the Palazzo della Civiltà Italiana, where the Roman label Fendi installed itself earlier this year. Lagerfeld is Fendi's creative director.
He's been creative director there for 50 years - a world record, a remarkable tenure, but a fact that is, frequently, forgotten. Forgotten, perhaps, because Fendis still work at Fendi - Silvia Venturini Fendi, a handsome blonde woman with an aristocratic air who heads up accessories and menswear; her daughter Delfina Delettrez, who creates the house's jewellery.
Forgotten too because, after a designer has led a house for quite so long, it's easy to take them for granted. It is also sometimes forgotten because Lagerfeld's prolific work for other brands occasionally overshadows his Fendi output. Not creatively, necessarily, but by sheer heft. Lagerfeld designs no fewer than eight collections a year for Chanel, and a slew of products under his eponymous label (generally emblazoned with his name, visage, or consisting of the monochrome clothes that have become his uniform). "Fendi is my Italian version, Chanel my French version and Lagerfeld is my own version, what I always wanted. I never mix it up," says the designer.
We speak while Lagerfeld is en route somewhere, as he so often is - to Seoul in Korea, in this instance, for Chanel's 2016 cruise collection. He's also been working on Fendi's cruise collection, as well as the label's upcoming "haute fourrure" debut - a fur collection presented as part of Paris's haute couture week in July. Other men would tremble, but Lagerfeld dashes off these collections with ease. "He's like a prodigy, a precocious prodigy," says Lady Amanda Harlech, creative consultant and Lagerfeld's right-hand woman at both Fendi and Chanel. "For Karl it's the joy of designing… he can riff."
Karl Lagerfeld's sketches for Fendi

Show all 5
But despite the sheer volume of Lagerfeld's designs, he says "I never made something that looked like Chanel at Fendi and never made something that looked like Fendi at Chanel because both have an identity. Maybe I have none, but at least I have two." In fact, there's plenty more. During his tenure at Fendi, he's also headed up the house of Chloé - twice. His own label has also switched through various incarnations, riding a wave from Eighties logo-mania through a conceptual early-noughties period, to embracing a more accessible price-point and the celebrification of his own image. His work at Chanel became the blueprint for how to revive a house with impudence, irreverence and overwhelming success. And his Chloé output is now endlessly mined for reference in the endless cavalcade of Seventies revivals.
All of the above have been charted in a retrospective exhibition, staged in Bonn in Germany, devoted to Lagerfeld's various incarnations. He claims he won't go to see it. Which, ironically, fits the Lagerfeld profile. As does its direct contrast to his contemporaries Valentino Garavani and the late Yves Saint Laurent, both of whom were happy to not only attend but actively involve themselves in exhibitions that crowed their creative output.
But Lagerfeld is relentlessly forward-looking, almost pathologically so. "Karl sees it… my allusion to Karl as exemplified by a pilot is correct," says Harlech. "He sees very far ahead; he's two collections away." Which makes the fact that Lagerfeld, Fendi and Steidl are publishing a book charting his five decades at the house all the more remarkable. It's not so much a tome, more a scrappy folio rammed with designer, a DVD, and hundreds of unseen sketches by Lagerfeld, of his Fendi creations over the years.
There are some 50,000 more crammed on to a gargantuan pull-out poster. The entirety is kind of a high fashion Smash Hits! annual. "My 50-year collaboration with Fendi is the longest collaboration in fashion," says Lagerfeld, matter-of-factly. "Nowhere, even designers of their own [labels], no one lived long enough to do it for such a long time. And I am not tired of it at all. I even think I work better today." Lagerfeld doesn't really talk about his age, but he turns 82 this year.
Indeed, Lagerfeld's output is consistently feted, in every facet of his fashion empire. His Chloé work helped invent the notion of designer ready-to-wear in the Seventies; his Chanel output revitalised haute couture in the Eighties, and has been copied by numerous competitors. But, perhaps, his work for Fendi is the most interesting of all - even if it's the sort of stuff we don't talk about in Britain. That's because Fendi was - and is - primarily a fur house. And people have problems with fur.
Peta UK director Mimi Bekhechi described Lagerfeld as "an undertaker;" but Fendi's fur division is remarkably profitable, and according to Lagerfeld, in high demand with world luxury consumers, even if many in Britain still eschew it (95 per cent would refuse to wear it, according to an RSPCA poll). Here, leading fashion titles such as Vogue and Elle refuse to photograph real fur; the editor of one magazine told me it wasn't a moral objection, but because she found the price obscene. Fendi coats in prized furs can retail for six figures.
Nevertheless, Lagerfeld and Fendi have innovated in a way that has revolutionised the industry - not least, for Fendi, the introduction of a ready-to-wear line in 1969, in a period when haute couture ruled fashion and when handbag makers or leather specialists never overstepped their boundaries.
If Lagerfeld's Chanel paved the way for the revival of a myriad of moribund labels, his work with Fendi paved the way for accessory-peddling labels like Prada and Louis Vuitton to expand into the rag trade proper. Lagerfeld's less ideological and more physical innovations at Fendi included the popularisation of "poor" fur, like rabbit and squirrel; the use of fur without lining or interlining, creating lightweight coats that reflected modern lives.
Other innovations were less accessible, like fur painted with 24-carat gold, or strips of sable knitted into a lightweight cardigan. Those have helped propel Fendi to astronomical success: LVMH, the label's majority owner (it purchased 51 per cent in 1999), doesn't publish revenue for individual brands - but Fendi's is reputed to top $1bn (around £650m) annually according to Exane BNP Paribas. Lagerfeld joined Fendi in 1965, recruited by the five Fendi sisters - Paola, Carla, Anna, Franca and Alda, the daughters of the original founders Edoardo and Adele.

Fendi had only been founded 40 years previously, as a leather and fur workshop. It was under the guidance of the five Fendi sisters, and Lagerfeld, that Fendi was transformed into a fashion powerhouse. "At that time I did not know the five Fendi sisters," recalls Lagerfeld. "Initially, I had a modern vision and they asked me to create a small collection with furs worn in a different way. They were modern, and fun. Fendi and fun have the same initials - that's why I put the two letters together, in less than five seconds on the table, the double F, meaning 'Fun Furs'." That became the double-F logo that the house retains even today, appearing on everything from the handles of kitchen cupboards (Fendi Casa was launched in 1989) to the Great wall of China, where Fendi staged a show in 2007.
Fendi also retained the fun. The latest is a series of handbag charms - called "Bag Bugs" and sewn from scraps of leather and skin to resemble high-fashion versions of the Fraggles of Fraggle Rock. The latest, dubbed "Karlito," was created to resemble Lagerfeld himself, and they do swift business (they retail for around £500, which isn't cheap but is far less than a Fendi coat, fur or otherwise). Their popularity also summarises an essential component of Lagerfeld's enduring appeal. He's plugged in.
There's no ivory tower chez Lagerfeld - and, despite the private jets and that palace of travertine marble, he knows exactly what is going on in the outside world (he was the first person to get an Apple watch, no less - obviously, the 18-carat gold version) and his designs have always reacted to that. If there's a criticism you can level at Lagerfeld, it's that his work is rendered ephemeral, expendable, due to its constant thrust to encapsulate the zeitgeist. Lagerfeld, by the way, is German - born and bred in Hamburg - so that phrase isn't as cringeworthy as you may imagine.
Flicking through the sheaf of Lagerfeld sketches inside this Fendi book you're astounded by the constant, consistent evolution of Lagerfeld's aesthetic. An ever-changing man, for ever-changing times. That's what keeps his fashion interesting and exciting - and, in turn, keeps the designer himself interested, and excited. "I need the fresh air from the outside to see what's going on," says Lagerfeld. "If you put me in a cage, I am worthless".
Register for free to continue reading
Registration is a free and easy way to support our truly independent journalism
By registering, you will also enjoy limited access to Premium articles, exclusive newsletters, commenting, and virtual events with our leading journalists
Already have an account? sign in
Register for free to continue reading
Registration is a free and easy way to support our truly independent journalism
By registering, you will also enjoy limited access to Premium articles, exclusive newsletters, commenting, and virtual events with our leading journalists
Already have an account? sign in
Join our new commenting forum
Join thought-provoking conversations, follow other Independent readers and see their replies