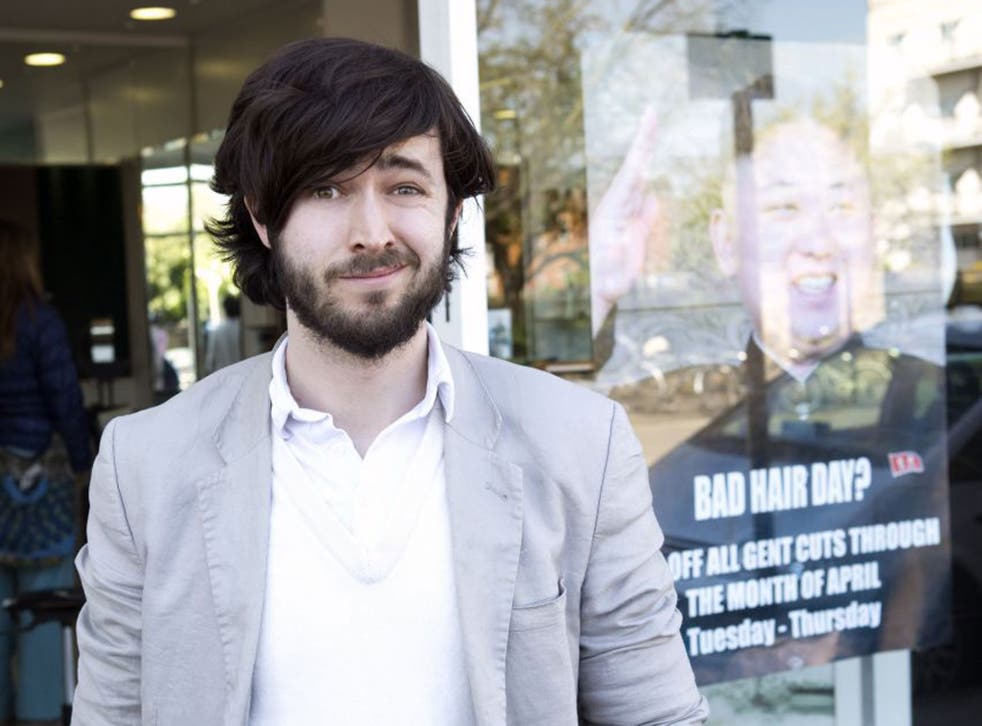 Kim Jong-un's haircut: The Independent heads to Ealing to try out the dictator's do
The North Korean embassy in London complained when M&M Hair Academy used Kim Jong-un's image in the window. Curious, Guy Pewsey heads to the hair salon and surrenders to the clippers
Guy Pewsey
Wednesday 16 April 2014 21:48 Comments
Kim Jong-un: Supreme Leader of North Korea, ruthless dictator and, apparently, style icon. Weeks after he decreed that male university students in his country should emulate his look with state-sanctioned haircuts, Jong-un's appearance is being analysed once again. A headshot displaying his distinctive coiffeur – shaved sides, voluminous locks and 1990s boyband centre-parting – was used as an advert for cuts at South Ealing's M&M Hair Academy.
The light dig by owner Mo Nabbach may have gone unnoticed if not for the fact that North Korea's embassy lies less than two miles away and, true to form, two officials were sent to intervene. Could this rush of attention cause a surge in dictator chic?
When asked to indulge the potential trend by popping into the salon, I was reticent. I have always held a Samson-esque attachment to my hair. I recall reading Little Women as a child and being far more upset when Jo March sacrificed her locks – her "one beauty" – than I was when do-gooder Beth met her demise. My last haircut was under the expert scissors of Lino Carbosiero, David Cameron's favourite.
I arrived in South Ealing in the afternoon and was shampooed and dried while Nabbach shooed reporters out of the salon. I took a final look at the giant image of Jong-un and surrendered as the clippers came out. Chunks of black hair fell to the floor and my scalp became exposed, but he assured me I was in good hands.
"The reason his hair looks bad," Nabbach mused, gesturing toward the window, "is because he has a bad hairdresser. Plus, that face. Yours will look good." A regular client, lingering beyond her allocated time to witness the drama, assured me that she had been coming in for years and that I was safe with Mo.
With most of my hair on the tiled floor at this point, I steeled myself and urged for more to go. Mo seemed reticent, not wanting to send a bad style into the street, but he complied. The gel came out, a healthy blob was applied and the criminal parting was worked into my hair. "You look much better," the woman to my right offered. "You looked like you were from One Direction before."
Analysing my hair in the mirror, as well as the newly revealed shape of my skull, I was presented with a pleasant surprise. Jong-un may want to sack his barber, as opposed to executing him, because there's nothing particularly heinous about the style itself. It has already found a fan in Brad Pitt, and is also sported by Cillian Murphy in Peaky Blinders. Jong-un's floppy curtains are merely too soft against the severity of his bare, fleshy head. In the hands of Nabbach, an expert in a neat cut, I seemed to be bringing a touch of Downton to North Korea via Hoxton Square.
I paid for the haircut and boarded the Tube to give it a test-drive. At a party in Regent Street's French Connection store I blended right in. Amid the melee of hipsters taking selfies, I was just an average partygoer with an edgily thorough undercut. A screening at BAFTA proved equally welcoming: my Converse earned a disapproving look but my Korean mop passed without derision.
Perhaps, as unlikely as it seems, Kim Jong-un may be implementing a key look for spring: neat, distinctive and easily maintained. Heading home, however, I was brought back to sanity by several doubtful glances within minutes. I might be dictating fashion, but I can't please everyone.
Register for free to continue reading
Registration is a free and easy way to support our truly independent journalism
By registering, you will also enjoy limited access to Premium articles, exclusive newsletters, commenting, and virtual events with our leading journalists
Already have an account? sign in
Join our new commenting forum
Join thought-provoking conversations, follow other Independent readers and see their replies