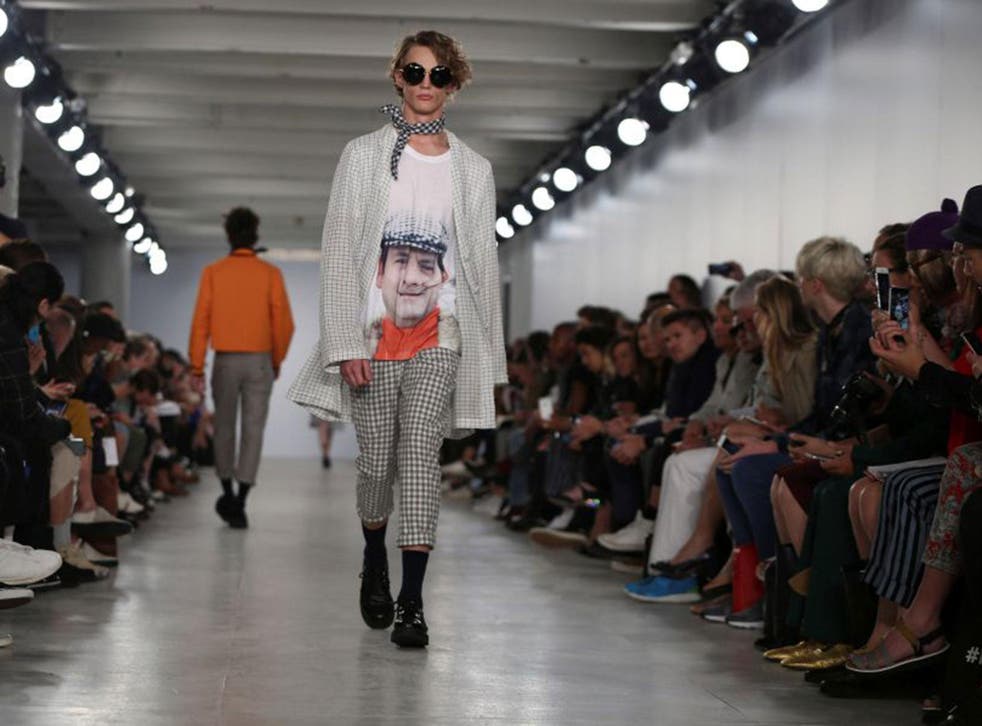 London Menswear Collection Agi & Sam: A show inspired by what it means to be a modern man
Duo look to gender roles as their muse for spring summer 2017
Sarah Young
Saturday 11 June 2016 20:18 Comments
The ninth London Collections: Men is well underway and the creative significance it embodies has never been so evident or for that matter, more important. Launched in 2012, LC:M was established as an indication that menswear, much like it's female counterpart, deserved to be taken seriously but with an increasing number of designers opting to integrate their men's and womenswear shows, is the whole idea a little passé?
Agi & Sam commenced day two with a collection that addressed this very issue by trying to determine exactly what it means to be a modern man. Inspired by the hybrid roles Sam's parents assumed – his father a farmer/house husband and his mother working away in the city – for spring summer 2017, the duo looked to gender roles as their muse. Despite masculinity being at its forefront, the collection wasn't solely reserved for men though; a purposeful decision made in an attempt to connect the term to women too. Classic menswear patterns such as gingham and windowpane checks were contrasted with floriated weaves, neckties and marigolds to instil a sense of tradition and elegance but more importantly, modernity. Meanwhile a bombshell Del Boy tee signalled a return to working class values and a hard days graft.
This resistance to gender conformity didn't stop there though with Nasir Mazhar's hardened masculinity taking on a marginally softer guise for spring/summer. The Turkish-Cypriot designer's approach to fashion has brought a unique aesthetic to British menswear with specific reference to London's urban music scene and while this remained, it was in a new and innovative way. The blue-collar tracksuit was updated in white lace, there were low slung, peephole trousers and to top it all off a cluster of female models beset upon the runway to unite the sexes.
It was the same over at Casely-Hayford too where the father-and-son duo introduced their first womenswear capsule collection. For them, the shift was a natural step towards crafting a wardrobe for both men and women that still carried the same clean-cut, heritage-inspired trademarks the brand has become known for. This season, the designer's were influenced by two very different, anti-establishment British music movements – 00s Grime and 70s Rock – generating a fusion of clashing prints, streamlined sportswear and a trainer/sandal hybrid.
Over at Lou Dalton this same approach to a cultural aesthetic continued as she looked to her working class, Shropshire roots with an all male cast – contrary to the theme of the day. This is familiar ground for the designer whose previous collections have often been inspired by the men in her life and this time round the accolade fell upon her brother with their shared love for walking inspiring a collection of utilitarian essentials. Dewy, fresh-faced hikers took the runway in super-lightweight overcoats, shorts and loose, cropped trousers swathed with combat pockets. The Lou Dalton man is enthused by adventure, and this was certainly made palpable with a carefree study of colour – from navy and bottle green to rich tomato red and canary yellow, Dalton's signature aesthetic brought the retiring moors to the big, bold city.
Register for free to continue reading
Registration is a free and easy way to support our truly independent journalism
By registering, you will also enjoy limited access to Premium articles, exclusive newsletters, commenting, and virtual events with our leading journalists
Already have an account? sign in
Join our new commenting forum
Join thought-provoking conversations, follow other Independent readers and see their replies