Look but don't touch: Haute couture gets more elaborate...and more expensive

Show all 5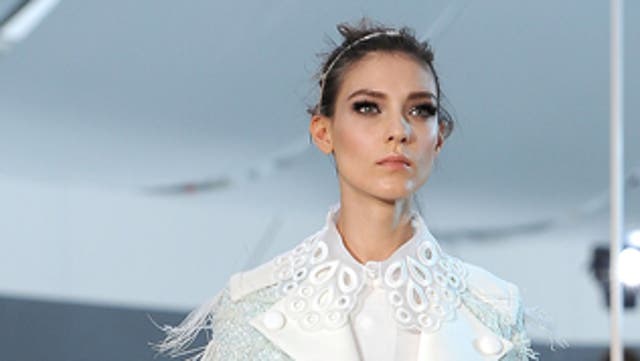 Look but don't touch: Haute couture gets more elaborate...and more expensive
Haute couture is the preserve of a tiny group of customers, but the collections are hugely influential. Christopher Kane leads a vanguard of labels employing ever more elaborate – and expensive – techniques, says Susannah Frankel
Susannah Frankel
Monday 04 June 2012 00:00 Comments
If there is a single unifying factor underpinning a decidedly disparate summer season then it lies in a renewed interest in surface texture: in pioneering fabrics, embroideries and over-embroideries which appear more intricate and interesting than they have done for some time.
Such indulgence – and some might call it pure fashion whimsy – was once the preserve of the haute couture ateliers. Now however, and increasingly, it is making its presence felt in the ready-to-wear collections too.
As is often the way, it might be argued that it all started with Chanel. Ten years ago now, this famous French name bought six of the most revered couture ateliers in Paris, saving them, the story goes, from extinction. Given that at the turn of the 20th century there were around 500 such workshops up and running, specialists in everything from buttons to bows, and that today no more than a handful remain, that may well be true. Chanel bought Lesage (master embroiderers), Lemarie (specialist in feathers), Massaro (shoe makers responsible, among other things, for the Chanel two-tone pump), Goossens, (goldsmiths), Desrues (costume-jewellery makers), Maison Michel (milliners) and Guillet (creator of fabric flowers). And their names were news once more.
Putting its money where its mouth is still further, to showcase their work, the monolithic French brand introduced an annual metiers d'art collection which it continues to show in exotic destinations all over the world – most recently Versailles, a far from shy location particularly given that the presentation took place only days after the election of Socialist president, François Hollande. You have to hand it to Chanel designer Karl Lagerfeld. He is nothing if not provocative. In the meantime, the raised profile of the time-honoured institutions in question decrees that everyone from Balenciaga to Louis Vuitton now turn to them to ensure that the more elaborate pieces in their womenswear collections are finished just so. Such craftsmanship comes at a price, of course. And so it is not uncommon for a single garment to cost five figures. Make no mistake, despite an unstable economic climate, there is a market both for haute couture proper and for this, which may perhaps best be described as high-end ready to wear, today just as there always has been.
"I think that with so much competition around and with times being quite difficult people really do want good quality," the Nina Ricci designer Peter Copping told W Magazine recently. His collection, with its light-as-a-feather hand-finishing, garnered rave reviews across the board and was nothing if not testimony to the fact that the few people left in the world prepared to spend thousands on a single garment insist that it be precious.
"People want investment pieces," Copping continued. "And if something does reference haute couture, well, then that's a no-brainer, really." Indeed.
And so Chanel's spring/summer ready-to-wear collection features lace, silk blossom and a veritable ocean of pearls, Louis Vuitton's jewelled floral embroideries are among the most exquisitely wrought imaginable and Balenciaga's iridescent fringing is so special that the house is keeping the techniques behind its development under wraps.
It should come as no great surprise that in London, where designers are less likely to have the means to tap into such elevated resources, a similar viewpoint results in a more irreverent and homespun aesthetic but one that is delicate and highly complex nonetheless. The pyrotechnic presentation of Meadham Kirchhoff's all-singing, all-dancing summer collection almost belied the fine workmanship – much of it executed by hand – that has gone into the creation of this season's fondant-pale lace dresses, curvaceous brocade jackets, and appliquéd knits. Christopher Kane's collection of embroidered silks and oversized cashmere cricket jumpers, meanwhile, appears to fuse the golden age of haute couture and school uniform as far as silhouette is concerned, all while pushing fabric development forward. In particular, reflective appliquéd flowers in childlike colours which, upon closer inspection, resemble nothing more than a young girl's sticker collection steal the show. Yellow pansies, orange dahlias, giant daisies and blue roses are scaled up then edged with silver sequins or trapped between layers of aluminium organza and the effect is as sweet as it was uplifting. The end result is also clearly more make-do-and-mend in spirit than anything the aforementioned Maison Guillet might have to offer.
And that, it almost goes without saying, is precisely the point. Backstage immediately following his show last September, Kane said he had been thinking about "a teenager living on a council estate, in her bedroom, dreaming". It is perhaps no coincidence that this designer – and his sister, business partner and creative collaborator Tammy – grew up in Motherwell lusting after (and later saving up for) the opulent designs of Gianni Versace especially. Certainly there is a heartfelt atmosphere to this collection that suggests any references are close to home.
With that in mind, since graduating from Central Saint Martins in 2006, Kane has not only been responsible for an increasingly accomplished twice-yearly own-name womenswear collection, he has also collaborated with Versace's sister, Donatella. In the manner of the finest fashion fairytale, he is now single-handedly responsible for designing her label's more youthful Versus line.
Register for free to continue reading
Registration is a free and easy way to support our truly independent journalism
By registering, you will also enjoy limited access to Premium articles, exclusive newsletters, commenting, and virtual events with our leading journalists
Already have an account? sign in
Join our new commenting forum
Join thought-provoking conversations, follow other Independent readers and see their replies