Louis Vuitton's designer Kim Jones is the Brit defining contemporary menswear
Head of the men's division of Louis Vuitton, Kim Jones has fused formal and casual, bringing a new direction to fashion. Before his autumn/winter 2016 show, he speaks to Alexander Fury about tailoring, travel and one of the busiest schedules in the business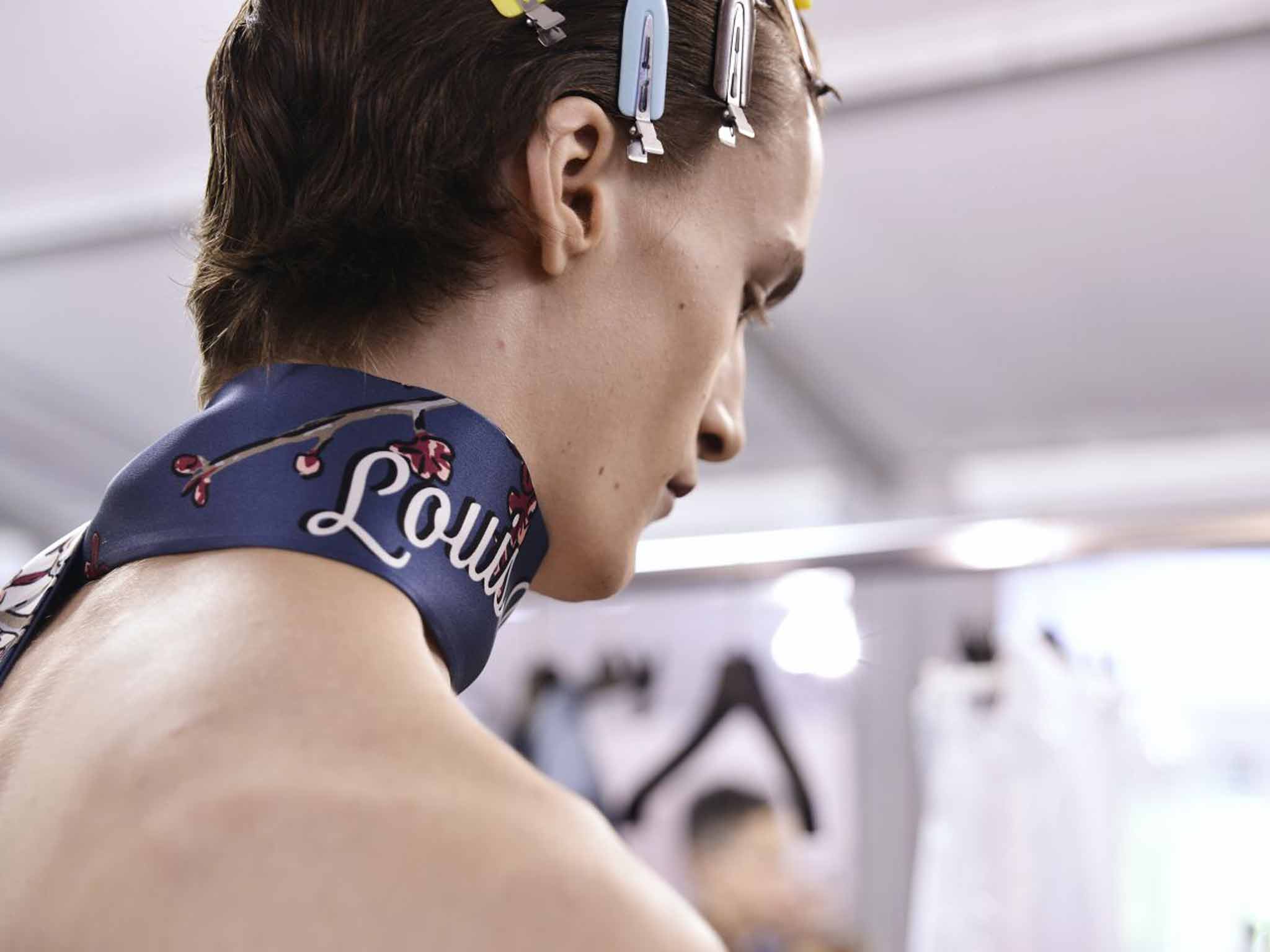 Kim Jones is the most important menswear designer you've probably never heard of. You'll have heard of Louis Vuitton, though – the most valuable luxury-goods brand in the world (turnover as of 2015: £7.07bn), where Jones holds the title of men's style director and which shows its latest collection as part of Paris menswear week in 48 hours. On the surface, that's what makes Jones's point of view so important. It shifts in vast quantities, all over the world.
But from a design point of view, what the 36-year-old designer has done at Louis Vuitton during his five-year tenure is challenging, especially in the conservative world of luxury menswear. Jones has given Louis Vuitton collections a zing, a distinct sense of design, a real fashion identity, all without scaring away existing customers who may demand only a hint of monogram and a well-cut cashmere suit. Jones's catwalk shows are major seasonal statements: he's shown bonded cashmere wetsuits and fluorescent go-faster leather life-vests; he commissioned the Chapman Brothers to scribble googly-eyed monsters over luxurious chintzes; and last June, Nile Rodgers mixed together a stomping soundtrack live as his Vuitton boys pounded out in silky tracksuits, boxer shorts and silk denim, barely a suit between them. All three of those – all Vuitton shows, actually – help to steer fashion's current direction. They're major players.
Kim Jones works in a giant honey-coloured office in Louis Vuitton's headquarters on Rue du Pont-Neuf; it feels far smaller, though, crammed as it is with stuff – bibelots, books, stacks of papers, creative chaos. Jones himself is seldom there, though he lives in the same arrondissement in Paris. He's an inveterate, even compulsive traveller. "I've always travelled – I've travelled since I was three months old," states Jones, his accent still distinctly London despite those early moves. "It's something I could never not think of doing." Jones's mother is Danish, his father English, the latter a hydrogeologist whose work dictated the family's peripatetic lifestyle. The move at three months was to Ecuador, and Jones's childhood also took in Africa and the Caribbean as well as trips back to London.
Today, travel is as much part of Jones's job as it was his father's: two weeks ago, he was in Amilla Fushi in the Maldives; five weeks ago Los Angeles; seven weeks ago Tokyo. "I can only be in the office for about two weeks," he says. "Then I need to go and do something else. It's just that I need to see things." It's intrinsically tied up with Louis Vuitton, too – founded as a malletier, a trunk maker, in 1854 – but also with the modern, moneyed man. "When you're successful in business now you travel all the time," says Jones – as a successful businessman who knows. "So things have to go from London to Hong Kong and that huge change in temperature. Everything is based on travel. In all the tailorings, we look at how they are structured and how you can whip it out of a suitcase at the end. Time is luxury to me; you don't want to be wasting time calling for someone to go and steam it."
How did Jones end up with that giant office he's never in? A decade or so ago, he had just graduated from Central Saint Martins and was showing menswear in London – clubby, sportswear-infused stuff, mixing together casual styles and luxury fabrics. It was before high-concept high-fashion menswear had really taken off in London, and well before the capital established its own stand-alone place on the international men's schedule. Jones stood out immediately, though: half of his 2002 graduation collection was purchased by John Galliano, and he caught the eye of big business at the same speed. "I used to do so many different things," he laughs. "When I had my own label I'd be doing Umbro, Hugo Boss, I'd be doing something for Topman, something with Iceberg, all sorts of different things, I'd be working on five collections." His aesthetic, then striking in a menswear landscape still dominated by suiting, shifted the style stakes. "Years ago, I thought it was important to kind of mix things up, just really by looking at my friends, seeing what people were wearing or also looking at Japan… You can wear a tailored pant with a more casual style and it still looks really smart. I think men's fashion has gone…" He pauses and laughs a little. "Well, you know, quite a lot of it is like what I used to do! It's become much more about luxury streetwear."
In 2008, Jones was tapped to revive the sleepy British brand Dunhill (now headed by the former Gucci menswear designer John Ray); then in 2011, he moved to Vuitton, stamping a fashion identity with remarkable speed and assurance on a label where once, for men, there were only LV Monogram satchels and briefcases that cost as much as a second-hand car.
It still offers them, of course: Jones oversees a vast litany of collections, reflecting the reality of a hungry luxury market. "We do two formal collections a year – which is tailoring," he says, counting off on his fingers. "Two 'Icon' collections – which is the men's wardrobe in the Vuitton styling, which gets mixed in with the pre-collection when we show the pre-collection. There's two pre-collections, two America's Cup collections, two show collections and then there's a couple of other things that pop up as well. Then you've got the bags, the shoes, soft accessories, jewellery, glasses."
Jones pauses, and grins, possibly at my dazed expression. "Recently in the office, when I've had a few people waiting for the collection to come in [from the factory], we'll be having a meeting every half an hour to plan the next two." It sounds daunting – and necessitates a relentless schedule. Backstage before the last Louis Vuitton show, Jones confessed to me that he was already thinking about the one he'll show on Thursday. "I know exactly what I want to do for the next show, for autumn/winter," he said, leaning in conspiratorially. "I know the music, I know the staging, now we're doing the research backwards."
I guess, all we can do is wait another 48 hours to see. Though, by then, Jones will probably already have decided where to take us – not himself – on his next Vuitton trip.
Join our commenting forum
Join thought-provoking conversations, follow other Independent readers and see their replies