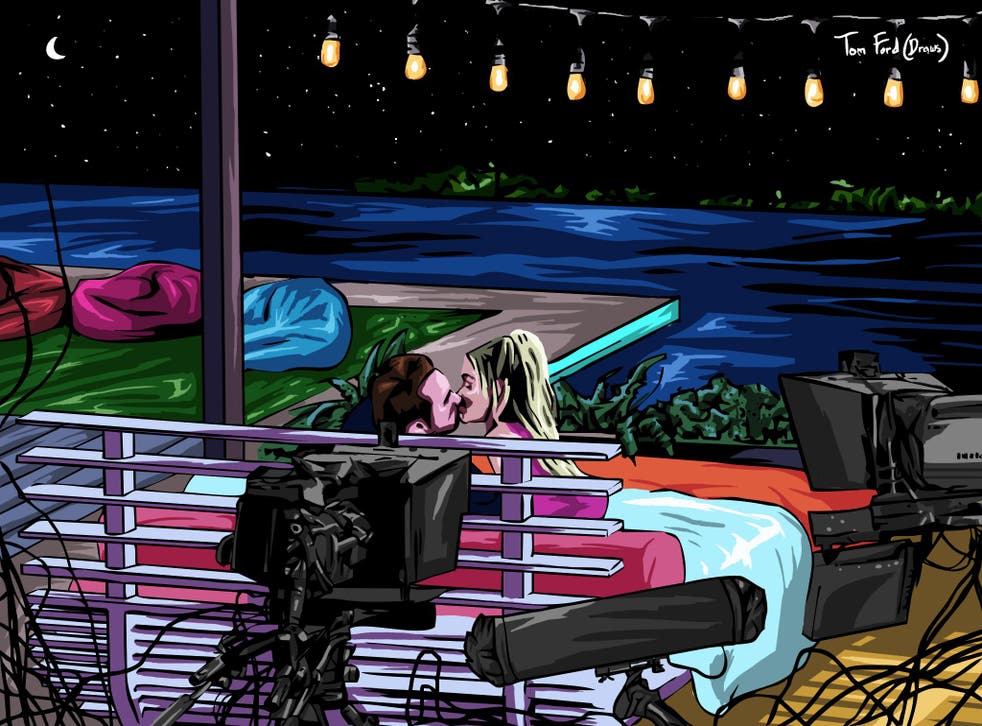 Love Island 2018: Do you really love me?
As we say goodbye to Love Island Season 4, Christine Manby questions whether true love can be found in an artificial environment 
Oh, that Love Island! The bikinis, the biceps, the improbably perfect eyebrows. Whether you were glued to the show from day one or did your best to avoid a single episode, with average viewing figures of three million you can't deny that Love Island is now as much a part of the British summer as Ascot, Wimbledon and Glastonbury festival. A record audience tuned in to the live final last night to watch barmaid/celebrity daughter Dani Dyer and pencil salesman Jack Fincham crowned best couple of the season and take home the 50 grand prize.
But what's behind the show's enormous success? It isn't just the fabulous setting, the beautiful bodies and the will they/won't they possibility of seeing some live shagging. Love Island is, as the name suggests, about the giddying joy of actually falling head over heels in love with a gorgeous stranger. It's about finding The One. Or at least convincing the public you've found The One. That's how you win it.
Love Island works like a cross between that granddaddy of reality shows, Big Brother, and dating show Take Me Out. A group of single men and women move into a luxury Majorcan villa and frantically couple and recouple in an attempt to keep their place in the house. Singletons usually get kicked out.
There are genuine couplings and strategic couplings. Meanwhile, viewers vote for their favourite couples – "most genuine couple" was how a big fan of the show put it to me – and those couples with the fewest votes face eviction. Matters are complicated by the introduction of completely new contestants from time to time, breaking up existing couples and ''mugging people off'' (that is to say, making people look like a mug) left, right and centre.
Over the course of the past eight weeks, we've seen couples come together and break apart. We've seen pairings that made us think 'nah' and others that made us go 'hmm'. There have been moments of hair-raising hostility – such as the f-word heavy spat between Georgia Steel and Ellie Brown – and others of genuine sweetness. You'd have to have had a heart of stone not to feel for my personal favourite, 22 year-old semi-professional footballer Jack Fowler, when he talked about his first experience of heartbreak and described how he burst into tears in the middle of a supermarket upon seeing a can of the soup his ex-girlfriend liked.
Love Island: best moments of the 2018 series

Show all 92
To me, at least, the majority of contestants, like sad soup-boy Jack, did seem to want to find that special someone. That's the appeal. For a teenager, Love Island offers a sense of fabulous possibility. For a middle-aged viewer like myself, it offers nostalgia for a time when finding a partner was my raison d'etre too. Not to mention a sense of relief that, God-willing, I will never have to go through that again. The level of grooming required to succeed on the dating scene these days would leave me no time to sleep. The Daily Mail estimated that the make-up and beauty equipment the female Love Islanders were seen to use cost an average of £800 per person.
But is it actually possible to fall in love under the gaze of 37 hidden cameras? And with 50 grand at stake – not to mention the seven-figure earnings the winners can expect to make from reality show spin-offs, interviews and advertising work – surely there's been a lot of pretending going on? That's why this week's question is "do you really love me?"
Let's face it. If you have to ask, then the answer is usually "no". Reframing it slightly for the Love Island winners, let's make it 'does she really love him?' Or does he really love her? How can we tell? And does it really matter?
For the last few weeks of the competition, the internet was abuzz with rumours of a "shock ending" to the series, but when it came down to it, there was nothing even slightly surprising about Dani and Jack's triumph. The couple got together right at the beginning of the season and stayed together throughout, resisting all temptation from other islanders. They also resisted the urge to 'do bits' with each other. That was possibly for the best, considering Dani's father is TV hard man Danny Dyer. But it also meant that their romance seemed to have the purity and simplicity of first love. They were like childhood sweethearts. Truly, love's young dream.
Now they're out of the villa, Dani and Jack are planning to share a house. In their gushing exit interviews, they talked about spending the rest of their lives together. All very exciting. However, it seems it can be hard to take a Love Island relationship into the real world. Jessica Hayes and Max Morley, winners of series one back in 2015, split within six weeks of leaving the villa. Kem Cetinay and Amber Davies, winners of last year's series three, lasted for just half a year before calling it quits. I suppose that's almost forever in reality terms.
That said, every season of Love Island has had its successes. Cally Jane Beech and Luis Morrison, who met in series one back in 2015, welcomed a daughter last year. Series two winners Cara de la Hoyde and Nathan Massey have also had a Love Island baby. They had a son. Olivia Buckland and Alex Bowen, who met on series two, are engaged. As are 2017 season stars Dom Lever and Jess Shears.
The Ancient Greeks had at least six words for love, reflecting the fact that there is more than one way to love somebody. As well as Eros, or sexual passion, which is what we're normally talking about when we talk about being "in love", there's philia, which is deep friendship. Ludus, which is playful love. Agape, love for everyone. Pragma, longstanding love (and the root of pragmatism). Finally there's Philautia, love of the self (and root of the selfie).
Are those Love Island success stories about Eros or Pragma? Or even Philautia? There's no doubt that if you're a reality TV star being in a relationship with another reality TV star is no hindrance when it comes to getting extra coverage. Shears and Lever have already had a practice wedding on Good Morning Britain. Buckland has starred in her own episode of Say Yes To The Dress. Love is a lucrative business.
Will this year's winners will make it to the altar or the font? They'll certainly make it to the cover of many magazines and onto dozens of chat show sofas. The gossip throughout the show's run has suggested that perhaps aspiring TV star Jack was really more interested in meeting Danny with a "Y" than making a future with his daughter. Dani herself is already a reality TV veteran, having appeared in ITV's Survival of the Fittest last year. With an EastEnders star for a dad and Keira Knightley as her childhood babysitter, Dani knows how the fame game works. So whatever happens next, Jack and Dani will be making a killing. That's one kind of love – Pragma – in action, at least.
Join our new commenting forum
Join thought-provoking conversations, follow other Independent readers and see their replies