Marks and Spencer: Can a new team of designers put the spark back into the high-street brand?
In spring, a brown suede skirt put the fashion spotlight firmly back on to M&S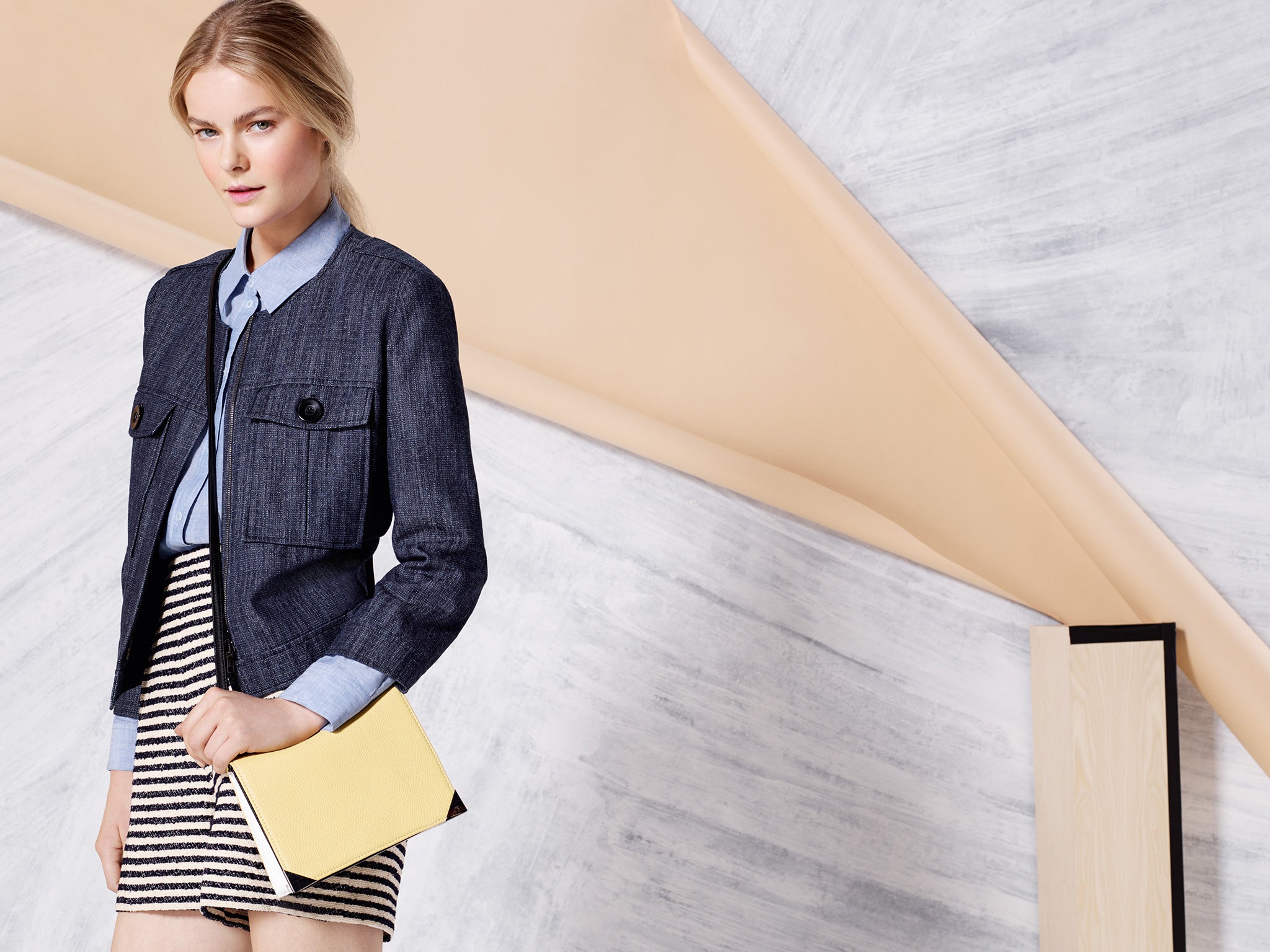 In recent years, the reputation of the high-street giant Marks & Spencer has been reliant on its innovations in the food hall. But that could be a thing of the past: last month, the retailer reported its first annual rise in profits in four years, including a 0.7 per cent increase in general merchandise (which is mostly clothing) for the last quarter of 2104.
And you'd have to have been living under a rock not to have heard about "the suede skirt", a Seventies-style item worn by Alexa Chung that has attracted a waiting list of thousands. In the 24 hours after it was launched, 500 had been sold – no small feat when you consider that its £199 price tag placed it at the premium end of the high street, and that knee-length brown suede was hardly an easy look to pull off.
So, hyperbole about "hero pieces" aside, what is it that's finally putting a spark back into the great British institution? Marie Jones, head of design for core brand M&S Collection explains that design is being treated as a priority like never before, and that's having a positive impact on sales: "It's been a gradual process, but over the past few years we've brought the design team in-house, enabling us to be a little bit more agile and allowing us to react to any comments we get, emerging trends and sales. Excitement and 'newness' are really important to us and to our customers."
M&S Summer fashion new arrivals
Show all 7
Bringing design in-house (a team of nearly 70 designers works across women's clothing, footwear and accessories; 35 per cent of Marks & Spencer clothing is created, designed and sourced by internal teams) hasn't just created efficiencies, though; Jones believes that allowing creative staff the "opportunity to put their stamp on the product" is not only important, but right. And while the company has become increasingly agile in production, by negotiating with – and where necessary leaving – existing suppliers and improving buying processes, there is still some way to go to shake off its reputation as a clothing retailer that lost its way.
Seemingly, it's the very popularity of Marks & Spencer that has played a part in its downfall. It has 34 million customers each week and seems to have tried to give every single one exactly what they want. The opinions of 17,000 customers are sought on a weekly basis through online surveys, exit interviews and focus groups, and the mantra at head office is "listen, listen, listen". While that's no bad thing in theory, in practice it has led to a complex collection of sub-brands and an overwhelming array of products on the shop floor.
This is a fault that is hopefully in the past, though. And while collaborations with household names such as Rosie Huntington-Whitely and David Gandy have obvious appeal – Rosie has helped to sell more than 1.5 million items for Autograph in 2014 – a more surprising addition to the roster has been Lulu Kennedy. The Fashion East founder's personal style is distinctly experimental compared with that of the store's core customer, but her collection for Indigo neatly blends a fashionable twist with summertime staples. Earlier this month, the brand also launched the Limited London Collection which combines fashion-focused youthful design with the highly praised aims of Plan A, M&S's own sustainability strategy.
Identifying a customer for each of its brands isn't a priority for Marks & Spencer, says Jones, acknowledging that most tend to shop across the in-house labels depending on the occasion: "Hero pieces like the suede skirt or the pink coat from autumn 2013 generate a lot of interest and bring in new customers, and we hope they will then get inspired and excited by lots of the other things in store. Most of our customers do shop across multiple brands, but would have a favourite that is their go-to. End use is really important as well – if she was looking for something for a special occasion she would go to Speziale in Per Una or, for a more luxurious leather piece, she can go to Autograph."
A pilot strategy to sell branded trainers in the menswear department was recently announced, but there are no current plans to echo this strategy in womenswear – or none that can be revealed, anyway. While the recent financial results are cheering – not least for the executives who received staggering bonuses – the recovery of the brand could still take a long time. For now, though, it seems there is a spark of light at the end of the tunnel. µ
Join our commenting forum
Join thought-provoking conversations, follow other Independent readers and see their replies