Medallion Man is back! The rise and rise of middle-aged vanity
As men turn to hair dye and tooth whitening, Nicholas Foulkes asks whatever happened to dignity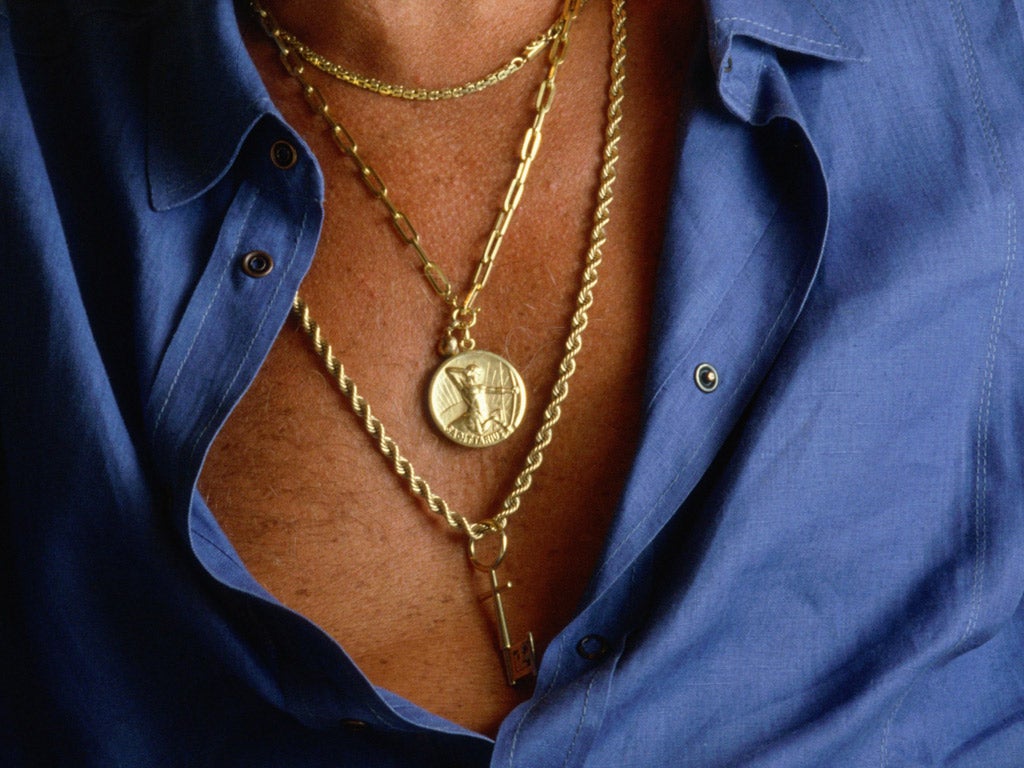 I have a sense that as the banking scandal unfolds we will be hearing about vanity, corporate and personal. And it is discernible not least in the pantomime villain that is Bob Diamond. I can spot it a mile off, not least because I have been vain for as long as I can remember. I can see it glaring like a Jubilee beacon in the picture of him in a theatrical red scarf, an extra element of swagger imparted by a swirling overcoat that, at calf length, is longer than it needs to be, and of course the tassels on shoes about which there is a hint of the disco slipper. Personally, I like a bit of swagger in my coat, but I cannot help thinking that it does all convey the air of a man who would be only too pleased to sell you a decidedly superior used car rather than someone to be left in charge of millions of people's savings.
But beyond imparting a slightly slicker than advisable image, what does this peacockery say of the inner man? While declining to comment on any particular individual and preferring to talk of "a state of self-preoccupation" rather than vanity, the psychoanalyst Adam Phillips, whose new book Missing Out was published last month, suggests that this tendency is possibly a "self cure for doubts about oneself". The way he sees it, carefully considering clothing "becomes a way of organising or controlling those concerns". Moreover, as well as being a way of helping "keep a certain version of yourself in your mind, it keeps a certain image out of other people's."
Apply this rubric to Diamond and his now-famous remark that a bank's culture is "how people behave when no one is watching" takes on an added dimension. Suddenly the Captain Mainwaring style of bank manager with striped trousers and dark coat becomes incredibly appealing. By contrast Diamond, often photographed conspicuously tieless, most embarrassingly for the Tory Party, alongside George Osborne, comes across as the 21st-century descendant of that 1970s stereotype Medallion Man. Medallion Man would have a few too many buttons undone on his shirt and would compensate for the expansion of his waistline with the upwards adjustment of a pair of Cuban heels. He was a man for whom the warm glint of yellow gold among bountiful pectoral hair was a signifier of virility and youth. The paradigm of this figure was Jason King, eponym of the early Seventies TV adventure series, a dandified action hero whose lady-killing elan was stoked by the inverted scimitar of a Zapata moustache and tumbling, collar-length tresses.
Indeed King's luxuriant and glossy coiffure could easily have inspired the follicular folly that has recently gripped Tony Blair, John McEnroe and Michael Douglas, whose greying hair has appeared to turn a youthful chestnut. At least Douglas has the excuse of preparing for a film in which he is to play the preening Liberace. With Blair, it is more puzzling. Is it really statesmanlike to dye your hair? After all, politics is not a branch of the entertainment industry... on second thoughts, maybe it is.
Blair will be 60 on his next birthday, which, from what John Simpson has been saying, is to be a young whippersnapper. Earlier last week Simpson announced that 65 is the new 55. The veteran BBC reporter is busy at work on a programme for BBC1 called When I Get Older. There is, he says "crusading to do here – persuading the elderly that they don't have to be old until they want to be..." Certainly Simpson shows little sign of wanting to be old just yet, with a wife who is considerably younger than he, a small child and a punishing work and travel schedule that would take its toll on anyone, let alone a man nearing 68.
Given that, with luck, most of us will wind up being old at some stage, there is much to be said for this attitude. Recent years have rightly seen ageism join stigmatisation on grounds of race, gender and religious persuasion in the pantheon of transgressive taboos. But saying that you are only as old as you feel – or as Bernard Manning might have put it at the Wheeltappers and Shunters Club in the double-entendre Seventies, as old as the woman you feel – is a slightly specious argument.
Time's corrosive effects on our bodies are inevitable, so it is particularly cruel that we live in a culture obsessed with youth. Of course it was not always this way, as Stefan Zweig writes in his memoir The World of Yesterday of the closing years of Habsburg Austria. "Young doctors of twenty-four and twenty-five who had only just qualified as physicians, sported heavy beards and wore gold-rimmed glasses even if they had perfect eyesight." A century ago the mania about age was completely reversed as young men stooped, became portly and adopted any mannerism that would "dissociate themselves from the suspect immaturity of youth". Life in Franz Josef's empire moved at best at a stately pace: a 30-year-old man was "considered immature, and a 40-year-old was not yet regarded as ready for a position of responsibility". At a time when "grey hair was only another mark of dignity", the headlong rush to a venerable age can be easily understood.
Now dignity is in danger of being jettisoned in the rush to drink at the fountains of eternal youth, or at least the rush to the hair dye kit, which is the next best thing. The effect of what looks to be competently applied hair colourant may be to make Blair look younger than his years, but only if you did not know what he looked like before. As arguably the most "spun" prime minister, can he seriously have thought that his lustrous hair would pass unnoticed in a culture where the semiotics of appearance are minutely analysed? Maybe he doesn't care, maybe it was just the studio lights or maybe he thinks he can get away with it.
"On Getting Away With It" is one of the chapters of Phillips's Missing Out, which examines our pre-occupation with "the lives we are not living, the lives we are missing out on, the lives we could be leading but for some reason are not." Towards the end Phillips writes: "To have our own features 'reflected flatteringly back' is the essentially narcissistic project in what Freud calls 'repression', the burying in oneself of what one prefers not to know or feel." He adds: "Repression is what we do with the experiences we cannot let ourselves have. We set them aside as not be troubled by them again." And there can be very few of us who are not troubled by getting old.
If indeed Blair does want to serve again as PM it wouldn't hurt to look younger; he could even point to the precedent set by Lord Palmerston, who apparently used to rouge his cheeks. The trouble is that by the mid 19th century ageing dandies of Palmerston's generation had become the butt of the satirist. Take Thackeray's Major Pendennis: "At a distance, or seeing his back merely, you would have taken him to be not more than thirty years old: it was only by a nearer inspection that you saw the factitious nature of his rich brown hair, and that there were a few crow's-feet round about the somewhat faded eyes of his handsome mottled face.'
Blair, Palmerston and Pendennis are not alone. Rather worryingly, having noticed some greying at the temples I would be lying if I said I had not considered colouring my hair, but for the moment at least the spectre of Dirk Bogarde's dye-streaked face at the end of Death in Venice is holding me back. However it makes me wonder what it is that makes men imperil their gravitas (not that I have any to imperil) in the pursuit of youth.
I spoke to Phillips about this. "A developmental story would be saying it is not simply the wish to recover one's youth; it is not that people want to be young again; they want to go back to a period in their lives in which there was unfinished business." As he put it, "the risk is that it is misunderstood as being young" when it is about a desire to "reconnect to that thread in one's development that one has lost".
Seen in this light Blair's attempt to recover his early prime ministerial locks, the concomitant optimism of the "Things can only get better" years, and the chance to make different decisions slots into a pattern of an attempt to recover that unlived life.
Women who show how to age gracefully
Wilnelia Merced, 54
OK, so Lady Forsyth-Johnson, as she is known to her husband Brucie, is a former Miss World (1975), so she would look good, but we loved her flirting with royalty at Wimbledon last week and making Prince Charles smile. For comparison, the 1975 Mr Olympia was Arnold Schwarzenegger.
Christine LaGarde, 56
The first woman head of the IMF also finds time for scuba diving, swimming, gardening and jam-making, but never drinks alcohol, which could explain a lot. Rival politicians sneer the word "elegant" in an attempt to belittle her. How come male bankers never look this good?
Joan Armatrading, 61
Performing at the Hop Farm Festival in Kent yesterday, the singer-songwriter showed younger performers a thing or two about cool. Armatrading has been amazing ever since she was sacked from her first job in a tool factory for bringing her guitar to work and playing it. The male headliner was Bob Dylan, who looked rather less radiant when he was 61.
Aung San Suu Kyi, 67
This is a beauty that comes from serenity and wisdom in spades. In her speech at Oxford University last month the Burmese opposition leader described how memories of Oxford had sustained her during house arrest, "because I had lived a happy life". If this is what Buddhism does for the complexion, Tony Blair should take it up, quick.
Judi Dench, 77
The DVD of The Best Exotic Marigold Hotel was released last week, in which the actress plays the love interest opposite Bill Nighy, who is not so stunning at 62. Those of us who have seen Dame Judi up close know she is among the most beautiful women in the world. Age cannot wither those sparkly blue eyes.
Join our commenting forum
Join thought-provoking conversations, follow other Independent readers and see their replies