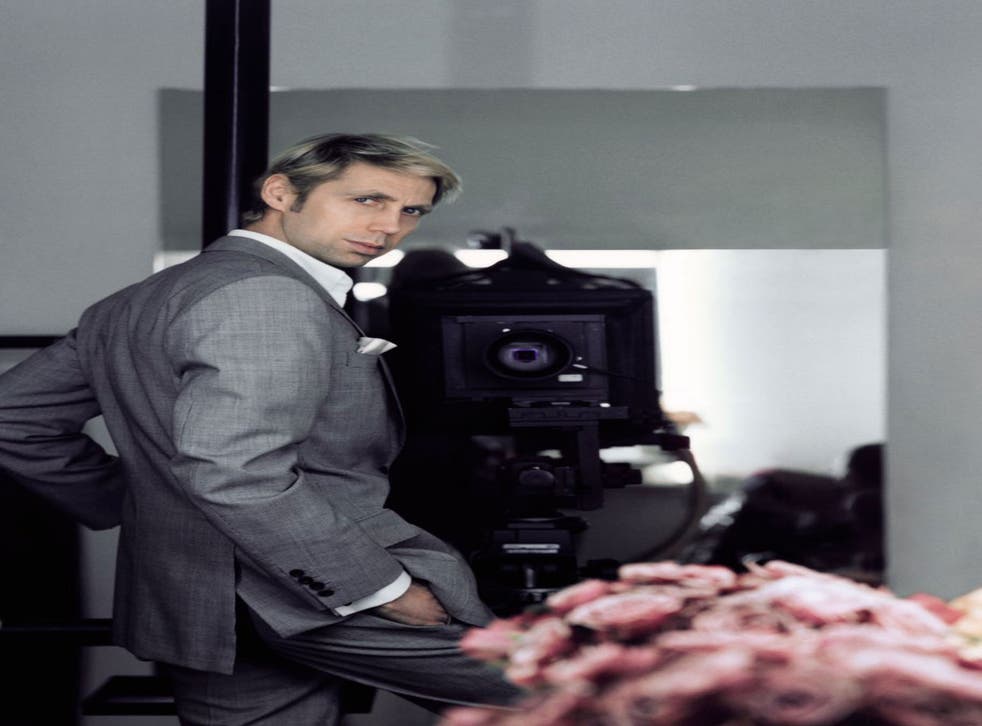 Nick Knight interview: The photographer and film-maker on working with Kanye, and why art and death go together
Knight is a British fashion photographer, film-maker, and director of SHOW studio.com. He has photographed for Vogue, W, i-D and Dazed & Confused and has shot a number of music videos
When working with big names – and big egos – how much do you have an idea of what you want and how much do you have to bend to them?
It depends. Some people have a very fixed idea of what they want. Some people just want something but they don't really quite know what it is. But it's different for different people: Kanye is different from Bjork who is different from Gaga.
An ability to collaborate seems central to what you do.
It is particularly important. But it's not a collaboration in the sense of me coming up with an idea and them coming up with an idea. It's more me trying to see life through their eyes. Trying to understand how Lee McQueen works, or how Kanye works, to get inside their psyche. You are working with honesty, and intensity and a certain amount of love. I choose carefully who I work with.
You are putting on a Halloween exhibition with Veuve Cliquot themed 'Beautiful Darkness'. What is it in the human psyche that means we can find beauty in darkness?
It's a weird thing that people fear darkness. If you look at the Viennese Secessionists, or any of the great art movements, they are to do with darkness and tragedy. If you look at the Pre-Raphaelites, it's to do with death. If you look at Warhol, it's to do with death. If you look at Damien Hirst and his shark, it's to do with death. Artists take us to a place where we feel alive because of our proximity to death.
The fabulous world of Nick Knight

Show all 15
It is interesting that we like to be scared.
What's interesting is that we pay £5 or £10 to go the cinema just to have this feeling of being scared. But when it comes to our fashion imagery, it's completely sanitised. If I was to produce a front cover for Vogue and the head on the cover was severed from the body, you know it wouldn't work. Yet, it's something that we all love as human beings – the idea of fear.
The fashion industry often presents itself as "pushing boundaries".
Just pick up any of the mainstream fashion magazines and see how exciting you think any of the imagery is. A girl looking over her shoulder – it's a pretty girl looking pretty. I think life's a lot more exciting when you realise most of us are going to get cancer, most of us are going to have affairs, most of us are going to have heartbreak – those sorts of things.
You set up your fashion website SHOWstudio in 2000. Has the internet made fashion magazines obsolete?
Totally. Their days are completely numbered. They don't have a purpose anymore. The steam train is beautiful but it's not how people travel. There was a lot said [about magazines] that 'people like to have a physical thing'. Yeah, but do they really want a shiny, smelly, floppy block in their hand? I'm not sure they do.
Are there any particular artists you take as inspiration?
No. At the moment I'm reading a book on agrarian cults in the 16th century and their persecution by the Spanish Inquisition, because that's what's interesting me, and then I'll move on to the next thing and it could be anything - muscle cars of the 1970s, perhaps.
Does fame matter to you?
I think fame is a very weird, abstract concept, and not one someone should probably hanker after. The people I know who are incredibly famous, whether or not they want their fame, I don't think it's necessarily beneficial to them. I've worked with some of the best- known people on the planet but they are still just people.
Biography
Nick Knight, is a British fashion photographer, film-maker, and director of SHOW studio.com. He has photographed for Vogue, W, i-D and Dazed & Confused and has shot a number of music videos. His exhibition 'A Beautiful Darkness' is on at The College, 12-42 Southampton Row, London, W1, as part of the Veuve Clicquot Widow series. Tickets: veuveclicquotwidowseries.co.uk
Register for free to continue reading
Registration is a free and easy way to support our truly independent journalism
By registering, you will also enjoy limited access to Premium articles, exclusive newsletters, commenting, and virtual events with our leading journalists
Already have an account? sign in
Register for free to continue reading
Registration is a free and easy way to support our truly independent journalism
By registering, you will also enjoy limited access to Premium articles, exclusive newsletters, commenting, and virtual events with our leading journalists
Already have an account? sign in
Join our new commenting forum
Join thought-provoking conversations, follow other Independent readers and see their replies