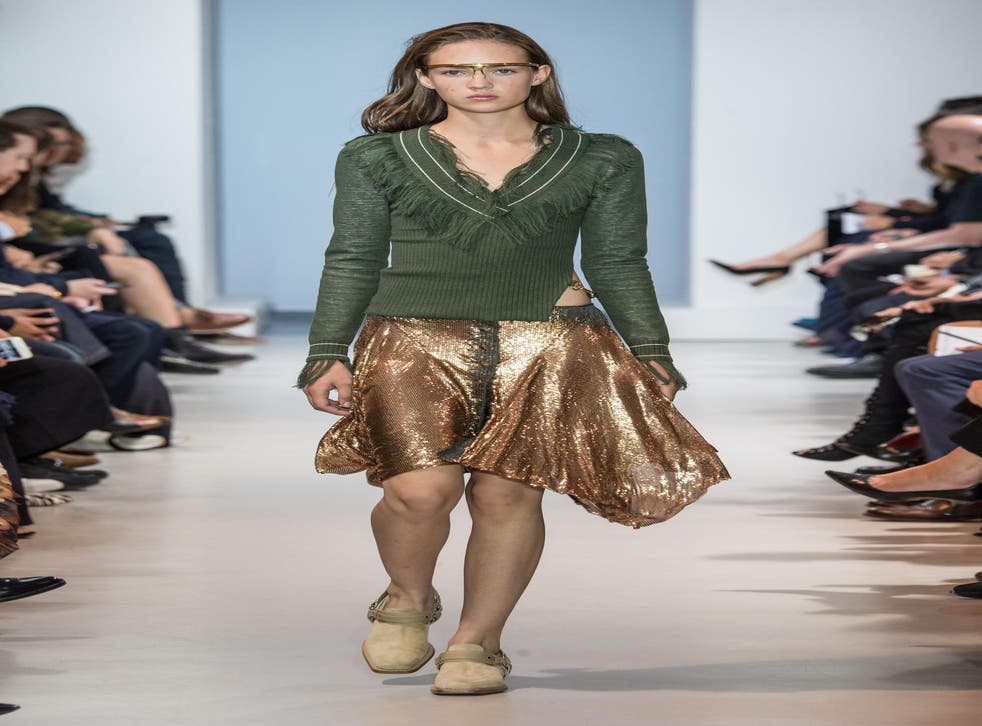 Paco Rabanne is the most exciting thing in Paris
Paco Rabanne designer Julien Dossena may be the new Nicolas Ghesquière; and maybe that makes Rabanne the new Balenciaga? Alexander Fury applauds the coolest new (old) label in Paris
There's something interesting going on at Paco Rabanne. Yes, I mean that slightly naff fashion house whose original Basque-born designer (real name Francisco Rabaneda-Cuervo) found fame in the 1960s with dresses ingeniously constructed from plates of metal and plastic, but whose hitherto notoriety stemmed from his repeated predictions of the apocalypse.
Rabanne retired in 1999, his house floundering somewhat but churning out best-selling perfume – its men's scent, Invictus, is the UK's best-selling male fragrance, replacing 1 Million, another Rabanne. The succession of designers has been less assured: in the early 2000s, US designer Patrick Robinson took the helm; then Indian-born Manish Arora; then Lydia Maurer, a rather anonymous French designer who formerly worked at Givenchy. Arora came closest to the styles of a designer dubbed "Wacko Paco", with dresses made from pleated paper and flying-saucer Philip Treacy hats. Maurer was ousted in favour of Julien Dossena in 2013.
And here's where the story gets interesting. Dossena is a disciple of Nicolas Ghesquière, latterly of Louis Vuitton but for 15 years the head of Balenciaga, where his work was universally acclaimed for a fusion of the technologically advanced, the historically reverent and the currently relevant. It's a tough mix to get right. Dossena was rumoured to be up for the Balenciaga gig – as if to nix the rumours, Ghesquière and his right-hand woman, the stylist Marie-Amélie Sauvé, sat front-row at Dossena's spring show. They also both turned up to the cocktail and dinner held during couture week to inaugurate Rabanne's Paris store.
Said boutique is brutalist, metal-clad, with harshly lit white shelving. It looks like a cross between a hyper-modern library and the cargo bays on Red Dwarf. Dossena's clothes are similar fusions of utility and austerity, decorative metal mesh jangling against bog-standard sweatshirting. Some garments are a bit sci-fi, with zips and scuba detailing and the occasional go-faster stripe pasted incongruously across the midriff. All in all, it's a strange bunch of stuff – the metal and techy materials lassoing it to the Rabanne legacy of Barbarella tin-foil frocks, but with something of the late 1970s and early 1980s in the proportions.
More than anything else, what Dossena's work reminds me of most is the early days of Nicolas Ghesquière's Balenciaga. Not in terms of direct aesthetic reference, but in spirit. It reminds me of women fighting to get Ghesquière's skinny cargo trousers, studded and distressed leather bags and slender-cut jackets, because they concisely elucidated the often-opaque notion of cool, reactivating the then-dusty Balenciaga label for the present. You feel the same at Paco Rabanne, right now. It doesn't happen often, but it's exciting to watch it unfold.
Join our new commenting forum
Join thought-provoking conversations, follow other Independent readers and see their replies