Past masters: Pre-Raphaelite insipired fashion

Show all 4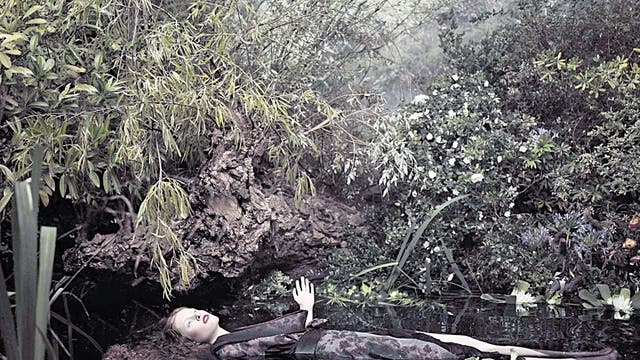 Past masters: Pre-Raphaelite insipired fashion
Somewhat surprisingly, the chocolate-box imagery of the Pre-Raphaelite Brotherhood has inspired some of the most exciting and brave new fashion, says Alexander Fury
Alexander Fury
Sunday 24 March 2013 19:44 Comments
Fashion is known for plumbing rather esoteric depths for its inspirations – so you wouldn't think that the mid-19th century work of Edward Burne-Jones, John Everett Millais or Dante Gabriel Rosetti could feature large as grist to the creative mill. The may be masterpieces, but today they're images you see in dentists' waiting rooms, on mouse mats or tote bags – the kind sold, say, at last year's blockbuster Tate Britain Pre-Raphaelite exhibition. They're pretty. They're populist. They're… well, just not cool.
But, oddly enough, the Pre-Raphelite Brotherhood has been enjoying something of a cult status among fashion insiders across the past few seasons, its rather chocolate-box imagery inspiring some of the most brave and exciting fashions of the season. It kicked off last winter, with Pat McGrath's Rosetti-red lips at Gucci, a show where designer Frida Giannini took inspiration from the 19th-century decadents – a billowy, willowy look. Then there was Rick Owens' spring 2013 show, geometric ginger wigs topping diaphanous frocks straight off of a Burne-Jones heroine, the show's fountain-of-foam backdrop less a nod to Ibiza hijinks than Millais' 1851 masterpiece Ophelia.
Ophelia stalked Giles Deacon's catwalk in London for autumn/winter 2013 too, in the guise of Kristen McMenamy wuthering through a medieval banqueting hall in pellucid satin to open and funereal black to close, book-ending a show of rich gold and red brocade gowns. "It does all kind of seem to share this similar vein of war-stricken maidens," said designer Gareth Pugh. He was talking about the damsels in distress that populate Pre-Raphaelite art, not the year in fashion. But perhaps they're one and the same right now.
Ironically, considering how ubiquitous the seemingly saccharine images of the Pre-Raphelite Brotherhood are today, the movement originally began as a fight against the art establishment of the day – hence the fact that Tate Britain show was subtitled "Victorian Avant-Garde". Let's not be trite and call it Punk, but to 19th-century aesthetic values born of Mannerist art scholars to whom Raphael and Michaelangeo were next to godliness, the throwback to medieval technique, subject-matter and style represented by Pre-Raphaelite art was an affront. They were bad boys – the 2009 BBC costume drama Desperate Romantics tried to paint them in much the same light.
The artists may have been bad, but the fashions were worse. That's the problem with arguing a Pre-Raphaelite influence on fashion – countering the assumption that the prefix "Pre-Raphaelite" translates to a drippy surfeit of velour and gossamer worn by melancholy ginger girls. Call it the Panne Velvet Presumption – but that PVP is born not of Pre-Raphaelite art, but of the Aesthetic Movement of the late 19th century. To dress reformers who urged women to cast off their corsets and reject fashion in favour of "timeless" Medieval-style garments sported by swooning Pre-Raphaelite maidens, it was alternately known as Artistic Dress. Despite arguments that contemporary fashion was "ugly", "immoral" and "dishonest", most women didn't want to look like Queen Guinevere. The same is true today – hence the fact that we're seeing modern re-interpretations, rather than out-and-out homages to the styles of Millais and Rosetti.
Today references are slightly more subtle than they were a decade or so ago in the hands of John Galliano, if not necessarily more subdued. Take for instance Tim Walker – capturing Kristen McMenamy in a pearl-embroidered Balmain doublet and ruff for W, Kate Moss in a draped Bottega Veneta gown for LOVE magazine, or a jewel-coloured velvet dress wrapped around the auburn-haired model Sunniva Stordahl, a dead ringer for the Pre-Raphaelite favourite, and wife of Dante Gabriel Rosetti, Lizzie Siddal.
Colour was big for the Pre-Raphaelites – they were aping the saturated hues of early Renaissance style known as Quattrocento, and their panes of glazed pure pigment have more in common with stained-glass windows than, say, the dark and moody portraits of Royal Academy founder Sir Joshua Reynolds.
That's why it comes as a shock to hear Gareth Pugh wax lyrical about the Pre-Raphelite Brotherhood and their influence on his aesthetics. After all, Pugh has spent most of his career adhering to Henry Ford's maxim – you can have it in any colour, as long as it's black. Or white. Or, at a push, a shade of grey. How to reconcile that with the brilliant chrysoprase green, lush turquoise, crimson and burnt umber that glow from the surface of William Holman Hunt's Isabella and the Pot Of Basil, for instance? "She's got this big pot with her lover's severed head in it, and she's crying over it," deadpans Pugh, succinctly summarising the John Keats poem that inspired just that painting. "There's this quote where this basil flourishes with the water from her tears. They're very beautiful, very rich paintings but the themes that they deal with are very primal and very human: sex and death, and jealousy and power. It's all sort of wrapped up in this very sort of flowery, feminine visual language, but those paintings have got such a power."
For his spring 2009 debut on the Paris catwalk, Pugh fashioned his own homage to Millais' Ophelia: "That image is something that I was kind of obsessed by, going way, way back, even still in college," he says. "The thing that I love about it is that it's very beautiful but there's also an incredible darkness to it. I do quite like that analogy of a figure in water, either half emerging or half being submerged."
Pugh's translation? A collection entirely in monochrome, looks blinding white in front but turning to reveal a black flank. "The whole feeling with Ophelia… she's about to plunge underneath and die. With the show it was more like someone stepping out of a darkness and into a light. And it's that sort of level where you're not quite sure if it's a re-birth moment, or a death moment."
It's the darker reaches of the Pre-Raphaelites that make the most interesting fodder for fashion, and the most modern. That's why Millais' doomed Ophelia is undoubtedly fashion's Pre-Raphaelite inspiration-board pin-up of choice. "I always loved Ophelia, her movement and elegance. She's an emblem of so many things; love, life, death," says photographer Paolo Roversi, who worked with Japanese designer Mihara Yasuhiro to create a short film to showcase his spring 2012 collection, Ophelia has a Dream, screened during Paris Fashion Week in October 2011 and again as part of the Tate Britain exhibition.
"In the image you don't know whether she's alive or dead. It's a mystery." Roversi and Yasuhiro's work captures a modern Ophelia as she very fetchingly sinks to her watery grave after falling from a tree while gathering flowers.
Initially held up by her air-filled garments, until "her garments, heavy with their drink, Pull'd the poor wretch… to muddy death". Ophelia as the first fashion victim?
Maybe that's what the pull is for image-makers and designers alike. Besides Yasuhiro and Pugh's collections, Walker flashed her up as one of the inspirations behind that 2008 Vogue Italia shoot, and in 2011, Mert and Marcus floated MariaCarla Boscono above a submerged car in post-modern homage. And, despite the Pre-Raphaelite influence, there wasn't a whisper of gem-coloured velvet about it.
Register for free to continue reading
Registration is a free and easy way to support our truly independent journalism
By registering, you will also enjoy limited access to Premium articles, exclusive newsletters, commenting, and virtual events with our leading journalists
Already have an account? sign in
Join our new commenting forum
Join thought-provoking conversations, follow other Independent readers and see their replies