The Independent's journalism is supported by our readers. When you purchase through links on our site, we may earn commission.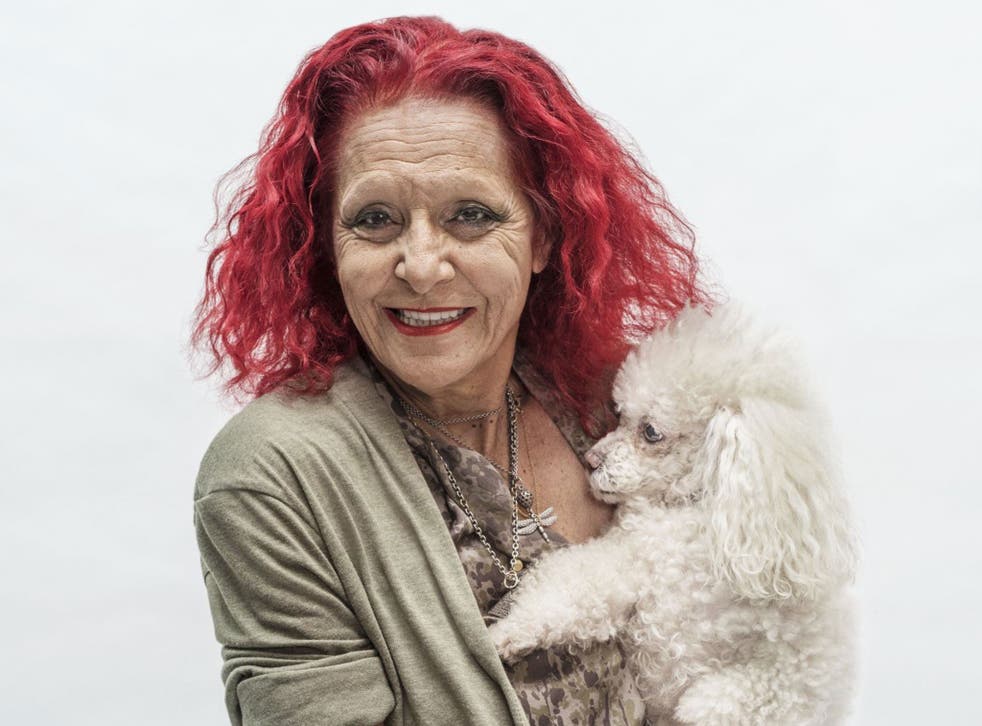 Patricia Field interview: The costume designer who dressed Carrie Bradshaw and now Caitlyn Jenner
Costume designer Patricia Field inspired a generation of women when she dressed Carrie Bradshaw and Co for 'Sex and the City'. She tells Rebecca Gonsalves how she goes about getting an outfit right
Rebecca Gonsalves
Saturday 12 September 2015 00:00 Comments
One morning a few weeks ago, Patricia Field opened her New York store especially early. Over an hour before the general public would be let in, Field – the boutique-owner turned leading Hollywood costume designer – received a customer who really needed the SoHo place to herself.
The customer was Caitlyn Jenner. The most famous transgender person in the world had been been recommended to Field by a mutual friend. "I'd never met her," Field tells me when we talk in her colleague's Garment District studio. "I quickly had to get a little feel for her, but my friend was very helpful in that sense. We were trying on clothes and seeing what she liked and felt good in. It was a great experience for me – she's very open, down-to-earth, appreciative. Really, what she's doing is quite a thing – she's handling it beautifully."
The appreciation was mutual. The shopping trip was filmed for the TV show I Am Cait, the scene conveying Jenner's palpable excitement at experimenting with a new personal style. "What an amazing experience to meet and spend some time with Patricia," Jenner said on her show. "Over the years she has been very supportive and committed to making a difference for the transgender community. That to me is amazing."
Field must have got her role as wardrobe mistress right once again. Jenner wore her new ensemble right out of the store, the sequin mini-skirt a radical departure from her previously favoured conservative wrap dresses. But then you don't go to Field if you're simply looking for conservatism. At 74, she has a reputation as an instinctive creator of fashion fantasy, thanks to TV shows she costume-designed including Sex and The City and Ugly Betty. Her work on The Devil Wears Prada won her an Oscar nomination.
Field's long, slow drawl reflects both a lifetime spent in New York and her fondness for cigarettes. On a day when the temperature is in the 90s and the air in the studio is thick despite the best efforts of numerous electric fans, she reclines casually in her chair. The walls of the studio are all but hidden under paint, sketches and swathes of fabric. Boxes of sequins, feathers and beads are stacked up all over the place, adding to a sense of organised chaos.
Field is dressed in a casual combination of khaki trousers, mannish flat shoes and a sleeveless blouse. Her olive skin makes the contrast with her hair all the more striking: flame red and free-flowing. Field has been dying it since she started going grey in her thirties and has no plans to tone it down. But then Field's undaunted attitude to life is no small part a reason for her success. As she talks, Field becomes as animated as the room around her.
Born in the New York borough of Queens in 1941 to a Greek mother and Armenian father, Field learnt a sense of entrepreneurship from her extended family. This included her grandmother, who has been a lasting influence on her: "I always class myself as independent, with my own ideas and confidence in them," Field says. "Not that I'm 100 per cent confident. I often question myself but in general I'm not timid. I was taught confidence by my grandmother."
After completing a liberal arts degree at New York University, Field worked in a department store for three years in order to learn the retail ropes, before striking out on her own. In 1966 she opened the House of Field in the East Village. A risky move perhaps for someone who was still only in her early twenties, but Field believes that the city then was much more accommodating to free spirits like herself. "New York has changed in the way the world has changed. It's not as wild as it used to be, it's not as fun or expressive or as liveable. It's so hard for young people today. I often ask myself if I'd be able to set up my store now, and I just don't know."
Thanks to her exuberant personal style, warm and welcoming personality and, as a lesbian, her presence on the city's gay scene, Field's store quickly became a trusted spot for drag queens and the stylish in general, all of them drawn by the prospect of finding something interesting and unusual, if not unique. "People would say, 'oh you're the mother of the drag queens'. I'm not! They're theatrical, fun, and expressive. I love to be around that creative energy, so of course I welcome them. They entertain me and make me feel life is a game, a party. It's fun! Yes I like to be around the drag queens but it's not because I'm altruistic, marching up and down for drag queen freedom. It's about being inspired."
That inspiration comes not just from an innate sense of drama, Field also prides herself on her ability to read the person she's dressing in order to make them feel comfortable, whether they're a movie star, a tourist, or Caitlyn Jenner. > "When you dress someone you have to know who they are. These are real people, not cut-out dolls and not models who are being paid to show off someone's clothes." That's a skill that she learnt on the shop floor: getting the measure of someone physically, but also reading their personality to decipher what it is they're really asking her for.
With her ability to understand character, and her flair for the theatrical, it's little wonder that Field made the move into movies, although it wasn't something she ever actively pursued. "A friend recommended me to a director, and when they hired me I didn't have any experience. But when I went through the process, I just thought, this is fun. It was 20 years after I opened my shop so I was ready for some new creative outlet." Field's enthusiasm – for people and their stories, for the projects that come her way – is as striking as her expansive smile.
As the creative brain behind the wardrobes of Carrie Bradshaw and Co, Field was undoubtedly one of the most influential women in fashion at the turn of the century. Were it not for her it's fair to say that the Noughties woman's wardrobe would have featured far fewer tutu skirts, name-plate necklaces and oversized corsages – for better or worse. "Sex and the City was of its time," says Field of arguably her most famous project. "I think it really impacted on the way women felt and behaved as well as dressed – with self-esteem and confidence. The timing was right for it."
The clothes on the show were showy to say the least, but they had an impact on what real women wore and how they felt about it. "Her work on the show stood out," says Veronique Hyland, fashion news editor at New York Magazine's The Cut. "Oftentimes costume designers focus on trying to make the characters' looks realistic or era-appropriate. Field took things further by incorporating recognisable pieces of high fashion. Could the characters really afford those wardrobes on their salaries? Maybe not, but as a viewer you bought into the fantasy."
For a show with romance at its heart, that suspension of disbelief was an important part of the narrative and something Field helped to establish. But it was the way she mixed high and low when creating ensembles that really captured the titular city, believes Hyland. "She definitely put her own stamp on the concept. Her costume designs epitomised a downtown New York style of dressing where you might bricolage together plastic earrings, a vintage bag and a designer dress." Field sees her work as creating a collage – assembling ideas and clothing – rather than as a designer proper, which perhaps explains why she was so well-suited to Sex and The City and its four leads.
"I do understand form and fabric and drape, it's just that from my brain to my hands there's a detour. Everybody is uniquely themselves and I think Sex and the City really opened up that Pandora's Box. People could identify with a character: a personality, a point of view and attitude."
And then there were the shoes: from the price tags to the heels, there was nothing low about Carrie Bradshaw's extensive footwear collection, which was one of her defining characteristics. "Jimmy Choo and Manolo Blahnik were both name-dropped in the show enough that they resonated with viewers," says Hyland. "For better or for worse, Field helped normalise the idea of spending in the high three figures on heels."
Field also helped rekindle the idea of fashion as escapism, as a romantic dream, as a way of exploring and expressing yourself, all of which has had a lasting impact on how women today dress. But rather than rest on her laurels, she's keen to keep exploring new avenues and still approaches projects with joy. Her latest one is ambitious: dressing the performers for an operatic extravaganza called Intimissimi on Ice, to be staged by the Italian lingerie company Intimissimi in Verona next month. For this task, Field has teamed up with her long-time friend and collaborator David Dalrymple, perhaps best known for cladding Britney Spears in illusion netting, a sprinkling of Swarovski crystals and little else for her appearance at the MTV Video Music Awards in 2000.
"This is a big project," says Field, who had been avoiding such commitments in order to spend time at her store. "But I was excited because it was different. And that excitement and energy inspires me to do a great job. New experiences like this give me joy."
As well as having a keen visual eye, Field is a savvy marketer: "Looking at past Intimissimi performances I never saw any lingerie, and being a marketing person in fashion I'm like, I wanna see lingerie, this is a lingerie show." It was also important to her that the costumes didn't look like traditional ice-dancing costumes either. As well as the physical challenge of dressing ice dancers, Field found herself approaching the design process from a different angle to her usual costume work. "A movie or TV show has a story. You design the costumes by combining the character that's in the script and the actor to create this fictitious character. But this is dance or skating, they're not characters."
Once this project is complete, Field will be moving on to the next – standing still is not an option for this formidable character, and retirement holds no interest. "If I'm not learning I'm dead in the world. I'm bored, I'm miserable. My dream of dreams is to make my own movie." Her choice might surprise some: it is an obscure Greek comedy from the 1950s which she wants to remake. No matter the content, one thing is sure, the costumes will be killer.
"Intimissimi on Ice - Shadows and Light" will take place at the Verona Arena on 9 and 10 October. For tickets visit intimissimionice.com
Register for free to continue reading
Registration is a free and easy way to support our truly independent journalism
By registering, you will also enjoy limited access to Premium articles, exclusive newsletters, commenting, and virtual events with our leading journalists
Already have an account? sign in
Join our new commenting forum
Join thought-provoking conversations, follow other Independent readers and see their replies