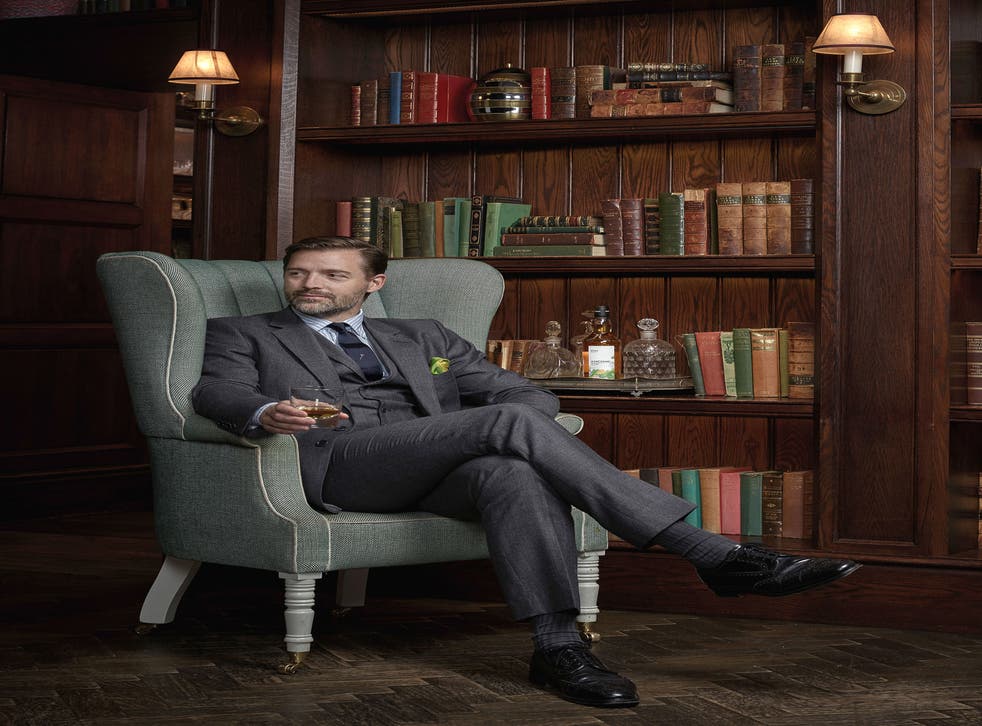 Patrick Grant interview: The designer on Y-fronts, bow ties, and why Jarvis Cocker is Eddie Redmayne's sartorial superior
Grant is creative director of the Savile Row tailors Norton & Sons and has been a judge on the TV series 'The Great British Sewing Bee'
Oscar Quine
Saturday 19 March 2016 01:35 Comments
What are you wearing right now?
Right at this very moment? I'm wearing a pair of E. Tautz field trousers in army green, a pair of Red Wing boots, an E. Tautz shirt in a grey marl flannel and E. Tautz black and grey zigzag socks. Do we need to go to underpant level?
Go on then, where do you buy your smalls from?
I buy American Apparel Y-fronts in lots of different colours, and wear them depending on the rest of my outfit. It's important to always match your pants to the rest of your attire.
Do you have any principles by which you dress?
I have two uniforms. I have the smart uniform, which is either a dark navy or dark grey suit, pale blue or white shirt and a dark tie. Or, I have these field trousers and a shirt and a navy blue jumper. Crewneck, always.
What one item of clothing would you save from a house fire?
My dad's old dinner suit. It was made in 1935 or '36. I've been wearing it for 25 years and my dad had it for 25 years before that. It would be that for sentimental reasons. You get nice stories attached to these things.
What's the most common mistake you see in the way men dress?
The thing that winds me up more than anything is people trying to slavishly follow other people's rules. It's always funny when people look like they've been dressed by somebody else, which happens a lot with celebrities. I don't mind what you wear or how you wear it, as long as it looks like you've made the decision yourself.
Do you think we risk losing some of the eccentricity that has marked British fashion in a move towards more homogenous, metropolitan styles?
It goes in cycles. You'd have been astounded if you saw a young guy out on a Friday night wearing a bow tie and a waistcoat even 10 years ago. Partly, young people rebel against their parents and in the 1990s and early Noughties everyone was wearing jeans and a T-shirt. It was very dress-down. Instead, young guys today put on a suit with a pocket-handkerchief and bow tie.
Who do you think the best-dressed men of the moment are? Eddie Redmayne is often touted as one.
Again, I like men whose personality comes through their clothes. Eddie Redmayne I'm sure is a lovely man. But his clothes don't shout "Eddie Redmayne", they just shout, "Nice suit". But somebody like Jarvis Cocker – if you blanked out his face, you'd still know it was Jarvis. His clothing speaks of his personality. Those are the sort of people I really like.
Do you listen to music in the studio?
Yes, always, but I'm not in charge of the music. Unlike some designers, I'm not a playlist monitor. I listen to a lot of music at home as well.
What's top of your playlist at the moment?
I'm listening to a lot of The National and I just started listening to an artist called Alison Sudol, an American singer-songwriter. Sleaford Mods I like. And I've been listening to lots of stuff that I used to roller-disco to back in the 1980s, because we were working on a collection soundtrack.
And how do you spend a typical weekend?
I try to catch up with friends. Go to a play. Go to the cinema. Go to galleries. And eat nice food. During the week, I'll tend to just stuff a scotch egg in my mouth as I'm running between A and B. Which was what I had for lunch today – a scotch egg and a digestive biscuit.
Biography
Patrick Grant, 44, is creative director of the Savile Row tailors Norton & Sons and has been a judge on the TV series 'The Great British Sewing Bee'. In 2009, he relaunched bespoke tailors E. Tautz & Sons as a ready-to-wear label. He lives in south London. Grant has partnered with anCnoc Highland Single Malt Scotch Whisky to design the print on a limited-edition expression, Blas, which is available from independent outlets now
Register for free to continue reading
Registration is a free and easy way to support our truly independent journalism
By registering, you will also enjoy limited access to Premium articles, exclusive newsletters, commenting, and virtual events with our leading journalists
Already have an account? sign in
Join our new commenting forum
Join thought-provoking conversations, follow other Independent readers and see their replies