The Independent's journalism is supported by our readers. When you purchase through links on our site, we may earn commission.
Put the boot in: boot cut jeans
Unfairly maligned as 'mum jeans', the boot cut is fighting back. But, asks Rebecca Gonsalves, did the figure-flattering style ever really go away?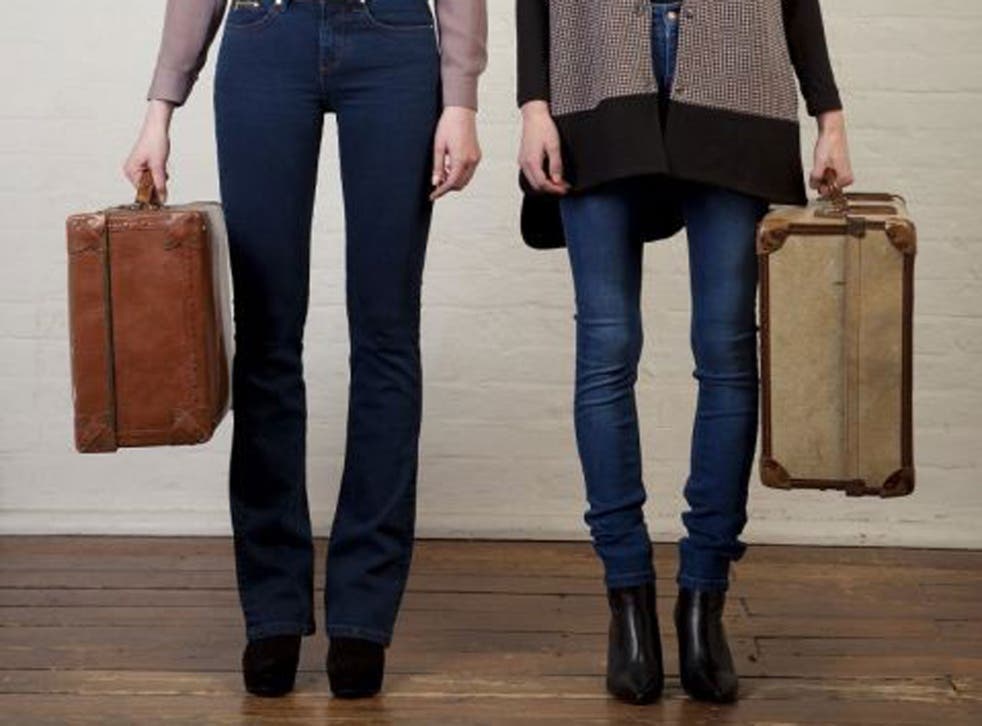 A flick through most family albums will reveal a rich tapestry of frilled shirts, bell bottoms and platform heels – and that's just on the gents. While it may be all too tempting to enjoy a giggle at the expense of the trend-followers of yore, that smug smile is soon wiped from our faces when those same questionable looks are re-appropriated and repackaged for modern followers of fashion.
In skilled enough hands, there is very little – clothing-wise at least – that can't be given the kiss of life, even if that revival is thankfully brief (cf. ra-ra skirts, batwing sleeves, shoulder pads) once we come to our senses.
In fashion then, it is wise to never say never. This season, the return of the boot-cut jean may have come as something of a shock to the women who are surgically attached to their skinnies, or just can't live without their boyfriend jeans. But when the result is as flattering as the practical magic that the right boot-cut style can produce, it's no surprise that the fit is being celebrated once again. "The boot-cut jean is an enduring classic style," says Donna Ida Thornton, the boutique owner-turned-designer who is partly responsible for helping denim escape any restrictive work-wear connotations and become a premium product.
"It suits all shapes and sizes as it can balance out curvier figures. Over recent years we have seen that skinny jeans have really taken over as a wardrobe staple thanks to their versatility, but boot-cut jeans are making a welcome return to the fashion scene."
The innately flattering properties of a high-waist, slimmed thigh and flared hem and ability to hide a huge, leg-lengthening heel have proved a double-edged sword for the boot cut: embraced as a catch-all fashion fix by the experts on programmes such as What Not To Wear, they've been branded "mum jeans" – a less than kind moniker considering the mothers likely to be spotted in them are mostly of the off-duty A-list persuasion.
Firmly not the sort of thing that would trouble the street style set, is the return of the boot-cut just part of the backlash against the peacock dressing of that clique?
"The boot-cut never really went out of style," protests Lesley Torson, owner and head buyer of specialist denim boutique Trilogy. "I'm a big fan of the boot cut and so are our customers. We've seen the skinny remain such a key trend for the last few seasons consecutively that it makes a refreshing change to see a wider leg being worn. Every woman should have a pair in her wardrobe – it works fantastically as a staple item since it can be worn both casually during the day but also dressed up and made sexy for the evening."
Figure-flatterers and wardrobe staples they may be, this season the boot cut gets the stylish seal of approval too as designers including Gucci, Moschino Cheap and Chic, and Todd Lynn continued the cycle of all things Seventies, by showing the flattering style in silk and suede. The versatility of the boot-cut makes it a go-to style for spring, when ditching full-length trousers for bare legs is a decision you'll come to regret by midday. "They are perfect to wear with a little ankle boot, heel or wedge," says Torson. "Or combine with some casual loafers or flats for a more daytime look. We have an amazing optic white version just in at Trilogy – since white is a key trend this season, these are one of my favourite pieces. I feel really comfortable and confident in them, which is exactly what you want out of a pair of jeans."
There are a few points to remember to ensure your look isn't stuck in the past. Ida Thornton recommends keeping heel height in mind, you want to stay clear of ankle-swinging territory after all: "Don't be afraid to get your boot-cut jeans tailored, and always ask the tailor to keep the original hem."
High-waisted styles ensure a smooth line, which looks great with a loose top tucked in: "The high rise of Paige's Hidden Hills boot cuts tucks and holds you in to establish a really elegant waist line and create a great silhouette for your hips and bum," says Torson of one of Trilogy's best-selling styles.
The darker the denim, the more flattering the effect – although clever use of contoured colours create a slimming, leg-lengthening optical illusion too.
The comeback kings: other surprising revivals
The puffer jacket
The "It's Great" chap from The Fast Show, enthusiastic though he may have been, helped to hammer the final nail in the coffin of the puffer jacket with his oversized mustard yellow version. The down-filled jacket made a huge comeback for autumn/winter though, and is sadly still lingering thanks to the dodgy weather. This wasn't the return of the Michelin Man effect however, as technical wizardry on behalf of designers including Peter Pilotto and Alexander Wang has ensured that the svelte modern version won't do the disservice of adding a spare tyre or two to the wearer. £59.90, uniqlo.com
The white stiletto
Jokes based on geography soon wear thin, so it's pleasing that any residual chuckles have been wrung from the white shoe-wearing Essex girl stereotype. The rehabilitaion of what was once the naffest of footwear was started by Phoebe Philo, who presented bright white, pointed-toe wedges for Resort 2012. White shoes have become a surprising hit for this summer too with designer and high-street brands interpreting them as strappy sandals and courts. £58, topshop.com
The baseball cap
Trucker caps zoomed in to fashion at the beginning of the century, but became passé with the same speed. The snap-back cap, as the trucker has been rebranded, is for those young enough to have missed them the first time around. As seen on the likes of Rihanna, Rita Ora and Cara Delevingne – this look is coming soon to a festival near you. £18, asos.com
Register for free to continue reading
Registration is a free and easy way to support our truly independent journalism
By registering, you will also enjoy limited access to Premium articles, exclusive newsletters, commenting, and virtual events with our leading journalists
Already have an account? sign in
Register for free to continue reading
Registration is a free and easy way to support our truly independent journalism
By registering, you will also enjoy limited access to Premium articles, exclusive newsletters, commenting, and virtual events with our leading journalists
Already have an account? sign in
Join our new commenting forum
Join thought-provoking conversations, follow other Independent readers and see their replies