Ralph Lauren: The patriarch of fashion's rise from rag-trader to American royalty
As Ralph Lauren steps down, Alexander Fury profiles the richest designer in fashion – not bad for a 5ft 5in boy from the Bronx who started out selling kipper ties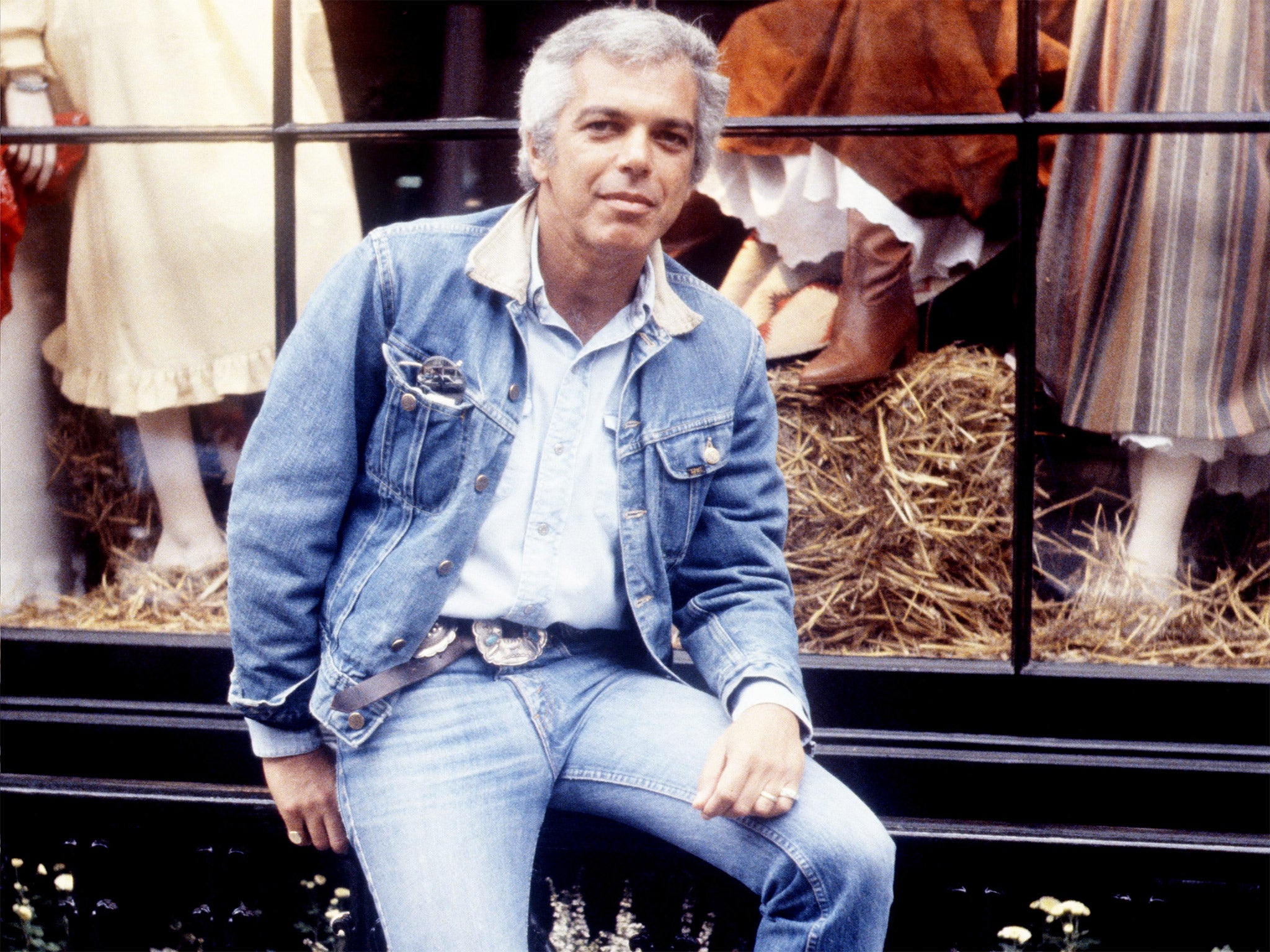 Blue denim, stars and stripes, polo, Bruce Weber images of huskies and preternaturally permatanned all-Americans frolicking in wooded glades (for summer) or snowy mountains (come winter). That's the fantasy Ralph Lauren has been selling to us for nigh-on 50 years. Only the 75-year-old Lauren, the patrician patriarch of New York fashion, isn't going to be the one selling it to us any more.
As of Wednesday, the single richest fashion designer on the planet – net worth £4.29bn – handed over control of his empire to Stefan Larsson, former global president of Gap's Old Navy division. Ralph hasn't left the building though: he's staying on as executive chairman and, most importantly, chief creative officer, meaning it'll still be Lauren's visions of dandy tailored menswear, and the red, white and blue-billowing chiffon gowns that sail down his catwalk on a biannual basis.
In Pictures: Polo Ralph Lauren's 4D runway show
Show all 5
The creative stuff is what we're supposed to be enamoured with in fashion – all that frothy stuff – but Lauren has been tied, intrinsically, to his business from the get-go. One of the few creative directors of a global brand who, until this week, did double duty as CEO, too (the few others including Christopher Bailey, of Burberry, and Giorgio Armani), Lauren is undoubtedly America's most successful fashion designer ever; but not necessarily its most talented. In 1967, he set up a company called Polo – the name was vaguely redolent of a fantastical, gentrified upper-class lifestyle that Lauren aspired to.
He'd already changed his own name, aged 16, to Lauren from Lifshitz – his parents were Jewish immigrants from Belarus who settled in the Bronx. The change was motivated not by aspiration, but annoyance: motivated when his older brother Jerry, then a reserve in the US Air Force, grew tired of humorous mispronunciations at roll call.
However, it fitted the life Lauren wished for: the kind of preppy, white-bread, Waspy lifestyle evoked by the word "Polo". Having majored in business in high school, and worked at a fusty New York department store and Brooks Brothers, Lauren decided to design some ties – appropriately, for a company called Beau Brummell, under that Polo name. His first designs were flashy, but not excessively so, 4in wide rather than the usual 2.5, and double the usual price. He sold half-a-million dollar's worth in the first year (the company's turnover is now £5bn) and, buoyed by that success, took backing from a Manhattan clothing manufacturer, Norman Hilton, to expand into a full menswear collection.
His designs, of gently tweaked classics – wide shirt collars, wider suit lapels – caught a fashion moment, just as his vibrant ties inspired the "big tie" fad of the late Sixties. In 1974, he cemented his appeal, designing Robert Redford's wardrobe for The Great Gatsby (more of those wide collars and lapels) and also featured in his own advertising campaign, clad in his now habitual distressed blue denim and cowboy boots (he's only 5ft 5in).
That fantasy – Ol' Blue Eyes (I don't mean Sinatra, Ralph has them) in ol' looking blue denim – is a vital part of the lure of Lauren. It's not just on brand: Lauren lives the fantasy he's promoting. He and his wife Ricky's peripatetic lifestyle oscillates between a grand stone mansion in Bedford (great for tweeds), a place in the Hamptons (great for white linen and striped seersucker), and the 17,000 acre Double-RL Ranch in Colorado (great for denim).
He has also named a bestselling bag after his wife, while his son David heads global advertising and marketing, sitting on the company's board – and at the right-hand of Julianne Moore at Lauren's spring/summer 2016 show. Lauren Snr also owns one of the most valuable collections of vintage cars in the world – worth in the region of £135m. In 2013, the company recently pledged to restore the Ecole National Superieure des Beaux-Arts in Paris; in 1999, it financed the restoration of the original "Star-Spangled Banner", now on display at the Smithsonian.
That all adds up, but no matter. Despite his personal wealth, Lauren's company has always been one of American fashion's great success stories. Until this year, that is – share value has dropped a staggering 44 per cent, including a drop of 7 per cent in a single day back in February, one of the largest drops in its history due to lower-than-expected earnings. Lauren continues to control 81.5 per cent of the company's voting rights – so we can rest assured he approves of Larsson's appointment.
"My job is to think always about the future of our company and how to move it forward," commented Lauren – not in person, but via a press release, issued as the fashion crowd shift to Paris for the last leg of the European collections. A few shows will play out in that Ecole Lauren is so generously restoring . Larsson said that he was "thrilled to have the opportunity to work directly and collaboratively with a fashion giant like Ralph Lauren. His creativity and singular vision have made Ralph Lauren one of the world's most influential global brands, and I share his dreams for the future."
That dream, presumably, is about making more money: Larsson's time at Old Navy saw three consecutive years of growth and a turnover boom of $1bn. Before that, during a 15-year tenure at H&M, Larsson and his team increased sales five times over, to around £11bn annually. Even a dreamweaver such as Ol' Blue (Denim) Eyes Lauren would fantasise about cold, hard facts like those.
Join our commenting forum
Join thought-provoking conversations, follow other Independent readers and see their replies