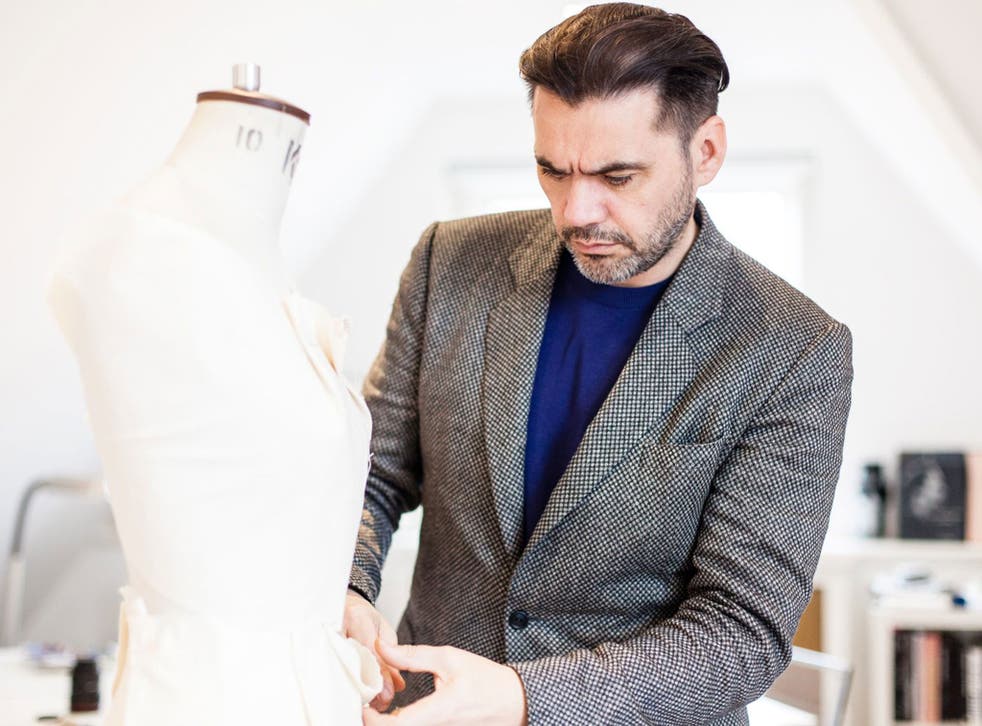 Roland Mouret's nip-and-cinch Galaxy dress helped reshape fashion (and Victoria Beckham)
On the eve of its tenth anniversary, Alexander Fury meets the designer in his maison, fresh from his Paris show for spring/summer 2016
Roland Mouret is gruff, garrulous and ineffably Gallic. He's also on a roll. He's talking about the Galaxy dress – another "G" – which turns 10 this year, celebrated in some small part by Mouret's spring/summer 2016 show, staged in Paris on Sunday.
You may not know the name of the Galaxy, or even Mouret, but you'll know the dress. For a period, it was inescapable. Scooped-in, souped up, cinched and winched, it was near-ubiquitous, on the bodies of such boldface women as Cameron Diaz, Scarlett Johansson, Dita Von Teese and Rachel Weisz. I usually hate celebrity dressing lists, but the sheer number of them bears mention, particularly considering this was all within a six-month period, and in one dress. Normally, that's considered a monumental gaffe, but Mouret's dress hit the G-spot of the fashion moment so well, they didn't care if they were all wearing the same thing. That's pretty major.
Today, Mouret – who is 54 but looks a decade younger – is happy to discuss the dress that cemented his name in the public consciousness. "I remember the first time I did the Galaxy, which was everything based on the masculine instinct I could have, and analysing the female form," he says. "The bra was the first thing. I felt like I was a straight guy looking at it, thinking, is it sexy enough?"
It evidently was. The Galaxy was built around mesh innards that pinched the waist like an old-fashioned cincher. The fabric was then draped around – Mouret, who has no formal fashion training, still devises many of his garments from draping directly on the stand, evidenced by origami folds, external tucks and an economy of seams. He doesn't come from a family with much connection to fashion. "I'm a rough person," he growls. "I'm the son of a butcher, a grandson of farmers and vineyard men… I became interested in fashion because my dad wanted me to be a butcher and I realised from wearing the apron that clothes can trap you or free you."
Mouret tells a picturesque tale of the folds in his father's apron influencing his approach to fashion, and a slightly alarming one of dipping his hands in buckets of blood in the family butcher shop in Lourdes, to make "the most fantastic gloves". Never forget that Mouret's fashion approach was born in the McQueen-tinged school of Nineties London fashion.
Mouret's first design job was under the label People Corporation, a gothy, industrial label backed by Franco Penne of the Italian manufacturers Gibo and shown in London during the late -Nineties boom years of Cool Britannia. Mouret had worked as a model (briefly) and stylist (longer) in Paris, moving to London to found an art space-cum-café named Freedom in the mid-Nineties. People Corporation was born out of its success: it was big in Japan, until the recession of 1997, when the label folded, like Mouret's apron.
That prompted Mouret to restart his fashion career. He didn't really know how to sew (Gibo had manufactured everything) so his earliest designs were created from lengths of fabric, twisted around the body and precariously secured with hat-pins. "I didn't know how to do a lining," Mouret says today, incredulously. "I didn't want to put safety pins in because it was fresh British wool, so I just put a hat pin in and it would pop out!"
You can imagine what kind of an impact those dresses had. And the revelation of unveiling, I feel, is something Mouret also evokes with another key design feature, an industrial zip snaking from neck to hem down the back of his frocks. Give it a tug, and you're naked in seconds, it seems to murmur. It's semaphoring sex-appeal.
Mouret built his name around sex appeal and sensuality. Those were both evident in those raw cloth-and-pin early dresses, somewhat grandly dubbed "demi-couture", a moniker justified because each twisted length of fabric was fitted individually to the customer. In 2000, he staged his first own-label show in London. Five years later came the Galaxy.
And after that? After that, Mouret's business imploded, thanks to issues with a backer. He left his own label, and Victoria Beckham employed his pattern-cutter – the one who helped devise the Galaxy – when launching her own fashion line around similarly folded and fitted dresses. Mouret consulted for Gap on a capsule of dresses, and eventually launched a new label backed by Simon Fuller. It was dubbed with the ungainly moniker "RM by the designer Roland Mouret", to jump through the necessary legal loopholes. "In some stores, the name was longer than the rail," Mouret cackles.
Thanks to a buy-back five years ago, you – and he – can now call his dresses Roland Mouret, for short. He has also acquired a maison, in the grand French style, on Carlos Place in London, opposite the Connaught, There, Mouret drapes in an atelier above his boutique, while wealthy clients frequently stay at the hotel across the road before coming in to fold themselves in Mouret's folds. Folding, indeed, has become such a signature that it's even there in his nascent accessories line – Mouret's Classico bag is folded like a paper fortune teller.
Far from shying away from discussing the Galaxy – as so many are, with their greatest hits – Mouret is proud of the achievement. Perhaps that's understandable, for the butcher's son from Le Midi. "Every section of this dress, I thought : 'This isn't the kind of thing a farmer would make,'" Mouret says, smiling. "It was something no-one had done. It's brilliant having something that no-one had done."
Join our new commenting forum
Join thought-provoking conversations, follow other Independent readers and see their replies