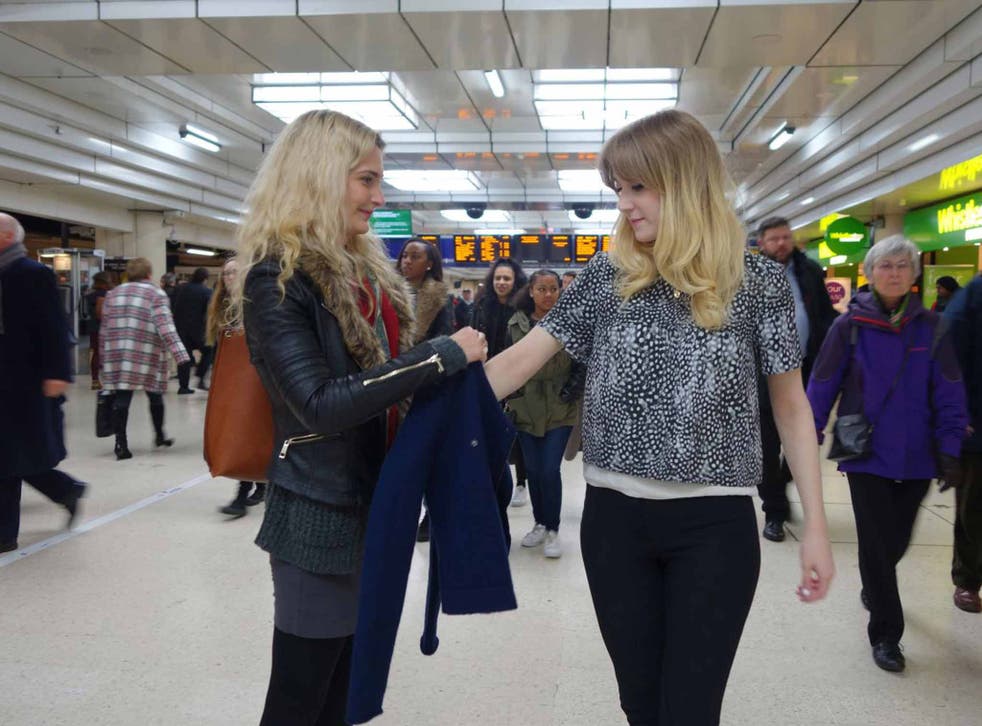 ShareWear on Instagram: Now you can always get new clothes, so long as you pass them on
​Wouldn't it be great if you could 'borrow' a desirable item of clothing from a stranger for a week? Thanks to the latest high-fashion secret, you can.
Chloe Hamilton
Tuesday 23 February 2016 20:39 Comments
I feel like James Bond as I glance surreptitiously around London Victoria station looking for my mark. It's approaching rush hour so the station is crowded, making me anonymous and the approaching transaction all the more clandestine. I pull my scarf over my face, bracing myself against the bitter chill. My secret mission? To collect a jacket.
Fed up with splashing cash on the high street, I've decided to try Sweden's new clothes-sharing initiative, ShareWear. It's a simple enough concept: photos of clothes are posted on Instagram along with a description (including size), and the hashtag "ShareWear". The first person to comment below the photo gets to wear the item for a week, before passing it forward using the same method.
The scheme – which started in Stockholm but has since spread to cities around the world that include Barcelona, Paris, and New York – is all about sustainable fashion. No money changes hands and you're not allowed to hold on to the clothes – the project relies entirely on goodwill.
The trend is yet to gain much traction in the UK, so I take matters into my own hands. Scouring the hashtag on Instagram, I eventually spot a photo of a small, navy-blue jacket made by Swedish designers House of Dagmar, posted by a 24-year-old lifestyle blogger, Chana Thorpe. I follow protocol, commenting below the photo to ask if the jacket is still available. Within minutes Thorpe, who lives in Sidcup, replies and we arrange to meet at Victoria station the following day so I can collect my swag.
The ShareWear initiative was set up in reaction to the millions of textiles thrown away each year around the world. As well as encouraging people to think more ethically about their clothing, the project's creators also hope to offer fashionistas a sustainable solution to fast fashion. "The aim of ShareWear is to inspire a more sustainable way of being fashionable," Henrik Selin, head of the Department for Intercultural Dialogue at Swedish Institute, says. "Sharing clothes instead of throwing them away is good for your wallet and the environment."
But ShareWear isn't the only clothes-sharing initiative out there. In fact, sharing clothes online has never been more on trend. Rentez-vous – which launched in 2014 and has been described as the AirBnB of fashion – allows people to rent out their own designer clobber, while Girl Meets Dress lets users loan glamorous dresses for special occasions before sending them back after the event. The website even handles the dry cleaning.
Fortunately, Thorpe has very kindly washed the jacket for me. She hands it over with some reluctance outside Lush. "I didn't really get much time to wear it because I was ill," she says. She tells me she first spotted the scheme because she follows Vogue on Twitter. She found a few items she liked on Instagram but they were all in different countries. "When I saw that the jacket was available in London, I was like, 'I'm on that, I want it,'" she says. The former textiles teacher has even posted a photo of her own shoes using the hashtag. "It really excited me that my pair of shoes could potentially travel the world," she says.
Meet the stars of Instagram

Show all 10
The chief editor at the Ethical Fashion Forum, Sarah Ditty, says many people are motivated by the story behind a piece of clothing. "Think about your own clothing. You have tops that you've worn on special occasions," she says. "You may not wear it anymore but any time you look at it, it takes you down a trip on memory lane." Ditty, who thinks clothes-sharing is part and parcel of the current sharing-economy trend, says she hopes the ShareWear initiative will inspire more people to think responsibly. "For some people, it's going to be the ethical consideration that inspires them to take part, and for some people it's going to be an easy way to get new, free clothes," she says. "Hopefully – for those who just want new, free clothes – maybe this will spark an interest in using their clothes in a more ethical, responsible, conscious way."
As with all social-media schemes, ShareWear will only work if enough people join. Keen to see what might happen, I post a photo of a Kurt Geiger clutch on my own Instagram page, with an explanation of the project and the all-important ShareWear hashtag. The picture gets a few likes from friends and is shared by ShareWear's profile, but the only person who comments underneath it is a girl from Spain. I'm not sure clocking up air miles to deliver the garments is in keeping with the initiative's sustainable ethos.
Register for free to continue reading
Registration is a free and easy way to support our truly independent journalism
By registering, you will also enjoy limited access to Premium articles, exclusive newsletters, commenting, and virtual events with our leading journalists
Already have an account? sign in
Join our new commenting forum
Join thought-provoking conversations, follow other Independent readers and see their replies