Shopping: Read all about it

Show all 10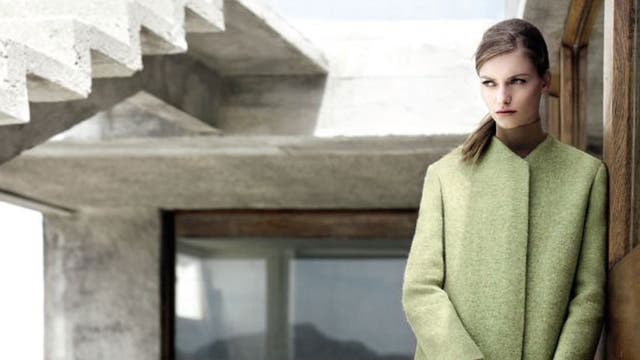 Shopping: Read all about it
As customers get wise to marketing ploys, fashion labels have found a new way to promote their wares: brand publications. Harriet Walker flicks through the new Cos magazine and introduces two of the interviews from its couple-themed first issue
The phrase "brand literature'"may summon to mind a doormat covered in flyers and cheap pamphlets but, in fashion terms, it means something rather more high-end. Increasingly, labels are producing their own publications as a means of translating their vision and inspirations to their customers.
At her catwalk shows, designer Phoebe Philo of Céline leaves a booklet of postcards on the seats for press and buyers to immerse themselves in the world of the collection they are about to see – photographs and drawings, artwork and photography explain the motivations behind her chosen look. And Swedish label Acne publishes a bi-annual magazine full of interviews with people – famous or otherwise – who have piqued the creative team's interest, and shoots which present pieces from the label's current collections.
Upmarket high-street chain Cos launched a similar concept in 2007, the latest issue of which will be available in stores from Friday. The label is known for its ascetic and high-brow take on trends, and its in-house glossy offers similarly recherché features.
In an issue themed around couples who live and work together, there are interviews with the acclaimed photography duo Inez van Lamsweerde and Vinoodh Matadin, and Terry and Tricia Jones, the publishers behind the style bible i-D. Interspersed within its pages are elegant and slick images – some shot on the roof of Le Corbusier's Unité de Habitation in Berlin – a subtle and deft suggestion of the sort of style which accompanies the sort of fashionable existence that Cos is trying to illustrate.
"We have always envisioned it as a great way to give something back to the customers," explains Atul Pathak, Cos's head of marketing, "and to give a more detailed insight into the brand. This issue explores the marvels of living and working together – we often feature people, places and objects that we find truly inspiring without necessarily having a direct correlation to Cos – we hope to convey our aesthetics through our interest in external environments."
It's a stealth-marketing tactic that began in the Eighties, when Rei Kawakubo of Comme des Garçons first produced leaflets of enigmatic photography and imagery that she felt fitted into the singular aesthetic she was creating, and has now progressed to a point where even mass brands such as Topshop and Asos produce their own versions of magazines. It's far more cool than mere advertising, with far more clout and – crucially – integrity as far as consumers are concerned. Essentially, brand literature is "value added" at a time when we don't feel like much comes for free any more.
Terry & Tricia
The illustrious couple behind London's i-D magazine
Interview: Alex Needham
Portrait: Matt Jones
Terry and Tricia Jones have been married for 44 years. In 1980 Terry founded i-D to document London's booming street style and youth culture. Other magazines have come and gone, but i-D marches on, still influential, still directed by Terry and still featuring a wink on every cover. The magazine has proved a school of talents, from photographers Nick Knight and Wolfgang Tillmans to super stylist Edward Enninful, and practically everyone else working in London fashion today.
Tricia Jones: We met at a college dance when I was 18. Terry was at art college and I was at teacher training college in Bristol.
I was on the rebound, so I went to this Georgie Fame gig with my friend.
Terry: I quit college – I opted out before graduating – and worked in London for a year, and then Trish finished college and came up. I was art director at British Vogue from '72 to '77.
Tricia: He was the youngest art director they'd ever had. They thought he was the janitor.
Terry: Trish's mum was very shocked when I left Vogue. After Vogue, my day job was working for a variety of magazines in Europe and as a creative consultant. i-D was the hobby job.
Tricia: We have a responsibility for what we put in the magazine. We wanted to be as broad a vision as possible: multiracial, multi-ethnic.
Terry: As grandparents, you want to feel that six generations down there's some value system that you've managed to infiltrate. i-D has broadened people's perspectives. It's not unusual to see mixed races on the covers of magazines now, whereas when i-D started it was very unusual.
Tricia: I think the important thing is not to preach or be holier than thou. We're not saving lives here; we're helping creative people. We're maybe opening a few eyes, and hopefully our own, too, along the way.
Inez & Vinoodh
The phenomenal photography duo from New York City
Interview: Penny Martin
Portrait: Inez & Vinoodh
Fashion photographers Inez van Lamsweerde and Vinoodh Matadin met at college in Amsterdam, the Netherlands, nearly three decades ago, and still spend every second together. What began as a photographer-stylist arrangement in the mid-1980s soon turned into a photographic partnership that rocked the documentary-obsessed 1990s with their glamorous imagery. And when they married in 1999, Inez & Vinoodh – as they are known – became the industry's most sought-after husband-and-wife team of all time.
Inez van Lamsweerde: We have pretty much the same team of stylists, lighting directors, assistants, hair and make-up people and even models with us wherever we go. But that said, having grown up as an only child, I feel more complete with everyone around us. A big part of loving this life we lead is the feeling of having an extended family.
Vinoodh Matadin: We're like gypsies on the road. And to keep some sanity in all that, we ensure the people are the same wherever we go.
Inez: Our apartment and office are in the same building in New York City, but on different floors. I think people are often quite surprised that we don't live in a white loft.
Vinoodh: There's lots of wood and stone, fur, warm colours. It's like a mix of Swedish sauna, Japanese teahouse and 1970s Dutch interior. But we don't get to spend a lot of time there. We're on set maybe 150 days per year, not counting editing, prep and days in the office. Probably more.
Inez: We're very conscious of our health, yes, since we're still travelling like crazy. We have to think of ourselves as top athletes. We watch our drinking, take massages, practise yoga. And we eat healthily.
Vinoodh: Food's very important. We say, "If the catering's good on set, then the pictures will be good."
Register for free to continue reading
Registration is a free and easy way to support our truly independent journalism
By registering, you will also enjoy limited access to Premium articles, exclusive newsletters, commenting, and virtual events with our leading journalists
Already have an account? sign in
Register for free to continue reading
Registration is a free and easy way to support our truly independent journalism
By registering, you will also enjoy limited access to Premium articles, exclusive newsletters, commenting, and virtual events with our leading journalists
Already have an account? sign in
Join our new commenting forum
Join thought-provoking conversations, follow other Independent readers and see their replies