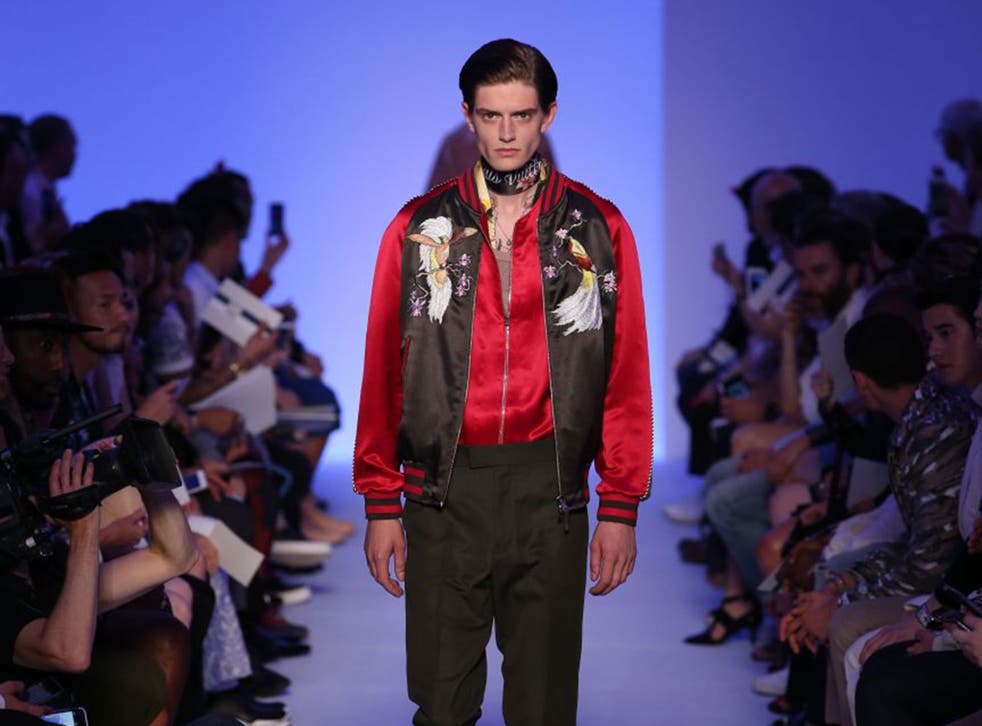 Souvenir jackets: Florals and bright colours have been wedded to pack a powerful visual punch
Forget what you think you know about sartorial souvenirs – this is no Kiss Me Quick cap from Blackpool
Lee Holmes
Thursday 10 March 2016 22:32 Comments
I'm no Mystic Meg, but I can predict that every spring/summer season, menswear designers will gravitate towards florals and bright colours. This season was no exception, and the two were wedded to pack a powerful visual punch in the shape of the souvenir jacket – as seen in Kim Jones' travel-inspired Louis Vuitton (pictured above) collection.
Forget what you think you know about sartorial souvenirs – this is no Kiss Me Quick cap from Blackpool: the bold-as-brass jacket was originally born towards the end of the Second World War when US troops embroidered their all-American baseball jackets with Asiatic motifs such as dragons and cherry blossoms – a peaceful collaboration between two once-warring nations.
Wear it's at: Souvenir dressing

Show all 5
I like to think of this as the next step up the evolutionary ladder for the seemingly inescapable baseball jacket. The cut and shape may be similar, but the added flamboyance of embroidery makes the souvenir a serious statement for spring. If you're in the market for a big bucks memento, look to Valentino (1 - see gallery above) but the high street has been as quick to catch on, with impressive current examples at Topman (3). If you opt for such a highfalutin' jacket, everything else should be low-key. A pristine white t-shirt (2) and classic indigo jeans (4) are the perfect canvas when wearing a coat of many colours.
Whatever your budget, there's plenty of choice out there, but I might spend my money on embroidery classes instead – that way I can give one of my many bomber jackets a new lease of life, and so I can fly-stitch my way to unique sartorial happiness.
Register for free to continue reading
Registration is a free and easy way to support our truly independent journalism
By registering, you will also enjoy limited access to Premium articles, exclusive newsletters, commenting, and virtual events with our leading journalists
Already have an account? sign in
Join our new commenting forum
Join thought-provoking conversations, follow other Independent readers and see their replies