Stockholm Fashion Week: is Swedish style having its own Ikea moment?

Show all 7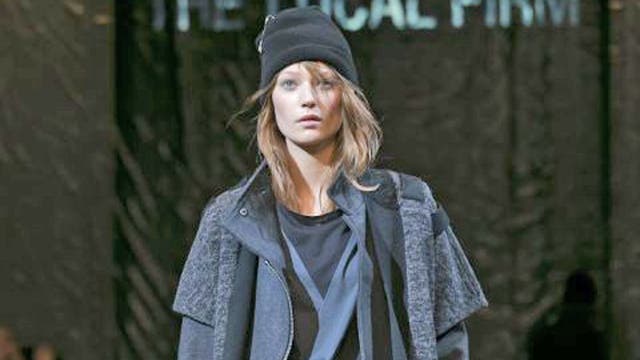 Stockholm Fashion Week: is Swedish style having its own Ikea moment?
Harriet Walker goes to find out
Harriet Walker
Monday 04 February 2013 01:01 Comments
As the snow melts and re-freezes and Stockholm turns its eyes to the autumn 2013 catwalk shows, it's easy to forget there'll be a spring and a summer before then. This of-the-moment feel is one of the Swedish fashion scene's main strengths: more and more pieces from homegrown brands have, in recent years, strolled straight off the runways and into the shops. Reasonably priced, well made and commercial without being too obvious, is Swedish fashion having its own Ikea moment?
"There's a certain pragmatic aspect," says Melissa Drier, the Berlin correspondent for Women's Wear Daily and in town for the shows. "Sometimes they're just good clothes that you want to buy. It's not necessarily directional, but there's a gentility to them, and then at the same time, a little bit of rock and roll too. "For anyone who's in the contemporary part of the market, Sweden is a real base," she adds.
This is the sector that most brands showing in Stockholm fit into: everyday pieces at mid-range prices, not so high flown as the designer bracket proper but more considered, design-wise, than the upper echelons of the high street. And it's a niche that is doing well despite the downturn, as shoppers of every type converge on it, from above and below according to either aspiration or thrift.
"Many of the brands are quite small, and they're struggling" says Susanne Ljung, host of Stil, a weekly public radio fashion show. "But there's an optimistic vibe – you can trace influences from 'Swedish Modern', a term introduced in New York at the 1939 World Fair. It's a blend of modernism, craftsmanship, beauty and comfort."
Labels on the schedule differ vastly, of course, and range from established names such as J. Lindeberg to H&M's indie arm Cheap Monday, with countless up-and-comings in between, and even the odd heritage brand looking to bolster its fashion credentials.
It isn't quite the same melting pot that gave birth to the Belgian designers in the late Eighties, but the current geographical vogue for all things Scandinavian hasn't hurt designers here in terms of international recognition.
The Swedish look – long hair, androgynous tailoring, grunge and an ankle boot – is in right now, not least thanks to l abels such as Acne and high-street brand COS, which have sown the Swede seeds of success abroad already.
"It's important for us to be accessible with our price points," says Carl Malmgren, denim designer at Cheap Monday after the brand's show. Entitled Artificial Grunge, the collection mixed Nineties references with lace and neons to create a futuristic, punkish look for autumn – one that its young British fans will be only too happy to pick up at the flagship store which opened in Carnaby Street last year.
"It's a challenge for us to do fashion-forward stuff that people can actually buy." He smirks at the suggestion that this is a particularly Scandinavian notion, but ultimately agrees. "That's fair – it's a socialist ideal."
Cheap Monday's creative director is Ann-Sofie Back, a Central St Martins graduate, who has run a successful line under her own name for almost a decade, and has collaborated with Fred Perry and Topshop, and shown at London Fashion Week. Her diffusion line, Back, is on the Stockholm schedule and her worldwide sales increased 60 per cent last year. The autumn '13 collection was a riot of hazard tape-coloured workwear-inspired pieces, shown to a soundtrack of rowdy blokes chanting the designer's name.
"I always work with things I don't like," she explains backstage. "I had to find a way of dealing with fashion that was different to anyone else's.
"My clothes are for someone with a sense of humour; someone who doesn't take fashion too seriously and who dresses for herself, rather than for a man." Back's philosophy resounds through many other Swedish labels, even though few of them share so extreme an aesthetic.
Whether because of their national taste for functionality and asceticism or not, many womenswear designers here play with male and female tropes to create a new version of femininity that is far from girlish or traditional, but is in no way cumbersome or intimidating.
"We wanted to bring in parts of menswear, such as suits and military coats, and match them with a more poetic style," explains Karin Soderlind of Dagmar, a knitwear brand run by three sisters and named after their grandmother. This they did in teal tailoring, marble prints, lace and sharp coats softened with cape sleeves. "We call it 'the awakening' – to a new lifestyle and a new feminine style."
Carin Wester, whose clothes have been picked up by Urban Outfitters and ASOS, also looked to that mix, with unstructured and oversized greatcoats and duffels in blush tones, nude double-breasted suits – even a pinstripe crop-top worn with pinstripe hipster slacks. At Whyred, too, tailoring was mannish and boxy – inspired by Peter Saville's artwork for New Order's "Power, Corruption and Lies" – while archetypally couture-era feminine blanket coats came in utilitarian olive and khaki.
"I love sensual silhouettes and the female body," agrees designer Elin Nystrom after her Stylein show, which saw silk tunics and fluid gowns cut geometrically to make them less soft and more severe. "But you also need the straight lines, the more masculine feel. When the two meet, that's when the magic happens."
Apparently so: such is the interest in Swedish – and Scandinavian – designers that the largest ever showcase of their wares will be unveiled at Somerset House during London Fashion Week later this month.
More than 40 labels will exhibit there, nine of which are Swedish, and emerging talents will be given the opportunity to show their collections – to an audience far bigger and far more influential than one they might command in their native capital.
Great Swedish export H&M is also keen to promote young talent, and one draw of the Stockholm shows was its Design Award, the culmination of a talent search across Europe's best design schools. The winner, Minju Kim of Antwerp's Royal Academy of Fine Arts, will see parts of her collection produced and sold by the chain.
Kim's flair for fit, proportion and texture – all the while referencing bold and bright Japanese manga comics –was a colourful addition to a schedule where a modern and litotic take on good taste was primarily the order of the day.
But there were homegrown newcomers showing in Stockholm, too, and ones that promise to join the Nordic invasion of our boutiques and wardrobes.
The much-hyped duo behind Altewaisaome offered minimal but glamorous sports couture: iridescent, petrol blue shift dresses and wide-leg trousers with zip, drawstring and bugle bead detailing provided opulence in among expertly cut trapeze-line coats in felt and boiled wool, cut deliberately flat and boxy.
At the Mes Dames show, too, classic elegance was undermined by way of paint-spattered maxi-skirts and oxblood silk jumpsuits, even a dirndl skirt made from shiny green PVC.
While the trend for pigeonholing these names according to their origins may help with recognition for the time being, the aim for these designers is to break free of such associations and emerge on to the global market in their own right. For labels as commercially viable as many on the Stockholm roster, this shouldn't be too difficult at all – but the next stage for them may well be the shopfloor rather than the international catwalks: Swedish designers make clothes you want to wear rather than watch.
Register for free to continue reading
Registration is a free and easy way to support our truly independent journalism
By registering, you will also enjoy limited access to Premium articles, exclusive newsletters, commenting, and virtual events with our leading journalists
Already have an account? sign in
Join our new commenting forum
Join thought-provoking conversations, follow other Independent readers and see their replies