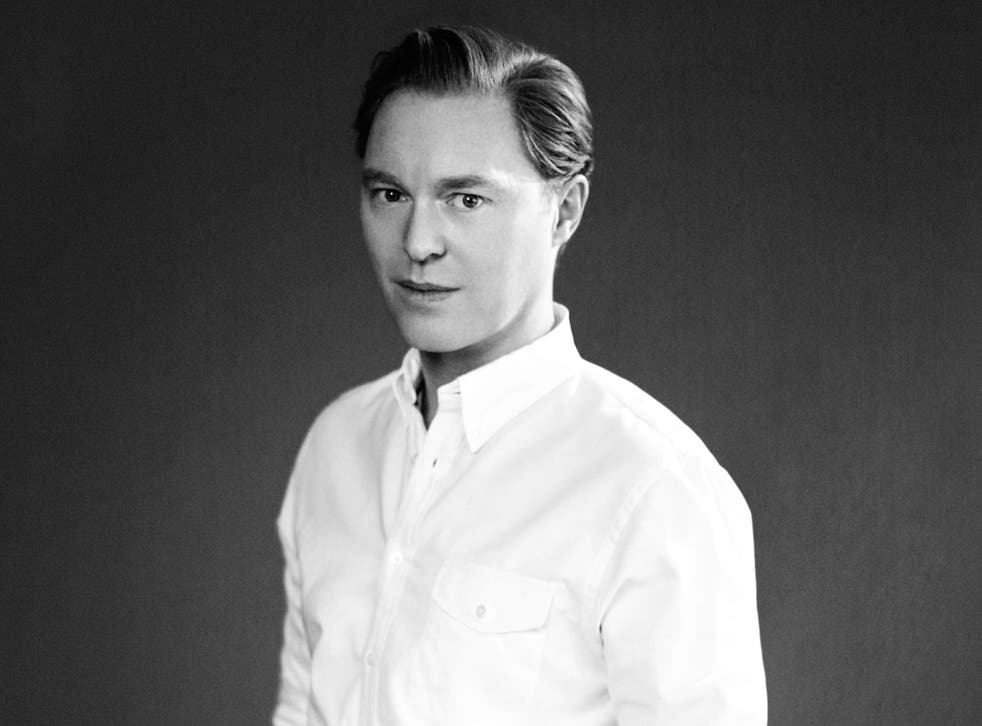 Stuart Vevers interview: The British fashion designer has risen to the heights at Coach
He grew up movie-mad in 1980s Doncaster. Now he's creative director of Coach. Stuart Vevers tells Alexander Fury how it all happened
Despite a price tag of £7.75bn and annual turnover of £3bn this year, the headquarters of American fashion giant Coach aren't especially plush. Forget high-end Fifth Avenue, or Seventh – colloquially known as Fashion Avenue – where other rag-traders send skyscrapers soaring. Coach instead crouches on Manhattan's West 34th Street under the High Line, a 1.45-mile stretch of disused railway that's now an aerial walkway.
Coach's executive creative director Stuart Vevers (that's head designer to everyone outside of a boardroom) walks the High Line to work every day. He also likes to show his womenswear collections atop it. The first three were rather static affairs. The latest, which he put on in September, was a catwalk show staged inside a glass box, with a grassy prairie as a backdrop.
It was an intriguingly incongruous spectacle, set against the grey New York skyline, just as Vevers himself is a touch out of place at Coach, at least on paper. He's a 42-year-old Brit, born and bred in Doncaster, with slightly flattened vowels to show for it. He was only transplanted to New York, where he lives in a picture-> perfect brownstone with his illustrator husband, in 2013, and still dresses down in sweatshirt and jeans.
Fashion News in Pictures

Show all 22
Vevers nevertheless knows luxury. He studied at the University of Westminster and moved up career rungs at a series of major-league luxury goods houses in Milan, London and Paris. His last stint before Coach was at the LVMH-owned luxury leather house Loewe, where he injected the 149-year-old label with a glossy panache that helped shift lots of handbags. Vevers's gig at Coach is quite different. Those Loewe bags came with a price-tag of around £1,500 each; Coach pitches itself at a market dubbed "accessible luxury", with its bags averaging £355. In a fashion world saturated with extreme luxury, choosing those price points has paid dividends.
With a few days to go before his spring/summer 2016 show, Vevers is head down in the Coach studio as he puts the finishing touches to outfits and tweaks garments. "Accessible isn't just about price," he tells me, as he paws through the references for his show. For this season, he has fixed on Badlands, the 1973 movie directed by Terrence Malick and starring Martin Sheen and Sissy Spacek as young outlaws on the run in the American West. This comes through in the show's set and in the bleached long grass that models brushed their way through. The Badlands ethic was there in the clothes too, the straight-off-Sissy high-collared prairie blouses, the floral dresses, the leather jackets appliquéd with a desert landscape that looked like a cross between a Loony Tunes cartoon and an embroidered cowboy suit by Nudie, the rodeo tailor.
Vevers likes films. His vision for Coach is often coloured by an outsider's idea of America, informed (he says) by the movies he watched as a teenager back in Doncaster. The runaway hit of his first Coach collection was a jumper sporting a knitted intarsia of the Apollo space rocket, inspired by the one worn by the character of Danny Torrance – the child in The Shining – only on a black background instead of Danny's blue.
At Coach, Vevers is an ocean away from Doncaster. The company is also a world away from the European luxury houses he's more used to, although he cut his teeth in New York, as a fresh-from-college foundling, working for Calvin Klein before he had even graduated in 1996. "After a couple of years I realised that I needed to be back in Europe, to go to the next stage," he says. "I specifically wanted to work in Italy, because I wanted to learn about how things were made." In 1998 Vevers was headhunted by Laura Moltedo, who was looking to revive her Vicenza-based, family-owned leather house, Bottega Veneta. The urge was to "do a Gucci", the label whose fortunes were spectacularly resuscitated in the mid-1990s under creative director Tom Ford (Gucci Group would purchase Bottega Veneta in 2001).
"She wanted a big change," recalls Vevers, of Moledo. "I don't remember ever being given a specific brief, but I remember being told, 'Just do what you want to do, go for it'." He did – as did the rest of the Bottega Veneta team, including a now-stellar list of British fashion names: designer Giles Deacon manned the womenswear; Katie Hillier dealt with some accessories; and stylist Katie Grand, now doing double duty as creative director of Marc Jacobs and editor-in-chief of Condé Nast's Love magazine, pulled the whole look together.
Vevers cracks an infectious grin talking about those times, and the handbags he designed. These included a silver record case too heavy to be lifted, a guitar-case in Bottega's signature woven leather, and a £15,000 blue crocodile briefcase that took its cue from the anti-hero of American Psycho Patrick Bateman (he carried his knives in a Bottega attaché case). "We all kind of clicked as a group," Vevers says. "We all started going to the same bars and clubs. It just seemed like an incredible opportunity and we did have so much fun."
Bottega Veneta was Vevers' breakthrough: the work got his name noticed, and led to stints designing accessories for Givenchy and Louis Vuitton, and eventually to the role as creative director of British brand Mulberry, where he added clothing to his remit. That led to Loewe, and finally to Coach, where Vevers recalls that his original pitch for the top job included the addition of a men's and women's ready-to-wear line, the first for the label, which turns 75 next year.
Vevers is overseeing the whole shebang at Coach but it's bags that he's really known for. He won the British Fashion Council's Accessory Designer of the Year award in 2006. You're only eligible for this if you're based in London, which is the only logical reason why the formerly France and now New York-based Vevers has not swept the board since. He revived interest in Bottega Veneta's intricate, interwoven intrecciato leather, a 1970s relic brought bang up-to-date in neon colours, with, memorably, a slash of spray-paint. While at Mulberry (where he picked up that 2006 accolade), he retooled the brand's Bayswater tote, adding a cage of leather around it for designer Luella Bartley's catwalk show: it sold by the shedload. He redesigned the Amazona bag for Loewe, and sold a load more. At Coach, he's added a slew of bags, called names like Ace or Swagger, the epitome of girl gangs. His latest bags are quirky but affordable, patchworked totes and chain-strapped shoulder-bags. Priced at around £600, they're set to fly out ahead of rivals that cost 10 times as much.
All that talk of sales and number-crunching is often considered slightly distasteful in fashion but Vevers is the rare instance of a designer genuinely interested in what sells and to whom. "I think – especially in the last year or so – there's a desire for reality," he says, expanding on the key Coach notion of accessibility. "It's very exciting for me to see a great editorial in a magazine, but it's also super exciting to see someone walking down the street in a coat or a jacket or a bag or a shoe, and you can't see that unless you get it at the right price or get it into a store where people can buy it. I've often gone up to people at parties – when I've had a few drinks – and said, 'I did your bag' or 'I worked on that dress'. I think that's as much a thrill as any of the rest of it."
Vevers' is a diverse and intercontinental CV, moving from a relatively niche world of European luxury to an American institution with almost 1,000 stores in the US alone. Nevertheless, he insists that his attitude to the varied labels he's led isn't all that different. "I like to be quite down to earth about design, but I like to have fun with it. I think I approach things in quite an unpretentious way. If we end up creating something beautiful, I don't think people necessarily need to know the process. It's more, 'Is there something good in front of you?'"
So what's good, for Vevers? "I think my own aesthetic is very much about that combination of something sexy and cool and youthful, mixed with real proper craftsmanship," he responds. "You can't have one without the other."
It's that mix that has won Vevers' Coach not only critical acclaim but legions of new fans. It will be interesting to see where he steers it next.
Join our new commenting forum
Join thought-provoking conversations, follow other Independent readers and see their replies