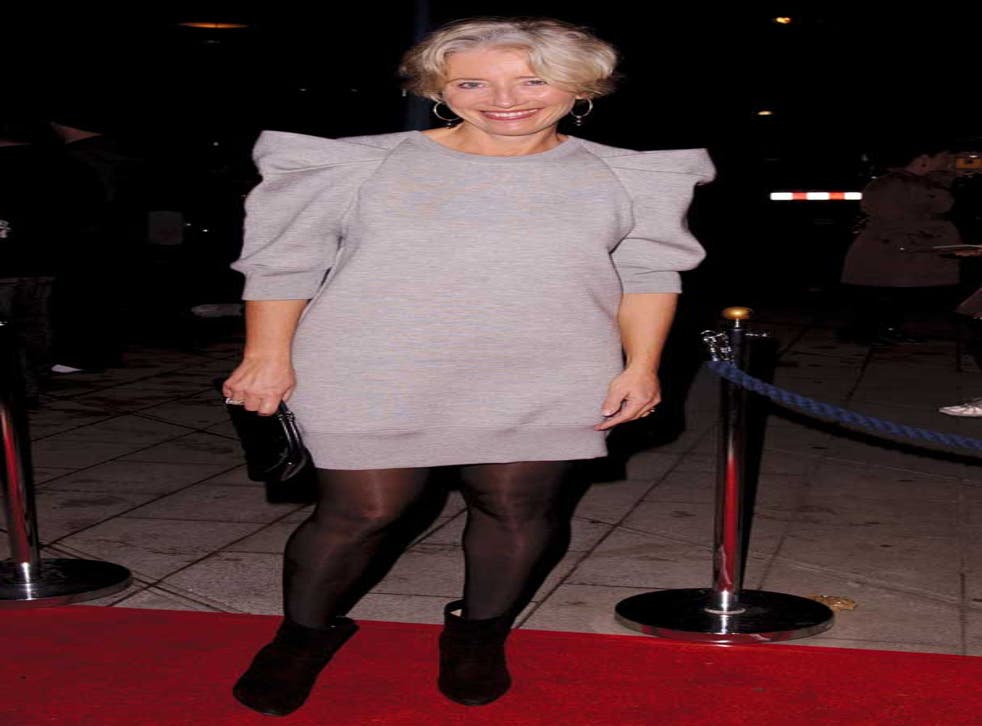 Style shrinks: Our experts analyse Emma Thompson's 'piano teacher' chic
The bag
Gemma Hayward: A simple black clutch bag is a play-safe choice. Had Emma not chosen an oversized sweater to wear, it would have been the perfect accompaniment to a cocktail frock.
Hugh Montgomery: The clutch bag itself doesn't bear too much inspection, but the clutch-bag clutch is the thing: unposed, off-the-cuff, with arm loosely dangled to the side. She may as well be holding the car keys: once again, this dame-in-waiting has insouciance to burn.
The hair
Gemma: Emma looks fresh-faced with simple eye make-up and a strong lip. Having her hair swept up really suits her and frames her face perfectly. The earrings, however, are a weird choice; hoops should be kept on the lobes of teenage girls.
Hugh: Can anyone pull off artily artless dishevelment better than our Em? Those unbrushed waves are fighting the good fight against the hair-straightening hegemony. A barnet worthy of a Barnet piano teacher. Hurrah for that.
The shoes
Gemma: You can't really go wrong with black ankle boots, but shiny opaque tights are a definite no-no. She should have stuck to a high denier with a matte finish or, for an ultra-chic evening look, opt for the sheer 10 denier.
Hugh: Here, perhaps, is Emma's only genuine misstep: these ankle boots are so safe they could have been written by Richard Curtis. In keeping with the retro-futuro-gym vibe of the dress, I say she should have gone for a pair of Nike hi-tops and been done with it.
The dress
Gemma: She's gone wrong two ways here. First is stepping out on the red carpet in grey marl – a material which should be kept for the gym or a sofa day. Second, the silhouette is dated: novelty shoulders are officially over.
Hugh: This should be so wrong – the sweatpant fabric, the saggy Star Trek shoulders, the Tilda Swinton-goes-Primark sensibility – but Em's jauntiness renders it spot-on. And there aren't many dresses that do for the red carpet and the morning-after slob-a-thon.
Join our new commenting forum
Join thought-provoking conversations, follow other Independent readers and see their replies