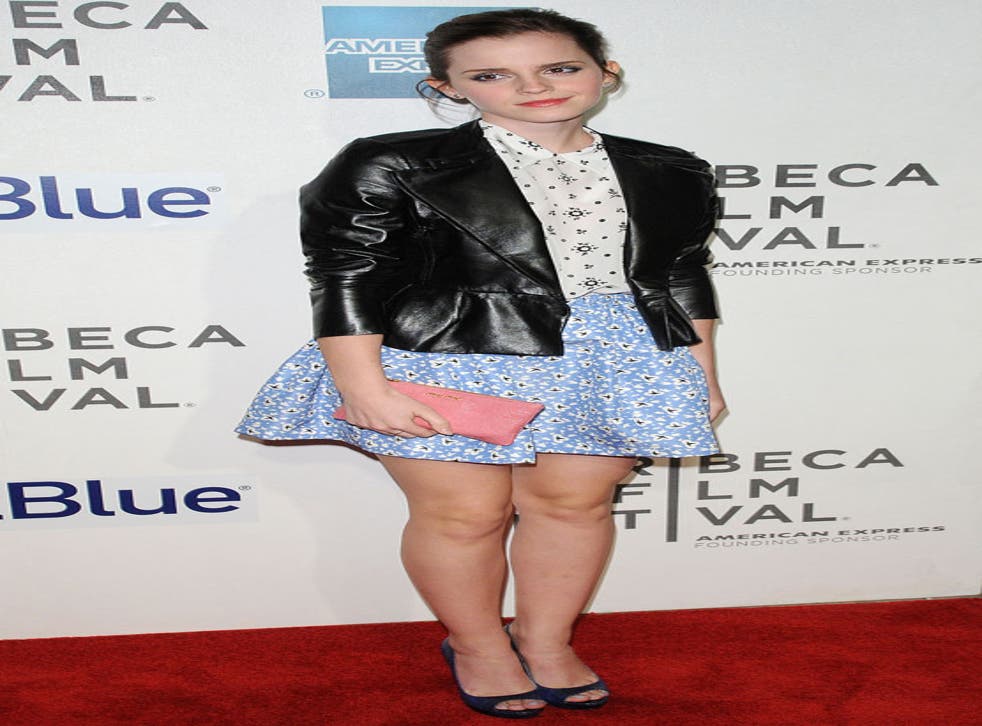 Style shrinks: Our experts analyse Emma Watson's good-girl-goes-grunge chic
The hair/make up
Gemma Hayward: We're not used to seeing Emma with her hair swept up and such defined lashes, but she pulls it off, though I can't help thinking this hair/make-up combo would suit a dressier outfit.
Hugh Montgomery: The stuff that indie film festivals are made of: from the slick hairdo to the Gitanes-smoky peepers, she screams rebel-with-a-cause – that cause being "Get me a lo-fi dramedy about a damaged ingenue, NOW."
The jacket
Gemma: A bit uptight in shape and the harsh leather is a mismatched pairing with the sweetness of what's going on beneath it.
Hugh: The peplum – aka the ruffled, flared-out bottom bit – is, apparently, totally on-trend, and yet we can't help thinking that a leather jacket ultimately looks cooler without its own leather valance.
The shirt/skirt
Gemma: What a charming print on this Miu Miu skirt and buttonless blouse combo, which is very on-trend in both colour in style. Hugh: We've cracked it: Ms Watson's look is totally Winona Ryder circa Reality Bites i.e. grungy but twee and ideal for both rampant angstifying and wistful mooning.
The bag
Gemma: She's obviously a car-to-red-carpet kind of girl, so no need for the big bag to hold the obligatory flat shoes, make-up, house keys, phone, kitchen sink.
Hugh: Pink snakeskin? There can only be one response and that, in the words of some long-departed E4 announcer, is chuffing fabulous.
Register for free to continue reading
Registration is a free and easy way to support our truly independent journalism
By registering, you will also enjoy limited access to Premium articles, exclusive newsletters, commenting, and virtual events with our leading journalists
Already have an account? sign in
Register for free to continue reading
Registration is a free and easy way to support our truly independent journalism
By registering, you will also enjoy limited access to Premium articles, exclusive newsletters, commenting, and virtual events with our leading journalists
Already have an account? sign in
Join our new commenting forum
Join thought-provoking conversations, follow other Independent readers and see their replies