'The Collection' starring Meryl Streep's daughter follows in a classy line of fashion fiction
​'The Collection', a TV show about fashion , is coming soon. It's one of a long line of projects inspired by the industry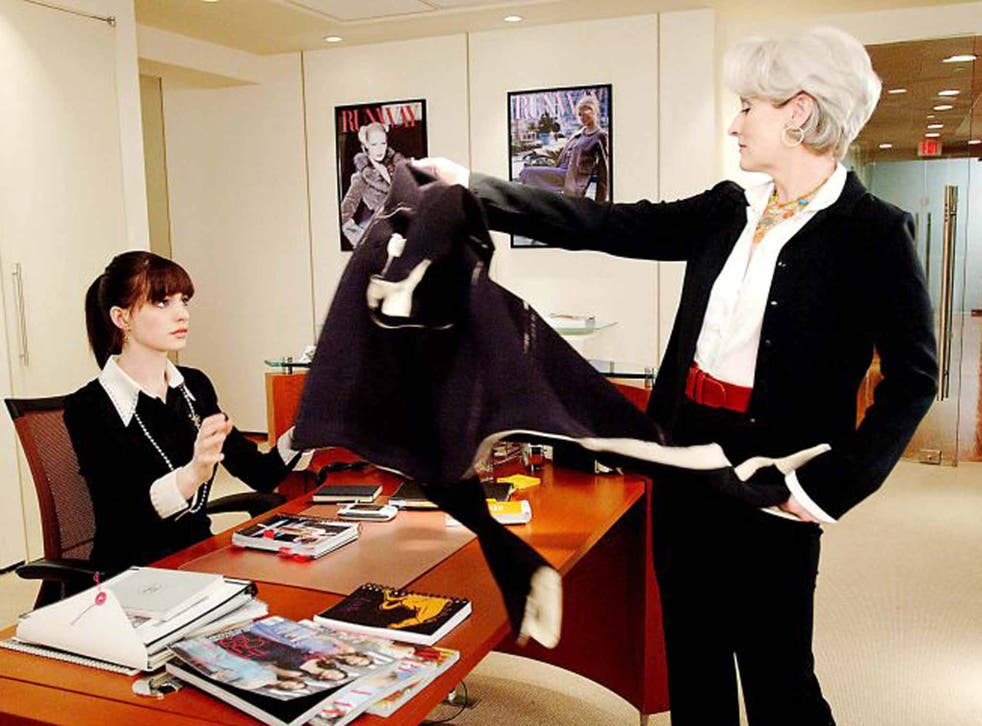 In 2006, Meryl Streep unveiled an inscrutable stare and an ice-cold drawl in The Devil Wears Prada. Streep played Miranda Priestly, editor of the fictional fashion magazine Runway and a woman whose tongue is even sharper than her cheekbones. Priestly's pursed lips and cutting remarks made audiences sit back collectively and wonder whether life in the fast lane of the fashion world really was as scary as it seemed.
Now, Streep's daughter Mamie Gummer is to star in Amazon Prime's new fashion drama The Collection, the story of an illustrious French fashion house, set in post-war Paris. The eight-part series, which is being made by Lookout Point (co-producers of BBC1's critically acclaimed War and Peace), takes place in 1948 and is centred around two brothers who run the family fashion business. Filming has already begun in Paris and Wales and the show will be available to Amazon Prime viewers in the UK later in the year. Given that in 1949, products by the house of Dior accounted for 5 per cent of France's total exports, the series will surely be representing a boom time in the history of French fashion.
Writer and executive producer of the series Oliver Goldstick – whose previous credits include Ugly Betty and Desperate Housewives – has described the show as "an entrepreneurial fable set at a pivotal moment in France's history, when fashion truly became a vehicle for transformation and reinvention". But he's not the first writer to take inspiration from the world of fashion. So what is it about the rag trade that makes for such a rich seam of drama?
It could be that fashion makes sexy TV. The industry is cut-throat and rife with gossip, grit, and glamour, making storylines easy to come by. It's politics with petticoats and big budgets. The characters are commanding and the scope for glitz is huge. If nothing else, the fashion industry looks great on screen. The camera loves it, even if insiders don't always like TV and film making designs on their business. The House of Elliot, a British series which ran for three series between 1991 and 1994, is one example. The show told the story of two sisters who set up a dressmaking business in the 1920s, eventually running their own haute couture fashion house. (The series was later parodied by French and Saunders in a series of sketches entitled The House of Idiot.) American film Prêt-à-Porter, released in 1994, is another. The movie, a satirical comedy shot on location at Paris Fashion Week, was panned by critics but became known for its many cameo appearances, including Jean-Paul Gaultier, Naomi Campbell and Claudia Schiffer.
There are also rags to riches stories to be found within the fashion industry. The 1957 film Funny Face, starring Audrey Hepburn, is about a clerk who is scouted by a photographer and whisked off to Paris to take part in a new fashion campaign. More recently, Coco Before Chanel – the 2009 biopic documenting the difficult early career of Coco Chanel – won plaudits for its elegant styling but was labelled "rather dull" by film critic Philip French.
Ben Stiller's 2001 comedy Zoolander, in which Stiller starred as a spiky-haired male model, played up the idiosyncrasies of the industry and became a cult favourite. Zoolander 2 – which will be released in the UK next week – has already caused a stir because of its parodying of androgynous models. The film was labelled "harmful and dangerous" by LGBT activists, who sought to boycott the movie, while the fashion industry itself emerged as rather more forward-thinking.
And, while a film version of Absolutely Fabulous will be released on 1 July, will Patsy and Edina still be in style almost 25 years on from first appearing on the BBC?
Perhaps the fashion world doesn't need to be fictionalised. The September Issue, a documentary showing Vogue editor-in-chief Anna Wintour preparing for the 2007 autumn fashion issue, proved the industry is just as fascinating when observed from behind the scenes.
Register for free to continue reading
Registration is a free and easy way to support our truly independent journalism
By registering, you will also enjoy limited access to Premium articles, exclusive newsletters, commenting, and virtual events with our leading journalists
Already have an account? sign in
Register for free to continue reading
Registration is a free and easy way to support our truly independent journalism
By registering, you will also enjoy limited access to Premium articles, exclusive newsletters, commenting, and virtual events with our leading journalists
Already have an account? sign in
Join our new commenting forum
Join thought-provoking conversations, follow other Independent readers and see their replies