The latest accessory for fashionistas: a stuffed animal

Show all 5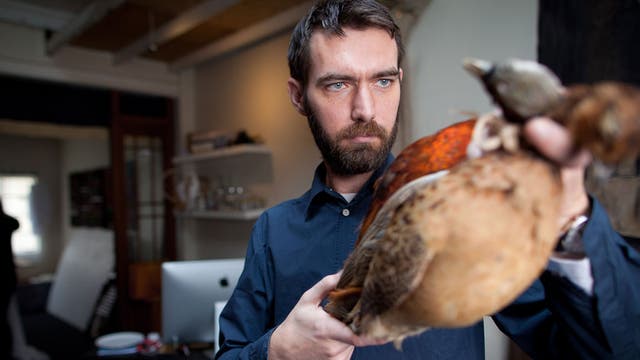 The latest accessory for fashionistas: a stuffed animal
Inspired by a surge in interest in taxidermy, Genevieve Roberts learns to stuff a mouse called Derek... to wear as a brooch
Genevieve Roberts
Sunday 08 April 2012 00:00 Comments
Taxidermy: the very word conjures dusty antique shops and seldom-visited museums. One could be forgiven for imagining that its exponents were in danger of joining their handiwork, preserved for ever in grotesque poses beneath domed glass or wall-mounted with a glassy-eyed look of perpetual surprise. Against all expectations, though, the craft of preserving, stuffing and sculpting dead creatures is, unlike its raw material, alive and thriving. Kicking up its heels, in fact, in celebration of its transition from moth-damaged Victoriana to icon of expensive high art.
Far from taxidermists becoming a dying breed, their numbers are growing as stuffing once again becomes popular. Stuffed creatures are everywhere – from David Shrigley's exhibition at the Hayward Gallery in London, to the elk, deer and antelope heads that decorate the fashion label Juicy Couture's shops. Animal heads also peer from the walls of trendy hostelries such as the Hunter S in London and Liverpool's Negresco bar. Taxidermy's list of devotees now includes A-list celebrities including Kate Moss, Courtney Love, the artist Banksy, actress Amanda Seyfried, and the White Stripes' guitarist Jack White.
All of which is why I am armed with a scalpel, cutting a neat line up from the stomach to the rib cage of a dead mouse I posthumously christen Derek. Derek and I became acquainted at the fashion designer Lee Paton's studio. Paton, 30, selected Derek from a chest freezer filled with rabbits, birds, mice and squirrels. Even a deer's head. A curious inventory-cum-menu keeps stock of the wildlife stored at sub-zero temperatures. But these animals are not for eating: they are to be stuffed.
Paton became familiar with taxidermy when he used antique animals in his graduate collection at the London College of Fashion, before training under Alexander McQueen. He soon realised that learning the craft was going to be more effective – and less expensive – than sourcing artefacts for his designs.
Such was the interest others showed in his skills that he launched the London Academy of Taxidermy, where he teaches people how to stuff birds, rabbits, squirrels and mice. He points out that he started the latest class in time for Easter, so in some homes it may not be eggs that are being given as gifts.
The majority of his students are female. And, curiously, almost half are vegetarian or vegan. "People are enthralled by taxidermy – it's not macabre, it's about the study of animals," he says. Paton himself remains a meat-eater, though a Parma ham sandwich mid-way through a bird-stuffing class proved too much, as they smell so similar.
All his animals, sourced from a gamekeeper, are frozen for two weeks before anyone works on them, to ensure diseases are killed off. I am kitted out with blue dentist's gloves for further protection. I start by practising on an Indonesian butterfly, then graduate to Derek. After cutting the neat line down his stomach, I start to turn it inside out, removing his tiny rib cage and skull. Once his innards have become outtards and entrails removed, the mouse needs a bath. It is soaked in a washing-up liquid that is kind to hands that do dishes – ideal for the job.
I blow-dry Derek's fur, and then come the stuffing and sewing. I fashion ultra-fine wool of a type used to stuff children's teddy bears into an approximate replica of Derek's insides, with a tiny skull and bump for his rib cage. Using tweezers – it feels as delicate as untying knots from a necklace chain – I stuff him and sew him back together.
Paton, who will be hosting a Peter Rabbit story and stuffing show at Brighton Festival Fringe in Hendrick's Library next month, learnt his skills from George Jamieson, a self-taught taxidermist with almost 50 years of experience. Jamieson says there has been a 50 per cent rise in people contacting him over the past two years – again, predominantly young and female. Jamieson also trained the artist and taxidermist Polly Morgan, whose artworks command sums of up to £100,000.
Morgan, whose work is collected by Moss, Love and Charles Saatchi, is in the vanguard of modern taxidermy. She is currently working on a stag with an open stomach, as if hollowed out by vultures, and bats hanging from its rib cage. It will be shown at her solo show at All Visual Arts this summer. "Perhaps people who live in sterilised cities and buy meat in packages have a primal urge to be closer to nature," she says. "It has been demythologised – people realise animals are not being killed for taxidermy – so it's not taboo any more."
In contrast, Shrigley, whose puppy holding a sign saying "I'm Dead" features in his current exhibition, says his interest stems from taxidermy's perversity. "These animals represent a memorial of a living thing. It's not like a gravestone, but a naturalistic sculpture using parts of themselves"
Morgan believes the renewed interest is also due to clutter being fashionable once again, contrasting with Nineties minimalism. Vadim Kosmos, manager of Viktor Wynd's Little Shop of Horrors curiosity shop in Hackney, east London, agrees. "It's a reaction against Ikea culture, the uniformity of everyone having the same table lamp. Taxidermy is unique: no two animals are the same. Out with minimalism – this is maximalism – and people are creating morbid Victorian parlours in their own homes." He says Hirst and McQueen have caused a "sea-change in the way people observe animals and taxidermy".
Mike Gadd, a spokesman for the Guild of Taxidermy, agrees that Hirst has been the catalyst for renewed interest. Guild membership stood at 200 three years ago. "It's now above 300, and we receive applications weekly. Interest has snowballed, particularly from art students."
I suspect many art students would be underwhelmed by Derek: in my hands he turns out a little on the skinny side, though Paton shows me how to curl him around to make him look less undernourished. In two to three days, he will be a brooch. I'm looking forward to seeing people's reactions to my new jewellery, though I suspect no one will be as excited as my brother's cats. And I'm not sure I'll ever look at mice in the same way.
Register for free to continue reading
Registration is a free and easy way to support our truly independent journalism
By registering, you will also enjoy limited access to Premium articles, exclusive newsletters, commenting, and virtual events with our leading journalists
Already have an account? sign in
Join our new commenting forum
Join thought-provoking conversations, follow other Independent readers and see their replies