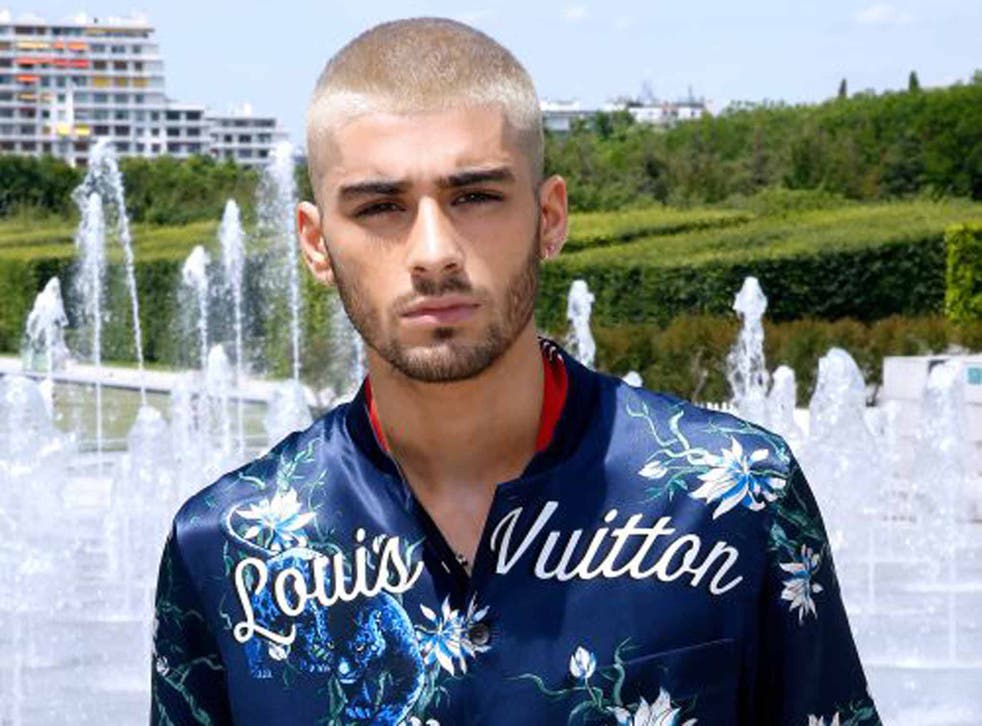 The modern peacock, from Versace to H&M: ​The grand return of masculine sartorial flamboyance is well underway
Glitzy designer looks are gracing the backs of normal blokes, not just rock stars
A couple of weeks ago, I watched from a safe distance as hordes of shoppers tore apart the racks of H&M. Like Christmas turkey and New Year's Eve fireworks, it's an annual rite of passage: the launch of the Swedish retailer's "mass-tige" collaboration, this time with Balmain. However, something was subtly different this year. The influx of male shoppers was not only healthy; it possibly outweighed the females. And they weren't grabbing dresses to sell for a triple-digit mark-up on eBay, but shopping for themselves.
Balmain's H&M collaboration won plaudits for sticking close to the house's tried and tested, sequined and glittered formula. But that formula has proved as popular with men as with women.
When the designer Olivier Rousteing showed his menswear line on the Paris catwalk for the first time this June, it came with the justification that 40 per cent of the house's sales now come from menswear. That the latter is a bullish market across the world is well documented, particularly due to the importance of the Chinese Yuan as the currency ruling luxury goods consumption (both in mainland China and, as tourists, abroad).
China's luxury market is male-dominated, sure. But it's also conservative. Which is why the emergence of the new male peacock comes as a shock: while sales of staid serge suits may be healthy, there's a customer hungry for embellishment and glitz. "Over the past few years we've certainly seen the rise of a new type of menswear consumer," reasons Damien Paul, head of menswear at MatchesFashion.com. "They are increasingly coming to us for the most impactful runway pieces, with the highest levels of workmanship." What they're after, namely, are the kind of embroidered and heavily decorated pieces newly offered by labels like Balmain, and traditionally by the likes of Versace and Dolce and Gabbana. MatchesFashion.com stock all three, and their buy is geared towards the top tier of garments heavy in embroidery, print and metallic embellishment. Flash, for plenty of cash.
Peacock menswear labels have always been niche: the flamboyance of Versace's baroque-and-roll stars, perennially positioned opposite suited Armani masses. The former was what the chosen few wore to behave badly; the latter was what everyone else wore for everyday life. Philosophically, it's a deep-rooted notion: men cast off their finery at the end of the 18th century, coinciding with the fall of the French aristocracy. Decoration was decadent; strict suiting was modern, a working wardrobe that worked. Even for evening, men were soberly attired. And, as a result, women literally shouldered the burden of expressing a couple's wealth through the garments on their backs, leading to the assumption that ornament, if not crime, was certainly feminine.
The psychoanalyst John Carl Flügel dubbed it "The Great Masculine Renunciation", a notion that persisted all the way through to the psychedelic freak-out of the Sixties, when gay liberation also liberated men of every persuasion from their tightly buttoned suits.
Overt flamboyance in menswear has waxed and waned over the years: extremes, such as Gaultier's skirt for men or Vivienne Westwood's codpieces, have been the exception to the rule. Today, however, male peacockery has gone mainstream, evident like no time since the fall of the Bastille. Traditional suit-mongers have turned away from the straight and narrow, and begun to experiment. They're partying like it's 1789.
Alessandro Michele's Gucci is the shining example: foppish, embroidered lace shirts, billowing silk blouses, brogues embroidered with bees or trench-coats crusted with flowers. These are all from his last two menswear shows, although the menswear is sometimes worn by women and vice-versa. Over in Paris, Valentino's Maria Grazia Chiuri and Pierpaolo Piccioli embroidered butterflies onto their tailoring and woolly backpacks, while Louis Vuitton's men's style director Kim Jones turned away from hyper-luxe but resolutely quiet suiting, instead dressing his men in florid kimono silks cut into slender bombers and billowing shirts. Zayn Malik, formerly of One Direction and heartthrob to millions, sported one before the show even commenced. He cropped up at Valentino, in Valentino, too. His former bandmate Harry Styles has a taste for Michele's chintzy Gucci suits. They're hardly the everyman – but neither are they Elton John.
"You think that the young generation doesn't want to be flashy, and just wants to wear very normal clothes? It's not true," says Donatella Versace, emphatically. "Especially men!" Fine, you may snort, derisively, of Versace's £700 gilt-embellished trainers and ormolu-printed silk shirts skating in at just under a grand. But remember, back in 2011 Versace unleashed its own H&M collaboration. "The thing that really shocked me were the boys in the store, taking the clothes off the rack!" Donatella recalls of the launch. "They were hungry for that type of fashion." She noticeably ratcheted up the luxury in Versace's own menswear, with eye-popping results on the catwalk, and sales floor. Turnover soared by 46 per cent.
What's the appeal of all this stuff, then? "They are the total antithesis of fast fashion," reasons Damien Paul. "Unique, statement-making pieces, with a really artisanal quality – these men don't want their clothes to look like everyone else's." He cites not Versace nor Balmain, but labels such as Haider Ackermann – whose easy pyjama-style trousers and crumpled jackets come in boiled wools or jacquard silks, jewel-like tones of garnet and sapphire painstakingly embroidered. They're rich but not flashy.
Perhaps that's the appeal of all this embellished menswear. It feels like someone cares – both in making such complex and embellished clothing, and in dressing in them. After all, it's much tougher to decide between the kimono-print bomber or the butterfly-camo flak jacket than between a navy suit and a not-so-navy suit. I'm not suggesting the Great Masculine Renunication has been reversed – there will always be a place for the navy suit, after all. But, it seems, today, that overt peacocking isn't ruffling quite as many feathers as it used to.
Register for free to continue reading
Registration is a free and easy way to support our truly independent journalism
By registering, you will also enjoy limited access to Premium articles, exclusive newsletters, commenting, and virtual events with our leading journalists
Already have an account? sign in
Register for free to continue reading
Registration is a free and easy way to support our truly independent journalism
By registering, you will also enjoy limited access to Premium articles, exclusive newsletters, commenting, and virtual events with our leading journalists
Already have an account? sign in
Join our new commenting forum
Join thought-provoking conversations, follow other Independent readers and see their replies