The trouble with 'tribal': African inspirations and bright colours
Fashion is no stranger to globetrotting, but designer wanderlust is especially evident this season. As Rebecca Gonsalves asks, is this celebration or appropriation?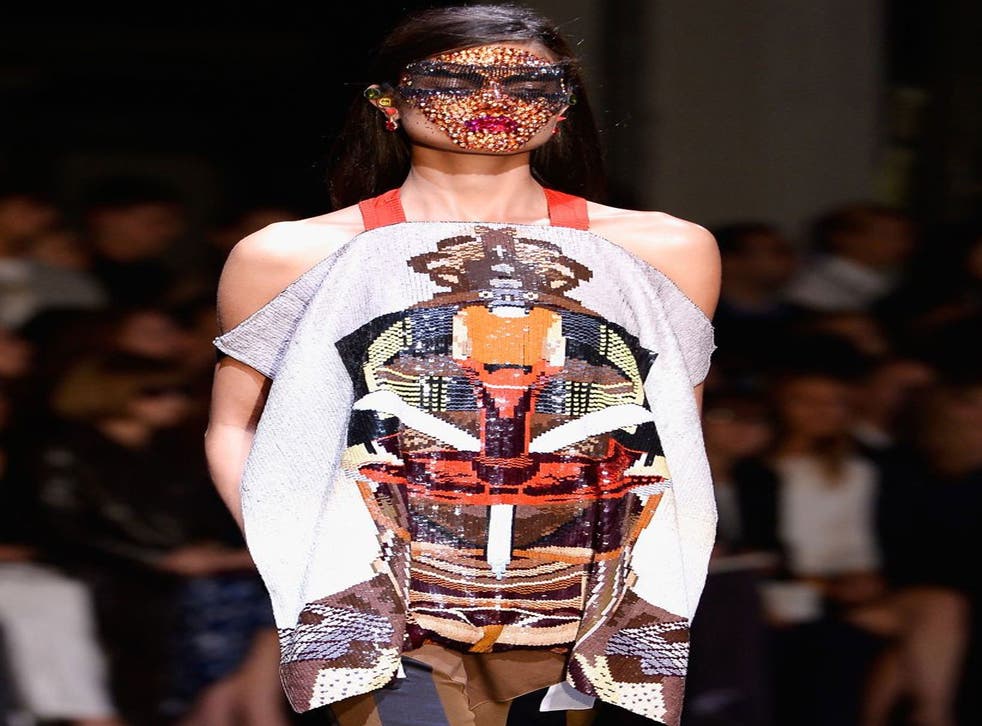 Whether you care for the turn of phrase or not, fashion is a melting pot. It's a global industry, in which designers from all cultures and ethnicities boil down their inspirations into an end product – one that is increasingly being seen as consumable. As such, the commodification of these cultural influences is inevitable, and inextricably linked to the creative process, or at least that's the industry's point of view.
But the fashion industry has a tendency to be insular – it doesn't exist in a vacuum, but quite the opposite: with so many voices clamouring to be heard, it can create something of a din. General-interest blogs and websites can call out the issues they see without biting the hand that feeds them; almost all fashion publications have had their fangs removed by the advertising that keeps them solvent. Being able to explain to Victoria's Secret why sending a model down the runway in underwear, tons of turquoise jewellery and a Native American-inspired feathered headdress in 2012 is problematic, and to provoke an apology for any offence caused is no small feat.
When, a year later, Chanel's "Cowboys and Indians"-themed Métiers d'Art collection featured traditional Native American items such as headdresses and war bonnets, it should have expected that complaints would follow. And they did. Chanel responded with an apology, of sorts, explaining that the collection was meant to be "a celebration of the beauty of Texas", of which Native Americans are an integral part. "The feather headdress, a symbol of strength and bravery, is one of the most visually stunning examples of creativity and craftsmanship. We deeply apologise if it has been misinterpreted or is seen as offensive, as it was really meant to be a tribute to the beauty of craftsmanship." The fact that the Métiers d'Art collection is a showcase of the ateliers and handcraft techniques that Chanel has kept alive through its investment certainly reinforces this claim. But what is shown on the catwalks filters down to the street, and vice versa, which explains why "Native American-inspired" headdresses are these days pitched as the must-have festival fashion accessory.
Borrowing from other cultures is nothing new; fashion designers have long taken inspiration from foreign lands and national dress, from the impoverished manual labourers they pass on the way to the atelier, even from the homeless. While some commentators find this akin to a form of fetishism, others argue that it is part of the designer's lot to find beauty in unusual places. Dal Chodha, the editor of Archivist, thinks appropriation is too strong a term, asking: "Why isn't someone allowed to take inspiration from another culture? Why can't we 'borrow' styles, attitudes and materials from around the world?"
In pictures: Tribal inspiration

Show all 6
Semiotics is important, Chodha thinks, especially as, for all the democratisation of the industry, fashion publications remain the conduit between the collections and the consumer. "The correct use of language is key," he says. "Not enough people writing about fashion understand the meaning of half the words they are using. This ignorance causes the problem, not the designer's seasonal whimsy."
Neatly packaging fashion into trends is indeed problematic, especially when these pigeonholes are dubbed with catch-all bywords such as "tribal" or "ethnic". Can centuries of culture and identity be packaged as a fleeting fashion? Further than this, do designers have a responsibility to their sources of inspiration? "A designer only has a responsibility to the people that buy and wear their clothes," Chodha says. "If a designer has taken great inspiration from a piece of shweshwe fabric from South Africa, then the logical thing would be to manufacture and develop it there, rather than remake it in another part of the world. There are skills all over the world that should be harnessed and encouraged, but it is difficult to look at fashion in this philanthropic, rather naive way."
Many designers stay true to who or what inspires them: Vivienne Westwood has long worked with the United Nations' Ethical Fashion Initiative, and her spring/summer show featured cloth from Burkina Faso, bags screen-printed in Nairobi and beading by the Maasai in Kenya. This season, Karen Walker collaborated with the Ethical Fashion Initiative, too, to create work in community groups of micro-artisans in urban and rural areas of Kenya. As well as commissioning simple screen-printed pouches for each pair of sunglasses and intricate beadwork on some frames, Walker put the artisans centre stage as the faces of her eyewear campaign, providing "a glimpse into the world that the work is coming from. The images help to bring visibility to this place, these people and the work of the Ethical Fashion Initiative."
But Chodha thinks that brands are naive, too, or at least their ideals are perhaps outdated: "I think that the notion of travel as a luxury is rather antiquated, but consistently is used within fashion because there is a real pressure for brands and designers to appear to 'understand their consumer'. The rather obvious assumption that if you buy luxury fashion you probably travel a lot still seems to drive a lot of the decision making."
When Yves Saint Laurent presented his "Africa" collection in 1967, jet-setting was still the preserve of the elite. Now, in the days of cut-price travel to all but the farthest-flung destinations, is there still a belief that only the wealthy are well-travelled? Does presenting these Western ideals of exotica work when your customers can be from absolutely anywhere?
Whether it's something as simple as a safari suit, or hand-beading by craftspeople, or simply a ripped-off ikat-inspired print, there is an undeniable appetite for global-influenced fashion, especially in the summer. This season, the "tribal" trend is being pushed by everyone from Marks & Spencer to Alexander McQueen, indicating that there is at least an appetite for such items, whatever you call them. It's unsurprising, really; who doesn't want to think of themselves as an adventurer of some sort? And if you can't quite leave behind the workaday world to explore the real one right now, then maybe buying the dress is enough to persuade you that one day you just might.
Register for free to continue reading
Registration is a free and easy way to support our truly independent journalism
By registering, you will also enjoy limited access to Premium articles, exclusive newsletters, commenting, and virtual events with our leading journalists
Already have an account? sign in
Register for free to continue reading
Registration is a free and easy way to support our truly independent journalism
By registering, you will also enjoy limited access to Premium articles, exclusive newsletters, commenting, and virtual events with our leading journalists
Already have an account? sign in
Join our new commenting forum
Join thought-provoking conversations, follow other Independent readers and see their replies