To boldly toe: ToPo Athletic split foot trainers are more science than gimmick

Show all 3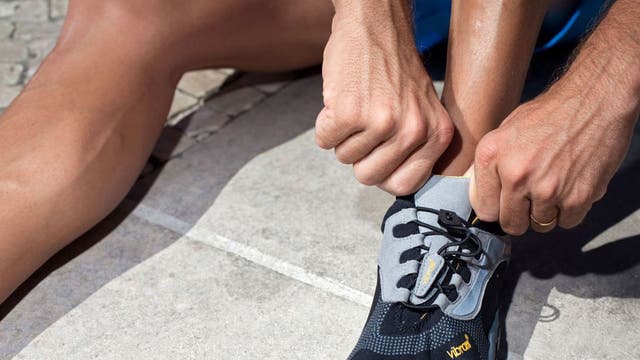 To boldly toe: ToPo Athletic split foot trainers are more science than gimmick
The man behind the world's weirdest running shoes is back with a new hi-tech trainer. Simon Usborne laces up
The man who tried to convince runners everywhere to liberate their toes in trainers that look silly is offering a new kind of digital separation. This time Tony Post, former boss of rubber-sole and barefoot-running firm, Vibram, is trading in five fingers for two toes.
His new range of ToPo Athletic trainers are less like gloves for feet and more like hooves, separating the big toe from the little ones with a rather unsightly slot. What does Post have against toe unity and what inspired his obsession?
Post first showed off an alternative approach to footwear when he ran the 1990 New York marathon wearing pair of leather dress shoes made by Rockport, where he was vice president. By then split-toe shoes were already a thing. In Japan, tabi socks and, later, jika-tabi shoes have been supported by everyone from Ninjas to builders for centuries.
Onitsuka, the Japanese trainer company now owned by running giants, Asics, made a modern tabi-inspired running shoe back in the 50s. They were worn by Shigeki Tanaka when the runner won the Boston Marathon in 1951, but then fell out of favour.
Nike, chief trainer pioneers, developed the cloven Air Rifts in the late 1990s but even its marketing might failed to elevate the shoes out of a niche. Vibram faced similar scepticism with its FiveFingers range but their modest success under Post helped create a minor boom in running barefoot or in minimal trainers.
The comfiest running shoe can be bad for your feet, it turns out. In 2001, Nike sent guys to watch the Stanford University team train and were dismayed to see them doing so without shoes. "I believe when my runners train barefoot they run faster and suffer fewer injuries," the coach said, as Christopher McDougall recounts in his book Born to Run. "We've shielded our feet from their natural position by providing more and more support."
There's scientific evidence to suggest the coach's hunch was right. Richard Felton is an ultra-marathon runner, fitness coach and footwear manager at Profeet, a custom sports shoe fitter based in London.
He says split shoes offer more than a design gimmick: "The big toe is the most important mechanism in the foot. You want your big toe to move but retain stability from the rest of your toes.
"On landing, say, the big toe effectively curls upwards, pushing the ball of your foot into the ground and giving a stable pivot point from heel to forefoot. Barefoot shoes can improve strength and flexibility. It's like having dumbbells for the feet."
Whether or not the ToPos take off, shoe purists are welcoming the possible demise of the often-ridiculed five-toed shoe and even Post now admits they had been tough to sell.
"Let's face it: nobody wanted to buy those shoes," he said. "We had to break in the market."
Register for free to continue reading
Registration is a free and easy way to support our truly independent journalism
By registering, you will also enjoy limited access to Premium articles, exclusive newsletters, commenting, and virtual events with our leading journalists
Already have an account? sign in
Register for free to continue reading
Registration is a free and easy way to support our truly independent journalism
By registering, you will also enjoy limited access to Premium articles, exclusive newsletters, commenting, and virtual events with our leading journalists
Already have an account? sign in
Join our new commenting forum
Join thought-provoking conversations, follow other Independent readers and see their replies