'To keep a legend fresh you always have to change its point of view'

Show all 7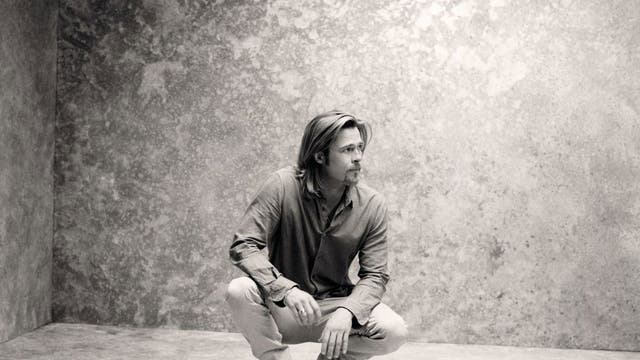 'To keep a legend fresh you always have to change its point of view'
The world's most famous perfume has a new face, and it's a surprisingly masculine one, says Susannah Frankel
Gabrielle "Coco" Chanel, Marilyn Monroe, Jean Shrimpton, Catherine Deneuve, Lauren Hutton, Carole Bouquet, Nicole Kidman, Audrey Tatou… And now Brad Pitt.
Today, the latter becomes the new "face" – and first man – to advertise the world's best-known and bestselling fragrance, Chanel No. 5. (It is said that a bottle of this rose-jasmine scented amber juice sells every second somewhere in the world.) In the past, all of the aforementioned women have promoted its considerable allure and that's quite a roll-call – although Monroe's endorsement was in a less than official capacity.
In a certain way, a male figurehead serves as something of an equaliser. For years, men's fragrance and indeed at least some fashion advertising has featured women in varying states of arousal – basically – as they swoon over their partner (male's) high-end wardrobe, say, or the waft of fragrances as diverse as Gucci Envy and Lynx. And although the famous – and famously expensive – 2004 No. 5 commercial shot by Baz Luhrmann and starring Nicole Kidman co-starred the ridiculously handsome Brazilian actor, Rodrigo Santoro, he ended up with less screen time than the fluttering train of the Oscar-winning actress's gown – Chanel haute couture, naturally.
It is estimated that Pitt, who signed with Chanel in May, may be commanding as much as $7m for his services, although, as a private company (Chanel is owned by the Wertheimer family who are notoriously backwards in coming forwards), the powers that be have the luxury of keeping any precise figures under wraps. What we do know is that this new commercial is shot by Joe Wright, who has worked with Chanel since 2006 and is the creative force behind the just released Anna Karenina, as played by Keira Knightley. Knightley is the face of Coco Mademoiselle and the director has worked with her several times in that capacity.
"To keep a legend fresh, you always have to change its point of view," Andrea d'Avack, president of Chanel's fragrance and beauty division told Women's Wear Daily. "It is the first time we've had a man speaking about a women's fragrance. We think very much that the perfume is a seduction between a man, a woman and the perfume. No.5 is our leading fragrance, and we are willing to make the investment to keep it on that level."
Throughout its long and grand history, Chanel No. 5 has, of course, broken many rules. The scents that came before it were heavy, single-note florals packaged in, to Coco Chanel's mind, overdecorated bottles that did little to advertise the importance of the liquid within. And so, the couturier instructed the master perfumer, Ernest Beaux, who she met in 1920, to create "un parfum de femme, à odeur de femme".
"What I think she meant by that was the idea that the perfume smells different on different women, that a woman's natural perfume informs the fragrance she wears," Jacques Polge, who took over as Chanel's third nose in 1979 has said. "Although people may believe otherwise, there are actually very few fragrances that do that…"
The use of more than one flower aside, Chanel No. 5 is also the first fragrance to benefit from the inclusion of aldehydes, first synthesised in France in the late 19th century, and unheard of for use in that capacity until that time. Beaux compared the effect of aldehydes – taking the subject out of the laboratory and simplifying it for mere lay people, clearly – as that of "lemon juice on strawberries". There are many of them and they range from the repellent (aggressively cloying formaldehyde) to the enticing and ultra-powdery but chosen carefully they add sparkle to the main ingredient, enhancing any natural properties.
Next came the name. Chanel No. 5 is called Chanel No. 5 as opposed to anything more typically wordy or obviously evocative for no more complex a reason than it was the fifth sample Beaux offered the couturier. The clear, square-faceted bottle, altered only slightly since it was first designed by Chanel herself, is equally minimal so as not to detract from the main event. It quickly became so instantly recognisable that, by the 1950s, Andy Warhol went so far as to immortalise it in different colourways in much the same way as he did Coca-Cola, Campbell's Soup, and Marilyn.
And that brings us neatly back to the women that have been carefully selected by art directors at Chanel since the fragrance's inception in order to promote it most effectively. Coco Chanel herself was the first of these, photographed by Man Ray. Monroe was never officially signed up but it's safe to say she helped the scent's fortunes considerably by telling an interviewer that she wore nothing more in bed than "a few drops of No. 5". Chanel later employed the services of Deneuve, a far from obvious choice, in fact, given the size of the business by that point and the relative obscurity of the actress outside Europe. Later came Carole Bouquet, again not a household name but quintessentially French, quintessentially elegant and therefore quite something to aspire to.
For his part, Pitt has agreed to lucrative advertising deals in Japan in the past – specifically, he was the face or perhaps bottom that sold Edwin jeans to Asia, inviting onlookers to check out his backside. He also worked with Softbank mobile phones starring in a commercial directed by Wes Anderson, playing Monsieur Hulot and dressed from head to toe in banana yellow.
Closer to home, in 2008, commercial work with Kiehl's benefitted his Make It Right organisation dedicated to the construction of housing in New Orleans following Hurricane Katrina. This, though, is the first time he has accepted anything so high profile.
Today's film will be followed by a print campaign that will launch in glossy magazines in November, just in time for the build up to Christmas. Not that this, the mother of all modern scents needs it but: "We believe this dynamic, modern campaign will make people think in a completely different way about No.5," D'Avack says.
Register for free to continue reading
Registration is a free and easy way to support our truly independent journalism
By registering, you will also enjoy limited access to Premium articles, exclusive newsletters, commenting, and virtual events with our leading journalists
Already have an account? sign in
Register for free to continue reading
Registration is a free and easy way to support our truly independent journalism
By registering, you will also enjoy limited access to Premium articles, exclusive newsletters, commenting, and virtual events with our leading journalists
Already have an account? sign in
Join our new commenting forum
Join thought-provoking conversations, follow other Independent readers and see their replies