Victoria Beckham exclusive interview: A canny creative director who finally feels comfortable in her own skin
How did a former Spice Girl, known for tight dresses, killer heels and a talent for pouting, create a credible fashion empire with a turnover of more than £30m?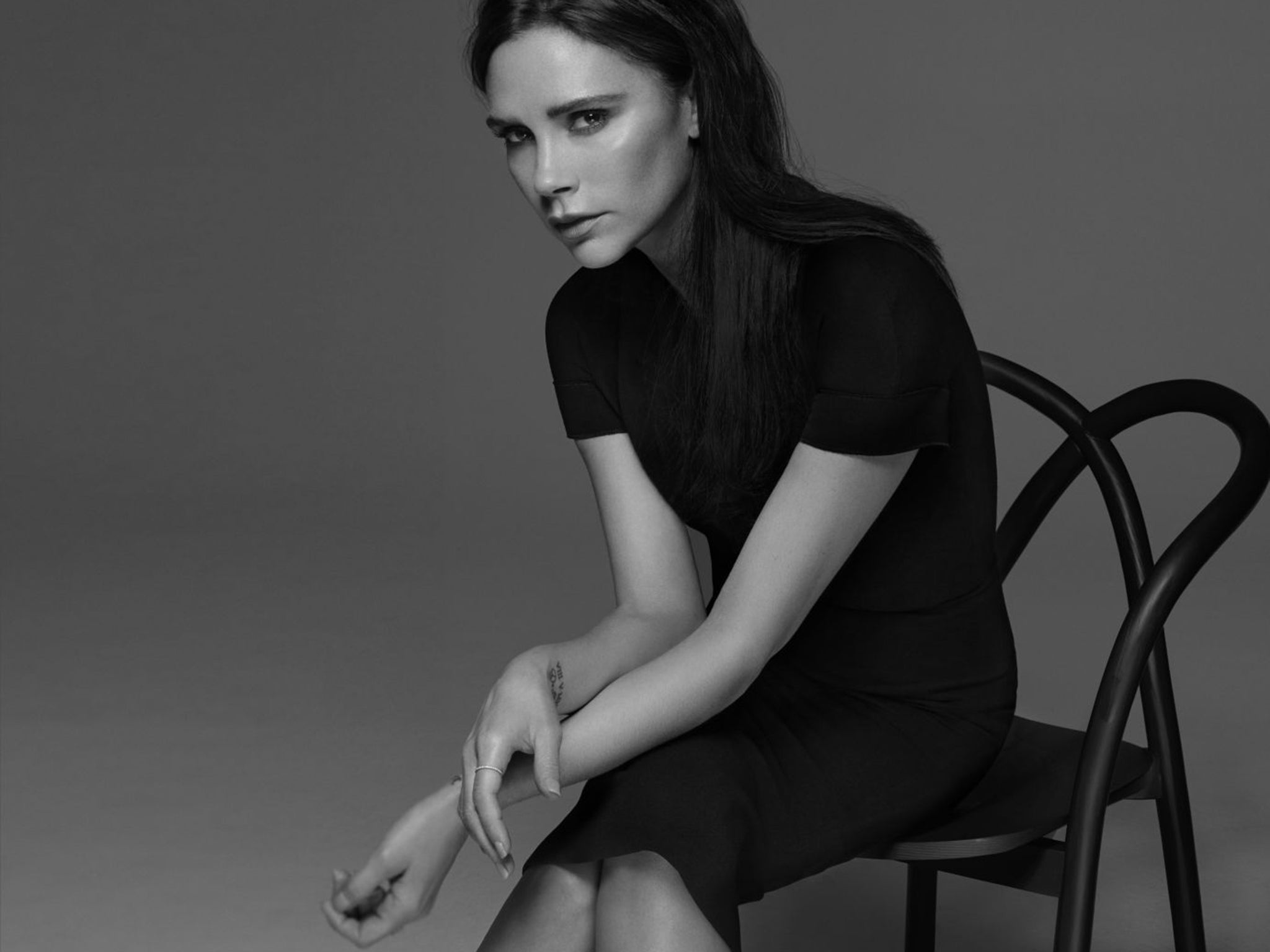 Victoria Beckham is a woman who divides opinion, but seems to fascinate everybody. At her biannual fashion shows, staged in New York, iPhones snap immediately aloft when she emerges to take her bow, generally dressed in a reflection of the clothes she has just presented.
Maybe that should be refraction – Beckham is 5ft 4in; even jacked up on heels, she's a good six inches shorter than the models wearing her clothes. But she's the image you remember.
Which is, perhaps, the problem. The great divide over Victoria Beckham isn't whether her clothing is much cop, but, oddly, whether she should be permitted to call herself a designer at all. Beckham is open about her lack of a technical fashion education. If we're being provocative, so is Dame Vivienne Westwood. And just as Westwood's work in punk helped to redefine the fashion landscape, so does Beckham's popstar past.
I haven't drunk the Kool-Aid. Beckham has elevated the celebrity line beyond a simple, simple-minded marketing exercise, like Gloria Vanderbilt's signature-stitched Seventies jeans. She's also avoided the pitfalls of celebrity-cum-fashion designers past, such as Jennifer Lopez's Sweetface, or the House of Deréon line launched with the support of Beyoncé Knowles. Neither made the transition to high-end. They were seen as cheap, the famous names a ploy to hike up prices. Contrast that with Beckham's brand: a coat from her current spring collection, similar to the white one worn by the designer in her much-parodied 73 Questions viral video for American Vogue's website, retails for £2,250. Her high-end handbags cost around the same, but depending on material can reach £18,000.
Today, when celebrities launch spin-off lines, they aspire to be like Beckham – witness the actress Katie Holmes's now-shuttered label Holmes & Yang. Another point of reference is The Row, established by Mary-Kate and Ashley Olsen in 2006. They won the CFDA's Womenswear Designer of the Year award in 2012. But the Olsens, for all their stateside status, never quite garnered the global presence enjoyed by Beckham. She is the high priestess of the 21st-century celebrity creative director.
In Pictures: New York Fashion Week autumn/winter 2015
Show all 59
In an age when designers have been catapulted into superstars, with names and personal images that resound beyond their catwalk clothing, it's only natural that someone such as Victoria Beckham should emerge as a fashion force to be reckoned with. Beckham, with her small, dark head, large eyes and preternaturally slender physique, is instantly recognisable. So too are Karl Lagerfeld with his shock of white hair, dark glasses and high, starched collar, and the tattooed physique of Marc Jacobs. This designer put Beckham in his spring 2008 advertising campaign, the year her own fashion business launched – but he and Lagerfeld also exist in the celebrity aureole of flashbulbs and camera lights that Beckham knows so well.
Beckham's fame dwarfs theirs, though. That is why meeting Beckham to preview her autumn/winter 2015 collection, some 24 hours before its presentation, feels quite so unusual. The process itself – a designer breaking their self-imposed embargo and presenting their clothes to select groups of journalists before everyone else gets to see them – is familiar in the fashion world. It was immortalised in The Devil Wears Prada and as I leave Beckham HQ, American Vogue journalists arrive to be walked through the clothes. Inside, everything is like it always is: strong coffee, weary staff, racks of clothes and a wall pinned with photographs of said schmattes assembled into "looks" on models. It's a work in progress.
And then, there's Beckham herself. She isn't wearing heels, but she is wearing make-up, above an oversized grey sweater. The neckline is pulled high, covering part of her chin. It reminds me of the visor on a suit of armour. There's something protective about it.
It's also -9C in New York. So maybe it's just practical.
In person, there is something unexpectedly vulnerable about Victoria Beckham. Her slightness helps, though it gives her a delicacy in the flesh rather than the painful skinniness tabloid images frequently suggest. She's also in flats – egads! – which brings her down to earth, literally and figuratively. She talks quietly, quickly, in guarded phrases couched in her creative-director persona. I keep using that phrase, because Beckham doesn't design her clothes. But nor do many of the "designers" who head successful international labels. "I have a different way of expressing myself because I haven't had that formal training," she says, honestly. "I've learnt a lot, in the last seven years. I've learnt a lot very, very quickly. And I continue to learn."
What Beckham has learnt to do is direct her team towards a goal she determines – she frequently talks in the collective, when discussing the process of constructing her collections. But her opinions seem single-minded, and decidedly hers. "I still put all of the clothes on myself," Beckham states. "I want to see how they feel. How do I look? Is it comfortable? Is it flattering? Basic things that I started with are still very important to me."
Beckham launched her line in 2008. It was a success from the beginning, commercially at least, based on 10 dresses tugged taut against the body. They had echoes of Roland Mouret's sculpted Galaxy dress, and reflected the sort of style Beckham herself invariably sported. "When I first started, I used to wear lots of tight dresses," Beckham allows. "Lots of heels. And I do still dress like that, but I suppose as time has gone on, I've loosened up a little bit."
Beckham's relaxation isn't just physical, but psychological. The retail success her line has always enjoyed has been buoyed with critical acclaim. In 2011 and 2014, Beckham received British Fashion Awards acknowledging her success. In 2014, she was also named the Business Entrepreneur of the Year by the business magazine Management Today. Why? Not because of her name. Because her business's turnover had increased by 2,900 per cent over the past five years, to £30m. Staff now number 100.
Last year marked another milestone for Beckham: the opening of her first flagship boutique on London's Dover Street. It's invariably thronged with customers – though you're not sure how many come to buy, and how many to grasp vicariously at that celebrity that Beckham embodies. "I spend a lot of time in my shop, talking to my customer, finding out what she wants," Beckham comments. Maybe that kind of contact is part of the draw?
Who is Beckham's customer, you wonder? And why do they choose her clothes over similarly priced fashion from more established labels? Victoria Beckham's clothes are good, but they reflect the fashion of the time, rather than defining it. Beckham herself acknowledges that: "Times change. Certain things I wore then felt right then," she says, of her start in the industry. "But it wouldn't feel right now." What feels right now, circa autumn/winter 2015, is a focus on muted colours, fabrics with interesting, mottled textures, and on slightly off proportions, such as the longer skirt, twisted knitted sweater and heavier shoe Beckham herself sported when taking her catwalk bow. In the 1950s, the master couturier Cristobal Balenciaga used to create a black dress in each collection entirely by his own hand. It was eagerly watched for by fashion press and clients, for that dress was emblematic of the changes wrought each season. With Beckham, it's what the designer chooses to wear herself that matters most.
Is that a criticism? No, just an observation. Brand Beckham is a profoundly personal endeavour. Ultimately, that's what's attracting Beckham's customers to her above other labels. Despite focusing on narrow product categories of accessories and designer ready-to-wear, her label is perhaps the best-realised lifestyle brand in the world. Because, really, the lifestyle that customers are buying into is her own. Beckham's family sits front row at her fashion shows – David side by side, generally, with the American Vogue editor-in-chief, Anna Wintour. This time, the family contingent were accompanied by the Vogue International editor, Suzy Menkes. Beckham's parents were an endearing, low-key presence. No one rushed to snap images of them before the show, though.
Beckham is interested in women. "Even if I wouldn't wear something myself, I think I know how women feel, how women want to look," she says. "I can really relate to women, I get on very well with women… Some women don't," she comments wryly, with a slight smile. "I want to empower women, make women feel the best version of themselves." Perhaps that's a wry acknowledgement, by one of the most written-about women on the planet, that she does read some of the stuff it would perhaps be better if she didn't. Talking about eliciting those opinions from women wearing her clothes, Beckham mentions canvassing her fashion-show models for opinions, because "they're 5ft 11in models – but they're women, too," the designer reasons. "Maybe a lot of people aren't going to be nice about models for the obvious reason… I mean, we look at models and say, 'Oh, she's so pretty! She's got a great body! Good for her!' Some people might think… 'Cow!'"
I wonder if Beckham is acknowledging the reaction her own success often engenders. Because not everyone loves Victoria Beckham. Her reincarnation as a fashion entrepreneur still invokes indignant ire, from members of the industry, as well as the public. When I told some that I was profiling Beckham and her label – because I am fascinated by the shift it represents in the contemporary fashion landscape – a few sneered. From the get-go, there have been legions of detractors watching and waiting with bated breath for Beckham to slip up and fall flat on her face.
It's not going to happen – because Beckham is clever and good at her job. And being the creative director of her self-titled label is Victoria Beckham's job. It's the reason she's wearing flat shoes, and skinny jeans, and is meeting me at 9am the morning before her show on no sleep. There would have been a time when Beckham, like her fashion, would have been dressed up to the nines even at that time. "As you get older, you get a different kind of confidence," she says. "I'm busier now – so I couldn't totter around in a tight dress and a pair of heels! I think I feel a little more relaxed." She pauses, reflects. "I suppose if I'm being honest, I would have been scared, right at the beginning, to wear lots of layers and to wear a flat shoe. I would have been scared to do that. Now I'm not."
As always with Victoria Beckham, when she talks about her brand, you get the feeling she's talking about herself.
Join our commenting forum
Join thought-provoking conversations, follow other Independent readers and see their replies