Westwood bound: Dame Vivienne's 'family album'

Show all 10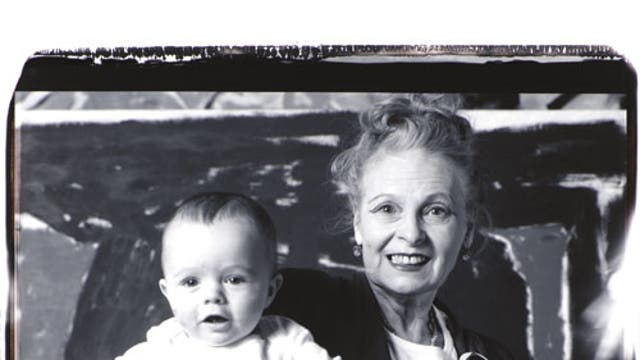 Westwood bound: Dame Vivienne's 'family album'
As Dame Vivienne prepares to return to the London catwalk, she talks Susannah Frankel through her extraordinary 'family album'
Monday 11 February 2008 01:00 Comments
It's a dreary Monday morning, and Vivienne Westwood looks extraordinary. Her flame-coloured hair is pulled back tightly from her face – it's unquestionably a defiant orange, as opposed to anything as commonplace as a brassy red. Her skin is clear, very pale and devoid of make-up, save for a few henna-coloured pencilled lines around her eyes that look almost as if they've been painted on by a child. She has a pair of gold hoops the size a pirate might wear, in her ears, and two tiny gold birds nestle in their curve. Around her neck hangs a skull, dangling from a rope of wooden beads.
She is wearing trousers and a sweater of her own design – Westwood always wears her own clothes. From the front they look like a bastardised Fair Isle knit (a very bastardised Fair Isle knit). From behind they are plain brown jersey and very baggy, hobo-style, then cropped at the ankle. Her shoes are brown brogues. The designer is further decorated by clusters of pins and badges, for the most part also of her own making. There is the instantly recognisable Vivienne Westwood orb, another bird, this time in flight, and the more recent AR branding, as in AR for Active Resistance [to Propaganda]. But more of that later.
Westwood went to see the Terracotta Army at the British Museum with her grand-daughter, Cora, recently, she says. She was rather hoping the little girl would wear the same trousers she herself has on today. She sent her a pair in her size and a little sweater to match for Christmas. "She was going ski-ing and I thought they'd make wonderful après-ski things," Westwood says.
Certainly, the child would have cut quite a dash in a sea of otherwise anonymous, although admittedly more strictly functional, Prada Sport and Moncler. "She was wearing jeans when we met though. I said, 'Give them back to me if you don't want to wear them, or we could give them to your friend Freya because maybe she'd really like them.' Anyway, she said to me, 'It's much more important that people are nice than that they wear nice clothes.' I said, 'Rubbish. I mean, get a life.'
"What people wear tells you who they are," Westwood continues when we meet *at her design studio in Battersea, with its tartan-carpeted floor. She has said exactly that throughout her long career, and if anything sums up the philosophy behind her life and work this must surely be it. "What's happening out there?" she wonders this time around. "Everybody's wearing jeans. That's what they all wear. They've got one thought between them. I just think that you can tell whether or not a person is discriminating by what they choose to wear."
This week marks the return of Vivienne Westwood to the London catwalk. Since the early Eighties, she has shown instead in Paris, alongside the world's most established designers – she is, by now, certainly one of these. Although she will be unveiling her Red Label (a second line, comprising past designs reworked) for the London Fashion Week audience, as opposed to her Gold Label main line, which she will present in the French fashion capital two weeks from now, she is delighted to have a presence in this country, she says.
She hasn't had the time to give the collection in question as much attention as she might have liked, however. It is common knowledge that designers of the stature of Westwood now work with creative teams, as the sheer volume of clothing they are expected to produce makes it impossible for them to do it alone. It is also common knowledge that there are few working today who would actually admit to that fact.
Neither does Westwood simply have her day job to consider. Her Red Label collection will be shown on Thursday evening, but tomorrow night sees the launch of her latest book at the Serpentine Gallery in London's Hyde Park. Vivienne Westwood Opus, published by Kraken Opus, is a monolithic tome – it is 90cm high and 66cm wide – featuring images of Westwood herself, her family, friends and others she admires, all dressed in clothing of her design and captured by the largest Polaroid camera in history. The book, unwieldy as it is, and with its £1,400 price tag, is unsurprisingly limited to an edition of 900.
"Andreas [Kronthaler – her husband, a designer and Westwood's creative collaborator] and I were invited to Wimbledon, to the men's finals, and he really wanted to go," she says. "We were asked whether we would like to be photographed for a book about Wimbledon shot on this giant Polaroid camera. It's really impressive. The pictures are huge. Then the people working on the Wimbledon book said that they'd really like to do a fashion book, and we jumped at the chance."
As well as containing autographed images of some of the most celebrated men and women born and/or living and working in this country – from Tracey Emin to Shami Chakrabarti, and from Helena Bonham Carter to, quite bizarrely, Sarah Ferguson, Westwood's book is an unusually intimate reflection of its creator, who has also invited close family and friends to take part. Importantly for the designer, her "manifesto" will be published in its entirety alongside these images. This is a text on which she began work a little over two years ago, and which she now travels the world to promote to an audience of, for the most part, students.
"I'm naturally a teacher," she says – and, of course, in a former life back in Derbyshire, Westwood actually was one. "I'm going to colleges because it's the young who are important. I also believe in word of mouth, so much more than reading something in a newspaper or seeing a film. I think if you do things face to face, the potential for communicating ideas is incredible."
Entitled Active Resistance to Propaganda, the aim of the manifesto, in its author's own words, "is to encourage intellectuals in the fight against propaganda".
"There are three constituents to propaganda," Westwood argues. "Nationalism, organised lying and non-stop distraction. We need a different ethic." Westwood believes passionately that, through our appreciation and understanding of culture, and that includes fashion, we develop our powers of discrimination. Imagination is more important than reason, and our insatiable thirst for the new, the modern, in particular, is stultifying. "The idea of keeping up with the times is just ridiculous. If you're always chasing after the latest thing, you don't see anything at all. Great art is timeless. Either it is great, or it isn't. It doesn't matter when it was done."
It is all too easy to underestimate Westwood – much has been made in the past of her idiosyncrasy, often at the expense of all else. While at least some of her arguments may be difficult to follow – she herself is all too aware of that fact – on other occasions, and increasingly, they have developed to become crystal clear. For her part, she has always resented what she, not unreasonably, sees as a patronising view of her as the quintessential English eccentric, and is clearly enjoying her more recently acquired aura of gravitas.
In November last year, Vivienne Westwood was presented with the Lifetime Achievement prize at the British Fashion Awards. It is a measure of her innate hauteur (and, in all probability, sense of mischief) that she was powdering her nose in the ladies at the time, and the entire British fashion establishment were required to wait for her to finish before she finally deigned to step up to the podium to accept her gong.
In 2006, Westwood became a dame, although she says that she is more proud of the fact that she is on the board of trustees for the human rights organisation Liberty, just as one of her all-time heroes, Bertrand Russell, was way back when. Westwood has designed T-shirts for the organisation, and has also sent clothing out on to the catwalk with an equally overt political message. Through graphics in her collections, Westwood has campaigned, among other things, for the release of the Native American activist Leonard Peltier; against US foreign policy; and against the Terrorism Act. "I AM NOT A TERRORIST – PLEASE DON'T ARREST ME" read one of these. A message decrying indiscriminate consumption, too, has come to the fore.
True, this has attracted as many detractors as it has supporters. How can a fashion designer have the front to print an anti-consumerist message on to her exorbitantly priced clothes, the latter inevitably ask. "But isn't Vivienne just in the perfect position to say those things?" Andreas Kronthaler once said to me. "The message is about consuming and not thinking, about not choosing and about how people can do whatever they want with you and you just go along with it and swallow everything. It's Vivienne Westwood the rebel coming through."
With this in mind, and never a stranger to controversy, whatever its nature, Westwood made the head lines six months ago, yet again, when she announced to The Daily Telegraph, backstage at her show, that, after a lifetime spent voting Labour, she would henceforth be voting Conservative. The fact that this came from the mouth of the woman who gave the world the uniform of punk was nothing if not provocative.
"I think that it is terribly important to vote Labour out by what ever means necessary," she says now. "They have done such terrible things. They're control freaks, they're taking away everyone's rights, trying to organise things, wasting a fortune in the process. People have to forget about the idea of left and right. Don't vote left or right. Do vote. And vote against."
And with that, the First Lady of British fashion talks us through what must go down in history as among the most glamorous photograph album of all time.
JOE CORRE AND CORA
I love this picture. They look almost like something from a circus, like a married couple. Cora's dressed like a woman. She's 10 now and I am thrilled – so is her other grandma – because this child reads. She's fantastic, her other grandma, she's a very scholarly woman. We both love Cora and love talking to her. She's such an interesting person because she's interested in things. She's very amusing, very light, very funny and can be serious sometimes, too. We made this outfit especially for her when I went to the palace. She came with me. And there's my son, Joe, her father, wearing one of my suits. He 's got this human rights charity now.
HELENA BONHAM CARTER
We send Christmas cards to each other and little notes, myself and Helena Bonham Carter. She's got such a special look. What is it about that face? It's probably a romantic face, a bit wasting away, in the sense of "La Belle Dame sans Merci". She looks very intense.
NAOMI CAMPBELL
Naomi is one of the world's great beauties. I remember a brilliant story about her that just goes to show how stupid we were in the early days. Bella Freud was my assistant at the time and she said that Naomi Campbell wanted to do the show. And I said, OK, I don't really know who she is but I've heard about her. Bella said that she was beautiful. It was just a very small collection back then that we used to show at Olympia. Anyway, Naomi didn't turn up and I just thought, "oh well". Years later, I found out that she had gone to my shop in World's End the morning of the show and said to the manager, "Where's Vivienne's fashion show? I want to be in it." He was going to close the shop at midday and come to the show and he just said, "Oh no, you can't be in it now. You're far too late."
VIVIENNE WESTWOOD [WITH BABY]
I thought that once we'd started shooting, it was a shame that we'd never thought of getting a baby for the book. We need to protect our human rights and it could be him who's arrested if we let governments be tyrants. It's no good a government saying, "Trust us, we don't have to go to court any more." It's like saying you don't need to vote any more. That's just not acceptable. Anyway, we needed a baby, so my assistant asked a friend of hers to send us her baby as quickly as possible. He arrived in about two hours. The T-shirt is one I designed for Liberty with Shami [Chakrabarti]."
TRACEY EMIN AND MAT COLLISHAW
My friend Tracey and Mat are both artists. He used to be her boyfriend. One of the great things about Tracey is that she does always stay friends with her boyfriends and that's something I really respect. I think friendship is so much more important, and if you really do love somebody you want what's best for them and not just to impose your needs on to them.
SARAH FERGUSON
She's a lovely woman Sarah Ferguson. I've met her two or three times and we've talked quite a bit. I like her daughters. If there is one thing you could say about that woman, judge her by her daughters, they are so well brought up, friendly but always polite. Their mother is a person who has used her position as Duchess of York cleverly. She's a mover and she's trying to do good in the world, to make a contribution. When I had to go through and choose the text to go next to each image she was the most difficult because I didn't want to put anything by her that compromised or that was political in any way.
ANDREAS KRONTHALER
This is a handsome man. It's Andreas. That's my bottom on his T-shirt, the one in the middle, taken from an old picture of Chrissie Hynde. She worked in my shop with Jordan and myself at 430 King's Road, when it was called SEX. So that's a recycled picture that he put on a T-shirt for one of our menswear shows. He's got a straw hat on and tied around the edge is a bit of fabric that reads I AM EXPENSIVE. That was the title of one of my shows where the girls looked like Barbie dolls, all so spoilt and dressed up. Andreas said they looked like really horrible girls. It's a good name for a fashion show but it also means "I'm not cheap. I don't' want a McDonald's or a cheap holiday, I read books, thank you very much." Finally, it implies we are privileged, subsidised by all these people in the world and we have some sort of responsibility. I am expensive. I cost the earth.
VIVENNE WESTWOOD [ON COVER, WITH HORNS]
I'm wearing pagan horns in this picture. My manifesto is about culture and the fact that culture is the antidote to propaganda. As our culture started with the Greeks, this is to do with satyrs and hubris and the idea that they had a holistic view of nature and saw a soul in everything. This is one of my favourite dresses and it was completely designed by Andreas. It just shows that it's very difficult to say what I do and what he does, because we just always work together. The dress is wool and it's really useful. I've had it for a good five years and it's great to wear in between seasons. People wear trousers a lot at the moment and so do I, especially in the winter and on the bicycle, but it's great to put a dress on. The badges just stay on the dress, although it looks like I've put my Dame Grand Cross on it, too. The colours are beautiful, so it's rather a shame from that point of view that the photograph is not in colour.
KATE MOSS
I waited for 12 hours – from six in the morning to six in the evening – for Kate and Naomi. The dress is fantastic. It's full length and it looks great on her. There's something magical about Kate and pictures of her always work. She came in that day with a packet of chips, a can of lager and a cigarette. She was with her daughter and Jefferson [Hack]. She just sat there, chatting away. She was a bit nervous because she wasn't sure the picture would turn out OK. Because she's such a small person you always have to pin things on her. I remember once she was wearing one of my corsets and she just kept coming out of it. She didn't even notice. It's interesting that she's very small but she never looks it in pictures. She looks imposing."
SHAMI CHAKRABARTI
This is Shami. The thing I feel honoured about, more than absolutely anything else that has ever happened to me, is being made a trustee of Liberty. Bertrand Russell was one of their first trustees, and the organisation has always been headed up by people that I admire and respect. Liberty was started up in the 1930s as a sort of bulwark against fascism – not only in Europe, but in England. I think that Shami has done more for it than anyone else in its whole history. The way I got to know her is that she wrote to me, asking me to be a signatory on a campaign they were working on. Then we started talking on the phone. I don't watch television, so I didn't know what she looked like. I'd always imagined her to be about five foot five, really slim, in a sari and with a hairstyle like Ava Gardner.
CARLO D'AMARIO
This is Carlo. He and I are managing directors of my company. This is probably the only picture where the subject isn't wearing my clothes, but that's how he dresses. One of the best things he ever said was: "You think fashion is really important, but you don't change anything with fashion." I did look at it as a bit of crusade in those days. Then he said: "The Establishment is like a car going 100 miles an hour. You think you can throw a few rocks at it but that won't stop it, it will just go faster." The Establishment is something that moves. You have to have your ideas and then the Establishment will change to keep up with you.
Vivienne Westwood Opus is published by Kraken Opus, priced £1,400 and limited to an edition of 900 signed copies. Enquiries www.krakenopus.com
Register for free to continue reading
Registration is a free and easy way to support our truly independent journalism
By registering, you will also enjoy limited access to Premium articles, exclusive newsletters, commenting, and virtual events with our leading journalists
Already have an account? sign in
Join our new commenting forum
Join thought-provoking conversations, follow other Independent readers and see their replies