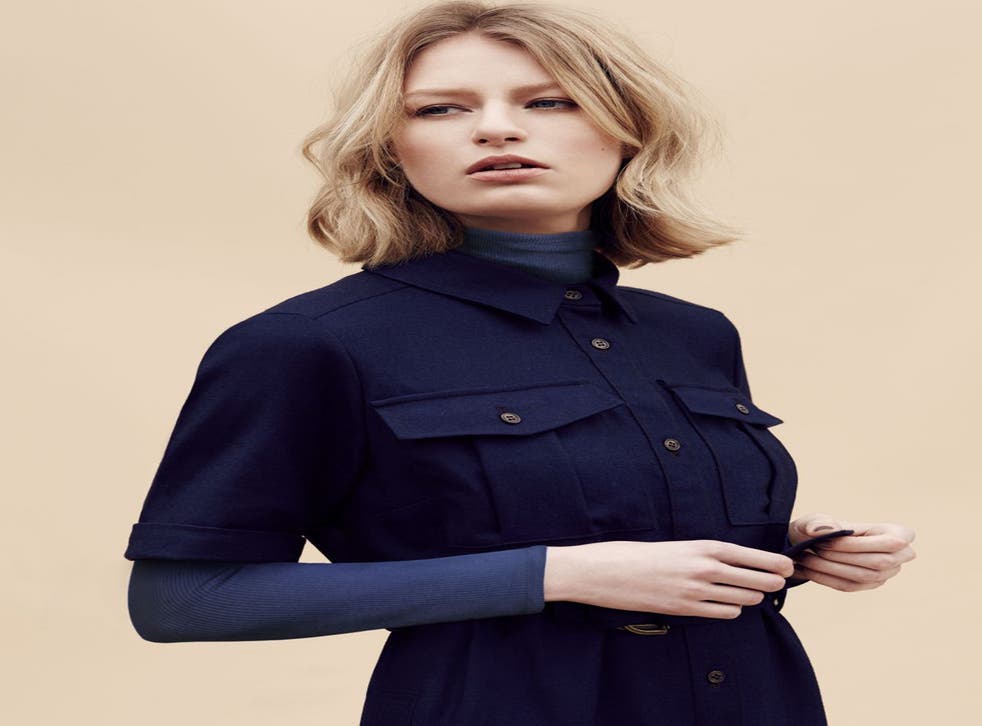 Wool glorious wool: update your wardrobe with fashionable staples this autumn
From shirt dresses to wide-brimmed hats, get ready for the autumn chills with style
By rights, early October is the perfect time to update our wardrobes with all things warm and fuzzy, although the recent temperamental weather has probably left you pondering whether you can still wear sandal, or need a snorkel to get to work. But the cold snap will be here before you know it, so now really is the time to update your winter woollens.
There's more to wool than just knits – this shirt dress from Marks & Spencer's Best of British range is lightweight yet warm, and looks great worn with a thin polo neck and block heel boots. A cream and black knit from Comme Des Garcons Comme Des Garcons (a label so good that they named it twice) will also get plenty of wear, especially as it takes the conflict out of spots vs stripes. It also comes in red and black, if you're worried about getting grubby.
Wear it's at: Wool glorious wool

Show all 5
A-line skirts are everywhere this season. This wool version from Topshop Unique looks demure at first, but its thigh-revealing slit will stop you looking frumpy. It's pricier than the brand's usual offering, but reflects the higher-quality fabric. A wool coat is another piece worth investing in, especially if you have to dress up for work. The clean lines of this grey style (4) will last more than a single season, and shopping away from the high street means you won't see everyone wearing the same thing.
Normally I'm strictly a bobble hat kind of girl, but this season I'm considering a wide-brimmed hat as a way to keep warm. This Matalan one means that if I do feel like a wally, only my pride will be hurt, and not my wallet.
Register for free to continue reading
Registration is a free and easy way to support our truly independent journalism
By registering, you will also enjoy limited access to Premium articles, exclusive newsletters, commenting, and virtual events with our leading journalists
Already have an account? sign in
Register for free to continue reading
Registration is a free and easy way to support our truly independent journalism
By registering, you will also enjoy limited access to Premium articles, exclusive newsletters, commenting, and virtual events with our leading journalists
Already have an account? sign in
Join our new commenting forum
Join thought-provoking conversations, follow other Independent readers and see their replies