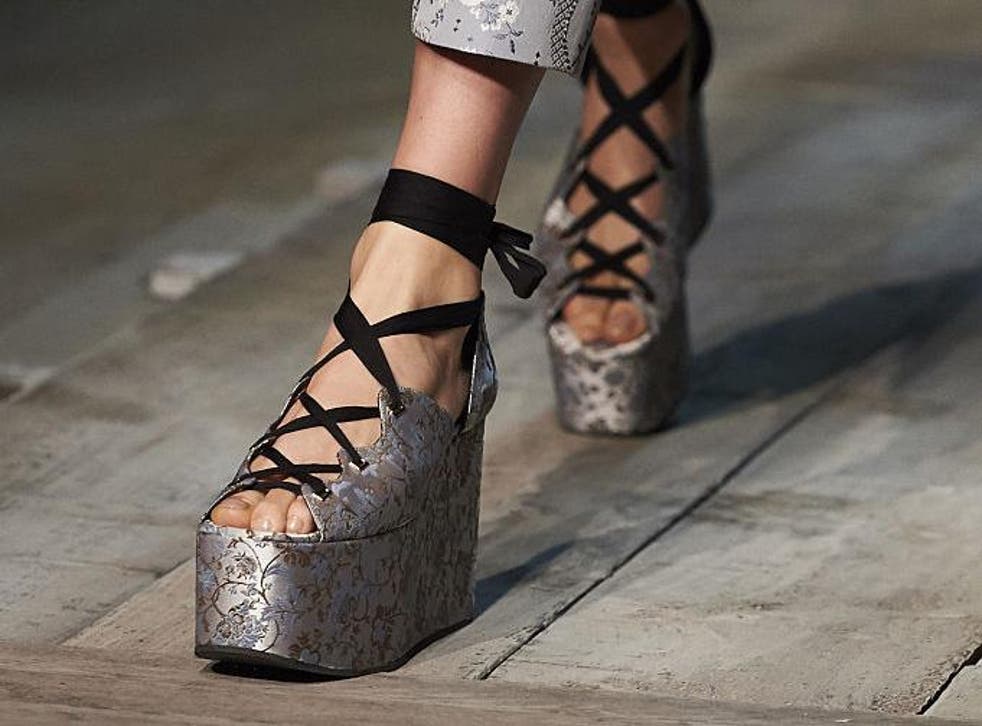 Flatforms: A trend that's taking 'ugly shoes' to new heights
The chunky clompers have quickly become a street-style staple
You've no doubt worn a pair of sky-scraping platforms in your time but how do you feel about their sister shoe, the flatform?
From pool slides to Crocs, it seems that every season there's a new 'ugly' shoe trend to be coveted by the fashion crowd and, despite everything they go against, the flush clomper is being favoured by style gurus everywhere.
Thick-soled and heavyweight, the Spice Girls' go-to shoes are back and set to dominate your shoedrobe, but this time they've ditched their antiquated status in favour of of-the-moment updates like lace-up ribbon, metal hardware and slick graphic motifs.
It's a style that's had designers veering towards chunky, clinical and somewhat orthopaedic-looking shoes with Versace opting to pair a collection that majored in outdoor activewear with the ultimate ugly pair of flatform sandals from cult brand Teva.
Similarly, Prada contrasted opulent marabou trimmed garb with an unlikely pair of dad sandals in shades of blue, orange, red and pink.
Elsewhere though, some saw the hefty heel as an opportunity to test the limits of taboo style with Balmain daubing theirs with glitter while Dolce & Gabbana toted ornate floral embellishments.
The most interesting interpretation though came from Gucci where two-in-one flatform shoes separated to be worn separately. When removed from the flatform base by a buckle, the slipper-esque upper could be worn as a regular pair of pumps.
Despite their angsty undertones, flatforms are surprisingly versatile and of course, lend you a couple of extra inches which never hurts.
To wear yours the grown up way, pair with anything from flyaway floral dresses to crisp tailoring for the perfect marry-up between comfort and style.
Register for free to continue reading
Registration is a free and easy way to support our truly independent journalism
By registering, you will also enjoy limited access to Premium articles, exclusive newsletters, commenting, and virtual events with our leading journalists
Already have an account? sign in
Register for free to continue reading
Registration is a free and easy way to support our truly independent journalism
By registering, you will also enjoy limited access to Premium articles, exclusive newsletters, commenting, and virtual events with our leading journalists
Already have an account? sign in
Join our new commenting forum
Join thought-provoking conversations, follow other Independent readers and see their replies